A mortgage is usually the biggest loan in the life of many Americans. That's why some borrowers can't keep up with the monthly payments and want to change the terms of their mortgage, so they refinance it.
In general, refinancing can be the best option in many situations. For example, if you need a large amount of money but do not want to take out new loans, you can use this option if you find the right lender.
Refinancing can be expensive and complicated or simple and profitable. It depends on how carefully you read this article and study all the essential points related to this financial product.
Best Mortgage Refinance Companies
Many best mortgage lenders also provide refinancing services. It is important to note that you can refinance your loan with the same bank. Moreover, he can often offer you a lower interest rate because it is advantageous for him to have you extend your loan and stay his client longer.
There are several top companies on the market with low APRs and no extra fees, but you can also find those that offer unfavorable terms. So you don't have to waste your time comparing; we have done it for you. All you have to do is to read this article with brief information about the best refinance companies in 2023 and choose the right one!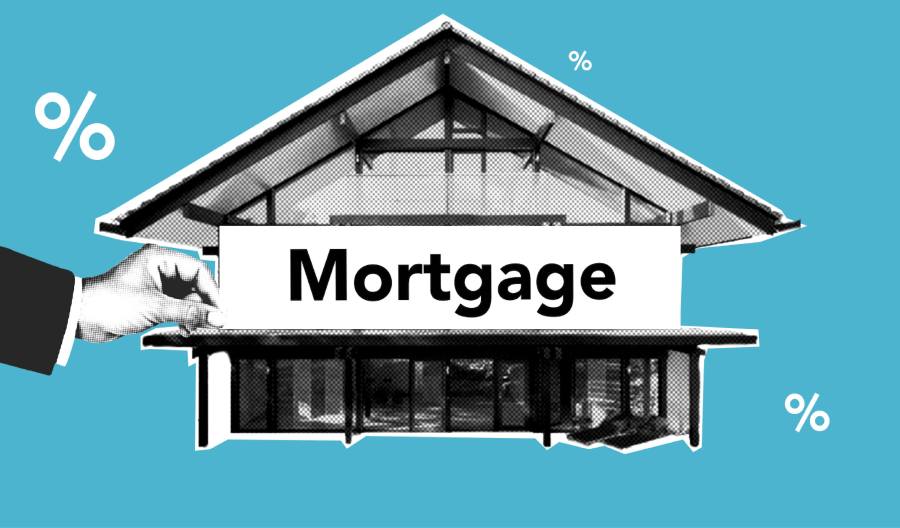 Rocket Mortgage
This bank is the most popular and most profitable option for many borrowers because it offers the lowest interest rates and the most types of refinance loans. Rocket Mortgage has the following advantages:
You can submit all documents online using the instructions on the company's website, or you can apply by phone if that's more convenient for you.
The application approval process usually takes 8 minutes and an average of 21 days to get a loan, which is very fast for such large loans.
According to the latest federal data, Rocket Mortgage offers lower interest rates than other of the top mortgage refinance lenders.
The company's customer service is available daily from 5:00 a.m. PT to 5:00 p.m. PT, providing clients with information about all types of loans quickly and efficiently.
The minimum level of credit you need for a new mortgage with this bank is 580 and VA loans and 620 for conventional mortgages.
The bank works with borrowers from all 50 states.
However, like many other refinance lenders, it does not allow you to know your approximate interest rate without a hard credit check, which removes 5 to 15 FICO points. Also, Rocket Mortgage is the best option for refinancing mortgages but offers no alternatives in the form of home equity loans or lines of credit.
AmeriSave Mortgage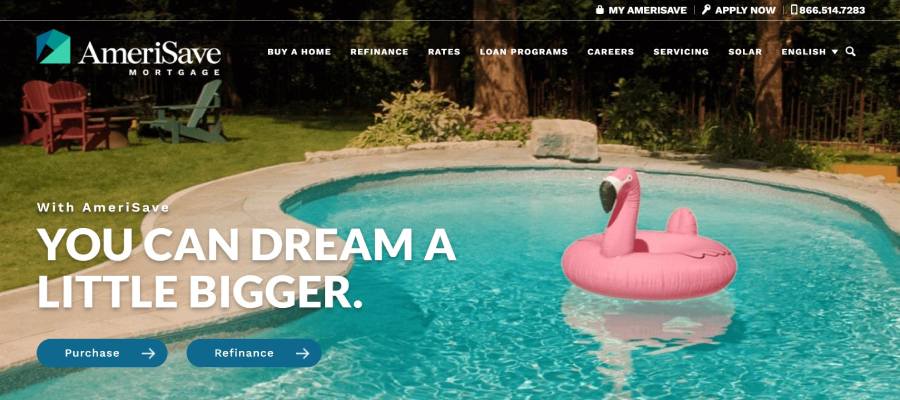 You can get almost all home loans from this lender if your credit score exceeds 600 points (700 for jumbo loans). Of all the advantages of this financial institution, users praise most the availability of different types of refinance loans and the ability to get them "in days, not weeks," according to its website.
You can apply on the AmeriSave Mortgage Corporation website by giving them all the information online. The company was established in 2002 and had over 1,000 licensed mortgage originators spread across the country, so you can rest assured that they are reliable.
The only drawback of the company, other than the fact that it does not operate in the state of New York, is the high fees and closing costs. But, overall, users rate AmeriSave a 3.9 out of 5, noting that it is the best option for those who need money urgently.
LenderFi
After 17 years in the U.S. financial market, the company sent a message to its users in the fall of 2023 that it had decided to leave the mortgage-lending business. So, unfortunately, you cannot get a loan from this lender or contact their customer service team.
Better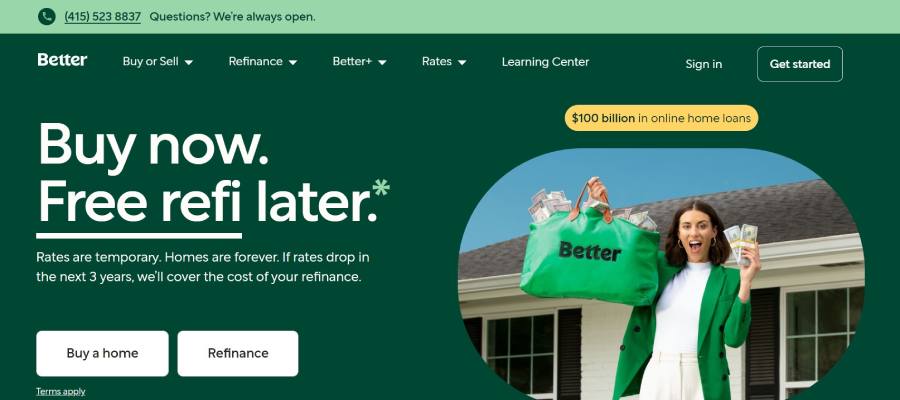 Better.com is the first mortgage lender that is entirely online and very fast. Here you will get pre-approval in about 20 minutes and can get a loan in the entire United States, except Hawaii, Nevada, and New Hampshire. According to user reviews, Better.com has the following advantages:
The company does not charge commissions or lender fees from the borrowers, which saves them almost 1% of the total loan amount.
Better.com customer service is available 24/7 and helps customers get answers to their questions by phone or email as quickly as possible.
This lender will allow you to get money quickly, as it only takes 3-6 weeks to close your previous mortgage.
You only need a 620 FICO score to qualify for a loan from the company. In addition, employees at the financial institution always look at your utility and rent payments to assess your creditworthiness and offer you favorable terms, despite your low credit rating.
The only significant drawback is that the company does not offer VA or USDA loans. Otherwise, it's a great option to consider.
Navy Federal Credit Union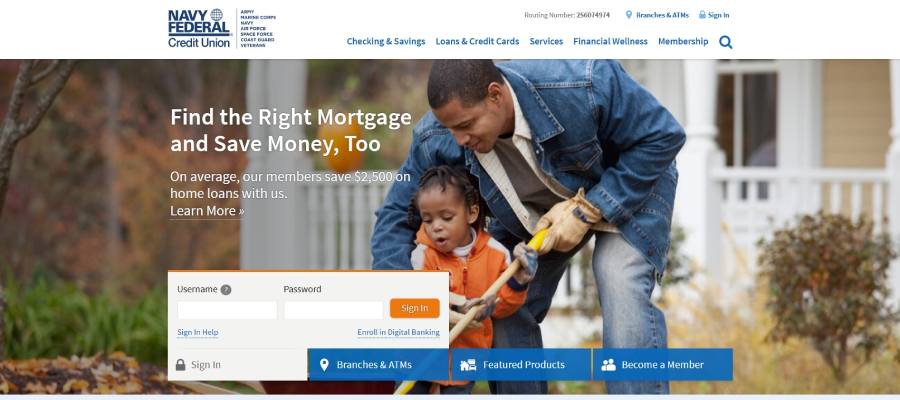 One of the largest credit unions in the United States, offers the lowest interest rates to its members. Here, you can refinance your mortgage and get a home equity loan or HELOC.
It is important to note that only members can borrow money from the credit union. In addition, to be part of the Navy Federal, you must be an active-duty member, a veteran, a retired or annuitant, or an immediate family member. That is the one significant disadvantage of this company.
In all other respects, Navy Federal has many advantages:
Its support service is available 24/7.
The company has no minimum credit score requirements for borrowers.
Navy Federal Credit Union offers both refinancing and new mortgages.
This organization works to bring prosperity to its members so that you can get the best loan terms for your situation. If you qualify for membership, you can join Credit Union and take advantage of offers like Homebuyers Choice loan without a down payment, second-home financing, VA loans, etc.
Watermark Home Loans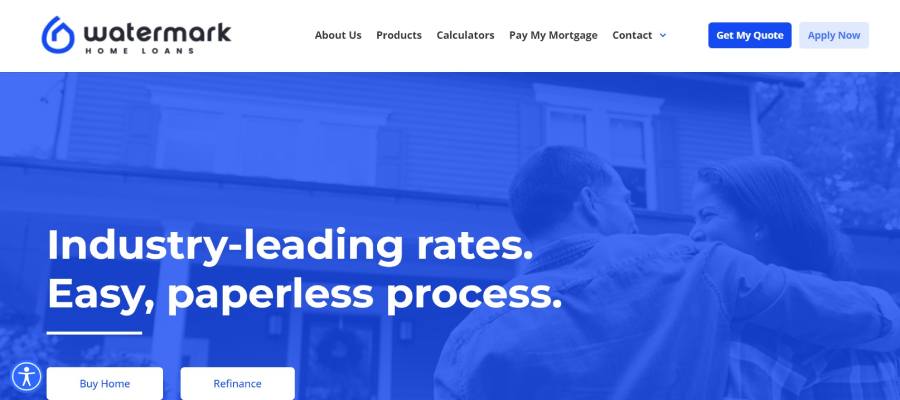 Watermark Home Loans has been providing loans since 2006 and works with borrowers whose credit score exceeds 620 (680 for jumbo loans). However, like all such lenders, it does not show rates on its website, so you will need to go through a credit check to find out what terms will be available.
Among the best points of Watermark Home Loans, users note the lack of closing cost loans, which are usually several hundred or thousands of dollars and are a big problem for many borrowers. In addition, the company operates in 45 states and has an A+ rating on the website of the Better Business Bureau.
Consider getting a loan from Watermark Home Loans if you are looking for specific loan options, such as an interest-only loan.
Nationwide Home Loans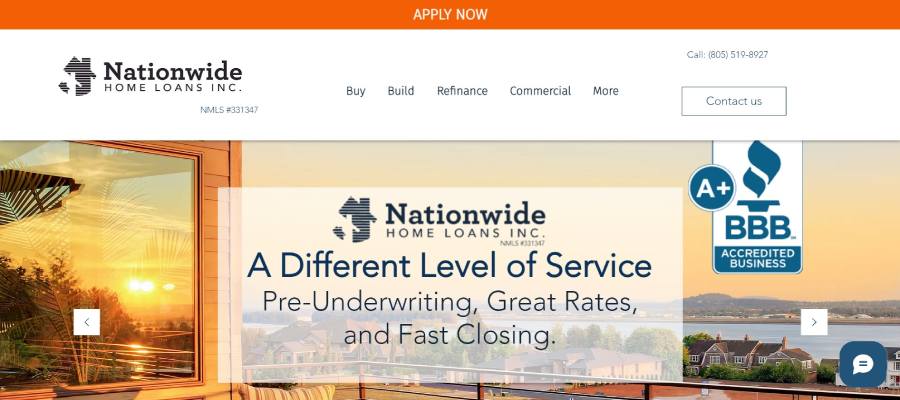 This great lender has many advantages, the main ones being that it is entirely online, provides its services quickly, and offers loans to foreign national borrowers.
If you refinance your loan with Nationwide, you can avoid numerous lenders' fees and save hundreds or thousands of dollars. Also, here you can get a massive loan of several million dollars if you can prove that you will pay it back on time.
The main drawback of this company is that you will not find much information about their mortgage products on the website. To find out more information, you will need to provide your zip code, the market value of your home, and the remaining mortgage balance.
Bank Of America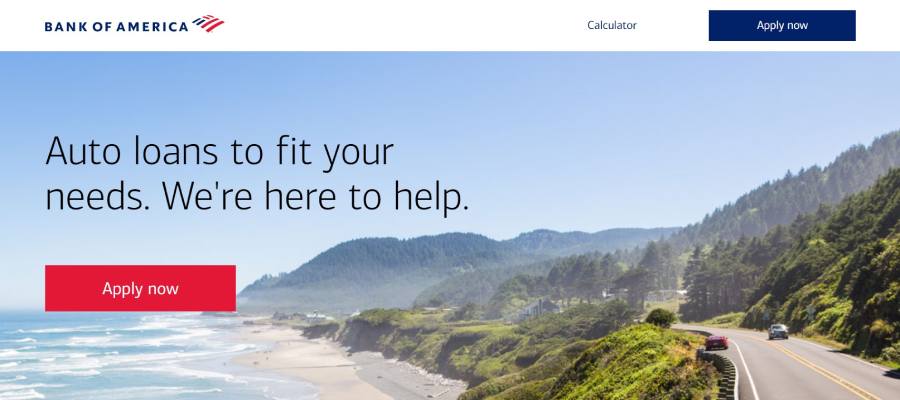 Bank of America is the best option for those already with its accounts. It offers loans and various options for refinancing, and if you are an existing customer, you can get up to $600 in closing-costs discounts.
The company operates in almost all states except North and South Dakota, Nebraska, Wyoming, Idaho, West Virginia, Alabama, and Wisconsin. You can apply for a mortgage refinance online or go to one of the 4,300 financial centers in the United States.
Among the virtues of Bank of America are the following:
You can get mortgage pre-approval in 20 minutes.
Your credit score must be 620 or higher to qualify for a loan. The bank is also willing to consider other indicators of your creditworthiness, such as rent and utility payments.
The lender's average closing time is between 30 to 45 days.
The bank offers several discount programs to its users.
Overall, this is the best option, especially if you already have an account with this bank.
BNC National Bank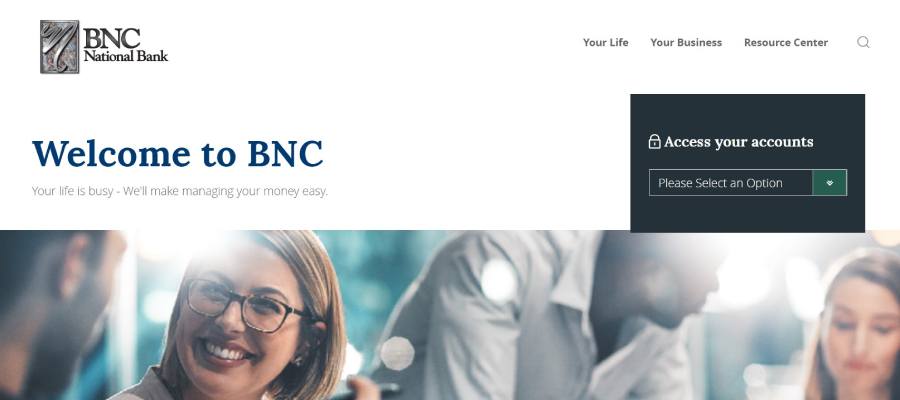 You can get any home loan from this bank, including fixed-rate, adjustable-rate, rate-and-term, and cash-out refinancing in any US state. The company has been providing mortgages for more than 30 years and offers the best interest rates for VA loans that come without fees.
The main disadvantage of this option is that you can't get a loan entirely online. You can apply and submit all documents from home, but the e-closing option is still unavailable.
Overall, this is the best option for borrowers who are looking for VA loans.
What Is Mortgage Refinancing?
A mortgage is an enormous loan that Americans have been paying off for decades. Unfortunately, not everyone can keep up with the monthly payments during that time, so they resort to refinancing.
Refinancing a loan generally means selling your old loan for a new one, often with fundamentally different terms. So you can change the interest rate on your mortgage and increase its amount (if your home has increased in value) and reduce or increase the repayment period.
When you get a new mortgage from the same or another lender, it pays off the old one, and then you are left with only one loan with one monthly payment and new terms.
The whole process of refinancing a mortgage usually takes 30 to 45 days.
Why Should You Refinance Your Mortgage?
There are many situations where mortgage refinancing is a wise financial decision. Let's discuss the most common ones in more detail:
You can't keep up with your monthly payments.
The average monthly mortgage payment exceeds $1,000, which is a large enough amount. However, if you lose your job or realize that you can no longer meet your monthly payments, you can refinance your loan, lower your interest rate, and extend the repayment period.
You want to pay off the loan faster and save on the interest rate.
As you know, the longer the loan, the longer its APR. If you want to pay it off faster, you can ask your lenders to refinance your mortgage, lower your APR, and lower your repayment period. It's important to note that your monthly payments may go up in this situation, so be sure you have a steady income and can pay it all back on time.
You need money to pay your debts.
Debt consolidation loans often have higher interest rates than loans with equity in your home as collateral. Usually, if you have been paying a mortgage for more than five years and your home has appreciated, you can use different refinancing options to get more money for it and pay off old debts.
You want to update the furniture in your home.
People who often want to sell their house at a higher price refinance their mortgage to get money for renovation. The same is done by families who, on the contrary, do not want to move out of their homes for many more years and want to make it a more comfortable place to live. This option is more advantageous than expensive personal loans or credit cards.
You want to save more to save.
A sage financial decision is to refinance your mortgage to get funds for future investments. The earlier you start saving and increasing your money, the easier it will be for you to live in retirement at the expense of accumulated interest.
Whatever situation you find yourself in, you can use a refinance calculator to see if refinancing your home loan would benefit you and if the money you get from it would be enough. It is available on the websites of many lenders and companies that provide such services.
All you have to do is enter your goals, current credit, credit score, and ZIP code into the calculator. You'll see which refinancing options suit you in just a few minutes.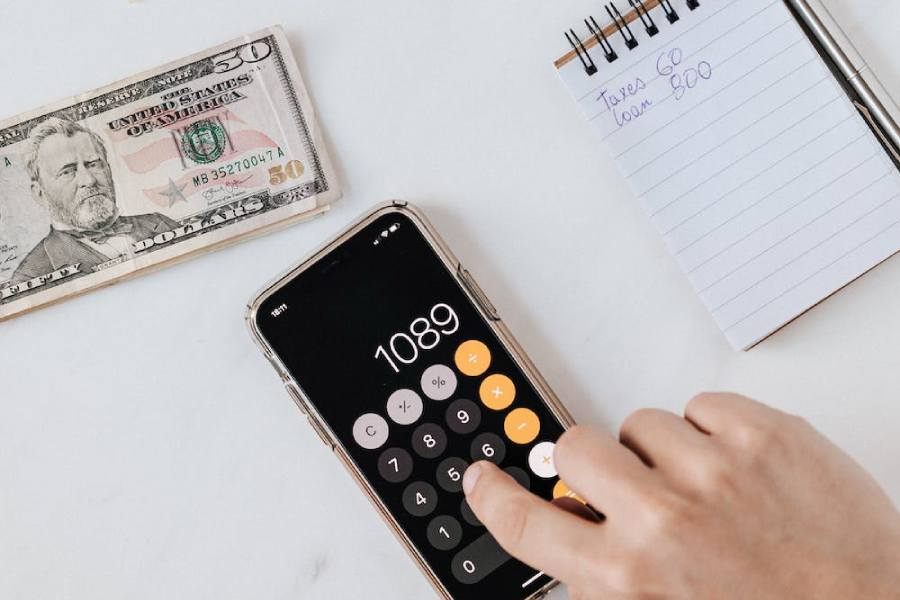 Requirements of Refinancing Your Mortgage
All lenders have requirements for the borrowers they work with. So while the final list is always unique to each lender, we can highlight a few essential items:
A credit score of 600 or more points.
The ideal option for getting the best interest rates is above 670 FICO points. However, some options will work for borrowers with 580+ points.
At least 10% or 20% equity in your home.
Depending on the type of loan you want to get, this figure can vary. Equity is your stake in your home. To calculate it, you can subtract the amount of your mortgage balance and any other liens attached to the property from the house's current market value.
Confirmation of income and employment.
Many lenders will ask you for these documents because refinancing a loan involves paying back tens of thousands of dollars over the next few years. Therefore, they want to make sure you have a steady income that will allow you to handle these obligations.
A debt-to-income ratio of less than 40%.
This indicator shows how dependent you are on credit in your daily life. The more credit you have, the less solvent you look in the eyes of creditors. That's why avoid having a DTI (your total minimum monthly debt divided by your gross monthly income) higher than 30% or 40%.
Types of Mortgage Refinances
Lenders can offer you nine different options for mortgage refinancing. Unfortunately, not all of them are profitable or safe. To help you choose the best option, we've broken down the five most popular choices below.
Rate-And-Term Refinance
This is the simplest type of refinance, which involves changing only the interest rate and terms of the loan. This way you can lower your monthly payments and the total price of the mortgage, and you can pay it off faster. It is important to note that this method usually does not change the price, so it is unsuitable for home renovation or debt consolidation. You can use this option if you meet the following requirements:
Your credit score exceeds 600 or 620, depending on your type of credit.
You have at least 20% equity in your home.
Your debt-to-income ratio is less than 50% before you get a new loan.
You will also need to pay closing costs of 2%-6% of the amount borrowed when using this method. However, if you are unable to do so, you can ask lenders to add these fees to your new loan amount.
Cash-Out Refinance
If you want to increase the amount of your loan and make some big purchases, this option is excellent for you. In this situation, borrowers who have already paid off the bulk of their mortgage can apply for a bigger loan and get the difference between the two loans in cash. This leaves you with one larger loan and one monthly payment, which may be more than the previous one.
The new loan terms are the most important things you should look at when using this option. It is essential to understand that you will have to repay this large amount over the next few years, so you must be sure that the increased monthly payments will not negatively affect your budget.
The basic requirements for borrowers who want to use this option are the same as always: adequate credit score, at least 20% equity in your home, and DTI of less than 50%. Again, we can look at a real-life example to help you understand how cash-out refinance works.
Suppose you bought a $300,000 house on credit and only paid off $80,000. You still have $220,000 in debt but want to pay for college and need another $30,000. Taking out a student loan is very expensive, so you refinance your mortgage and get some cash.
In such a situation, you can ask your lenders for a new loan of $250,000. Of that, the original $220,000 you owe will be used to pay off the first loan, and the remaining $30,000 your lender will transfer to you within a few days after closing.
As a result, you get the $30,000 you need, not at 20% per annum, as would be the case with a personal loan or credit card, but at 6% to 10%.
Cash-In Refinance
This option is the opposite of the previous one, as the borrower does not receive any money from the new loan but pays it off. Let's look at this method with a concrete example right away.
Let's say you have a mortgage with a balance of $200,000 and an APR of 8%. Of course, you want to lower your interest rate and pay it off faster, so you have already saved $30,000.
If you give that money to the lenders without refinancing, you will have to continue paying 8% on that loan. However, if you use the cash-in refinance option, you will pay that amount and get a new loan for $170,000 with a lower interest rate, such as 6%.
This step will not only help you pay off your loan faster, but it will also help reduce the monthly burden on your budget. Remember, however, that you are still taking out a new loan to replace your old loan, so you should have a good credit score for the best possible rates, and low DTI.
No-Closing-Cost Refinance
Usually, when you close your first mortgage and get a new one, you must pay closing costs of between 2% and 6% of the amount borrowed. If you can't afford to pay this expense, you can ask lenders to waive closing costs in exchange for a higher interest rate.
It is important to note that this option is not economically advantageous because you end up paying more. However, getting a new mortgage with a lower interest rate than you had before may be worth it.
There are also situations where the lender does not ask you to accept a higher APR in exchange for paying your closing costs but adds that amount to the body of the new loan. In that case, your interest rate does not increase, but your monthly payments do.
The bottom line is that often no-closing costs refinance the only way to refinance a loan for borrowers who have no available funds. So the bottom line is to calculate which option is better for you – add closing costs to the new loan amount, or take them out but get a higher APR.
Streamline Refinance
This option is only suitable for those with a USDA loan whose home has increased in value during the first loan repayment period. The USDA Streamline has several significant advantages:
You don't have to have at least 20% of the equity in your home to refinance the mortgage and get a lower interest rate or a more extended repayment period.
You will not have to pay for home inspection or appraisal because you still get a direct loan from the USDA.
You can refinance your loan even with a low FICO score because USDA policy does not set a minimum mandatory threshold.
Since the USDA Streamline Refinance is suitable even for those who have not managed to build equity in their homes, it has rather strict requirements. The main one is that the house you're refinancing must be for your primary residence in a USDA-eligible area. In addition, you can only take advantage of this option if you have paid your mortgage in the past 12 months.
The main disadvantage of this option is the guarantee fees, which you have to pay upfront every year while you pay off the loan. You can avoid them by refinancing your current mortgage with a conventional loan, but then you need to have at least 20% equity in your home.
Alternatives to Mortgage Refinancing
You don't have to refinance your home loan to pay it off faster or get more money from the equity in your home. However, there are also a few additional options you should consider.
Home Equity Loan or Line of Credit
A home equity loan is like your second mortgage you can take if you have enough equity in your home. However, it allows you to get a lot of money at a low interest rate.
It is essential to understand that while with a mortgage refinance you end up with one loan and one monthly payment, a home equity loan is a new loan, a second and additional loan. Therefore, before you choose this option, you need to be sure that your income is stable and that you can pay off two large loans simultaneously.
You can also consider using a home equity line of credit, which works like a credit card. Lenders determine the amount they can lend you and the time you can use it. Each month you use the money, you pay interest. You do not have to pay interest if you do not use it. You can also spend this amount as often as you want, paying it back on time each time.
Mortgage Recasting
A mortgage recast is suitable for those who want to pay it off faster and have a lot of money to pay it off, usually $5,000 or more. You can go to the lender and pay this amount in a single payment to reduce your principal balance and, as a result, the interest you need to pay monthly and the total interest you'll pay in subsequent years.
It's important to note that you should check with your lender to see if they agree to your move, and remember that it won't change your interest rate or other loan terms. You will also need to pay recasting fees of up to $250.
There are no requirements for borrowers who want to use this method – as long as your contribution amount is more than $5,000. However, this option is not for you if you have a government-backed loan, such as an FHA or USDA.
Loan Modification
This option is one of the easiest for those who don't make their monthly payments on time or want to reduce their loan's APR. It consists of asking your lender to change the terms of your loan without replacing it with a new one.
You can ask to change anything from the length of your loan to the type of interest rate (adjustable or fixed). However, you must understand that the lender is not obligated to agree to the loan agreement changes, so loan modification may be more complex than refinancing. It can also hurt your credit score.
Usually, debt settlement companies offer loans to all borrowers who can't meet their monthly payments and promise to lower the interest rate. In addition, they can communicate with the lender on your behalf and approve new terms for a service that you can do yourself.
Before agreeing to this option, consider the refinance alternatives described above. Loan modification usually does not result in drastically new terms and conditions, and a 0.5% decrease in interest rate will not help you cope better with a larger loan.