When it comes to saving money, many of us have exactly one thing on our minds: How quickly can I double the $50 or $100 that I just deposited? What kind of interest rate can I get, and how soon will my money be available again if I need it?
High yield savings accounts are an excellent way to meet these goals. These special investment options generally offer much higher interest rates than traditional deposit accounts, allowing your money to grow. The trade off is that withdrawals are limited, and some institutions may charge monthly fees.
However, high-yield savings account rates almost always more than compensate for those downsides. In this article we'll cover everything you need to know about HYSA's so that you can choose the best one for your personal situation.
6 Best High-Yield Savings Accounts
When it comes to saving money, it can be hard to know where to put it. We all need a reliable place to store our money that won't get eaten away by inflation — and preferably one that offers the highest interest rate possible.
An ideal place for your cash is a high-yield savings account. This type of investment is different from a standard savings account in that you get paid an interest rate above average rates, usually around 2.15% up to 2.70% depending on the institution.
If you're looking for an investment option that will help you sock away some extra money and let it grow substantially over time, read on for our list of the top 6 high-yield savings accounts.
Citizens Online Savings Account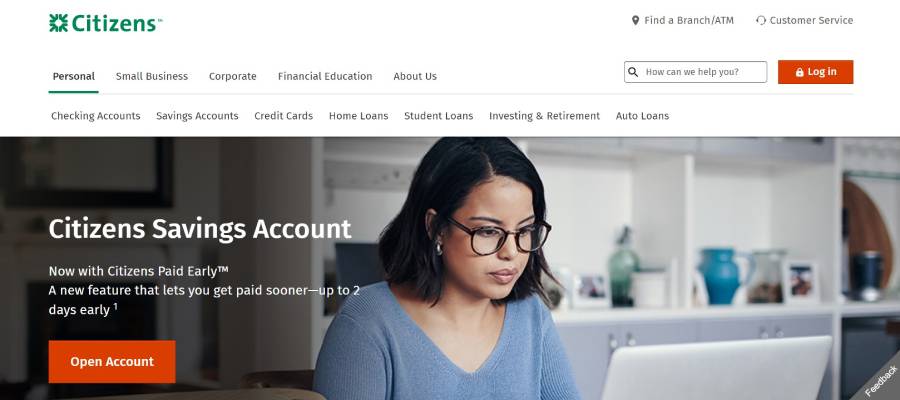 Citizens is an online savings program that provides a great rate of return and features a wide variety of perks, including no fees and FDIC insured peace of mind. All in all, this is a solid option for savers looking to earn interest on their money.
With its competitive APY rate of 2.35%, Citizens offers unlimited balance transfers with no fees and offers standard ATM fees waived for six months. They have competitive rates with over 100+ banks.
However, the service isn't without its drawbacks. First, it has a very high minimum balance requirement of $5,000. This may pose a problem for some savers who have smaller balances. Additionally, there's no checking account or cash advance available, but if you can meet the minimum balance requirements and don't need in-person assistance, this is a great option.
SoFi Checking and Savings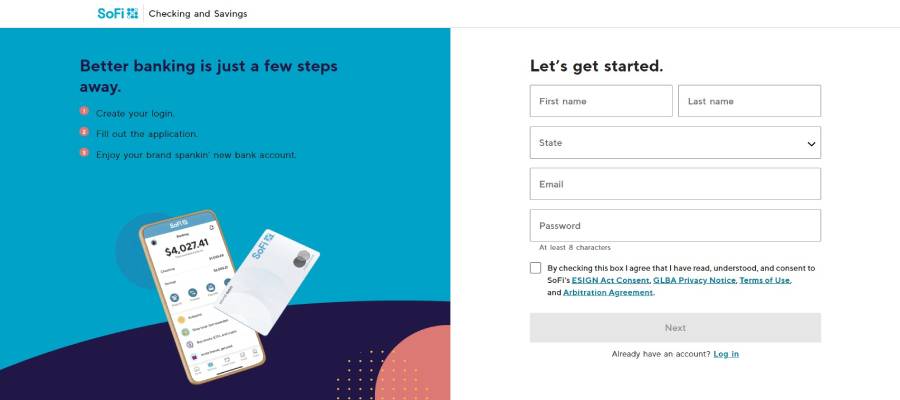 SoFi Checking and Savings, offers customers to have both saving and checking balances in one place. With SoFi, customers can earn a high annual percentage yield of 2.50% if they set up a direct deposit, and 1.25% without one. In addition, there is no monthly fee and a comprehensive no-fee overdraft protection plan for customers who qualify (monthly deposit of $1000).
This account offers a generous interest rate and no overdraft or monthly fees. Plus, SoFi customers are able to withdraw cash from more than 55,000 ATMs nationwide, making it easy to withdraw cash or make deposits when you need to.
There are a couple of perks; you get a $300 bonus for setting up a direct deposit, and you can save for your financial future with their online savings tool called Money Vault. The minimum balance of $1000 is achievable, but in order to make cash deposits, customers need to do so through a third party (Green Dot) which charges $4.95.
Discover Bank Online Savings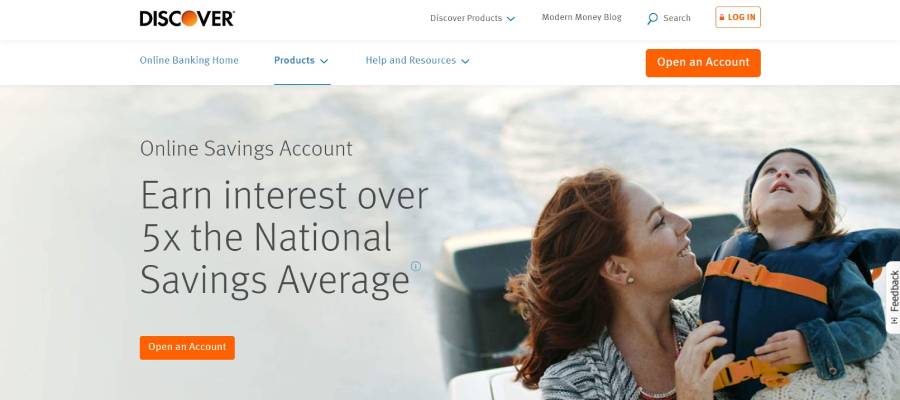 Discover Bank offers one of the best no-fee savings accounts out there. It's easy to open and offers competitive interest rates. You can also earn up to 2.25% APY on your deposits, which helps you save even faster.
Discover Bank is a FDIC insured bank, meaning that you can be sure that your money is safe, no matter what happens in the banking world. They offer an online savings plan with no monthly fees. Plus, you'll earn up to $200 in rewards when despising $25,000.
With no monthly fees on checking and savings accounts, you can keep more of your hard-earned money for yourself. Plus, their cash back rewards checking option offers even more ways to get something back for your banking. There's no minimum deposit, but they don't accept cash deposits.
CIT Bank Savings Connect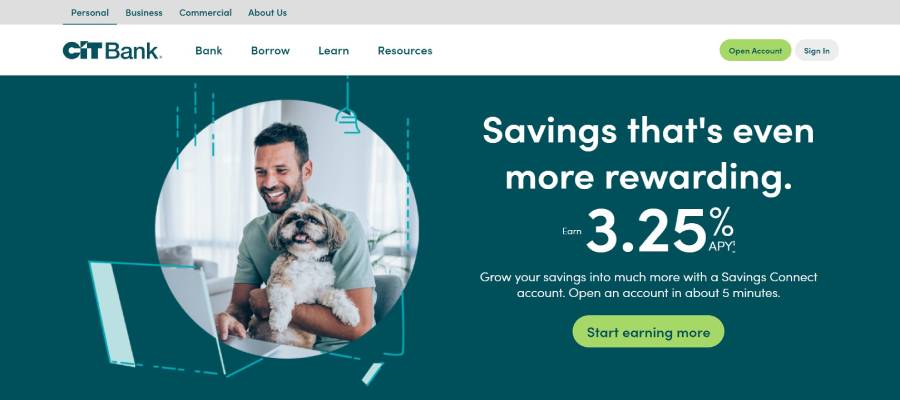 CIT Bank Connect is a reputable investment savings tool that allows users to set up automatic recurring payments to their linked CIT Bank checking or savings account. They can also choose to transfer their funds directly into their bank and on demand.
They offer an extremely high APY at 2.70%. An affordable $100 minimum deposit is required, and it also has a $0 monthly fee and no activity fees, but there is a charge at ATM machines.
CIT Bank operates through physical branches and online, plus since it's a bank account, there are additional benefits such as overdraft protection and identity theft protection that come standard with the customer.
Barclays Online Savings Account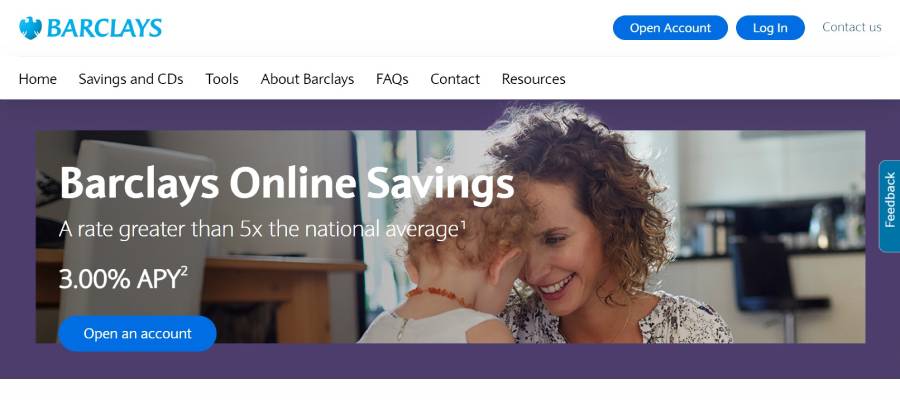 The Barclays Online has become one of the most popular accounts for new customers. This particular one operates online only but is free to open, has no minimum balance requirement, and has a competitive APY rate (2.40%).
While there are no fees associated with opening or closing this account, there are fees associated with transferring money between this institution and other banks. Another benefit of this service is that it can be linked to a Barclays checking account. With this link, customers have access to additional features such as overdraft protection, bill payment reminders, and faster transfer times.
One downside is that there are no physical branches, no ATM network, and a $5 charge for non-sufficient funds. However, it's a no-fuss option for those who want high rates on savings without a minimum requirement or a checking account.
American Express® High Yield Savings Account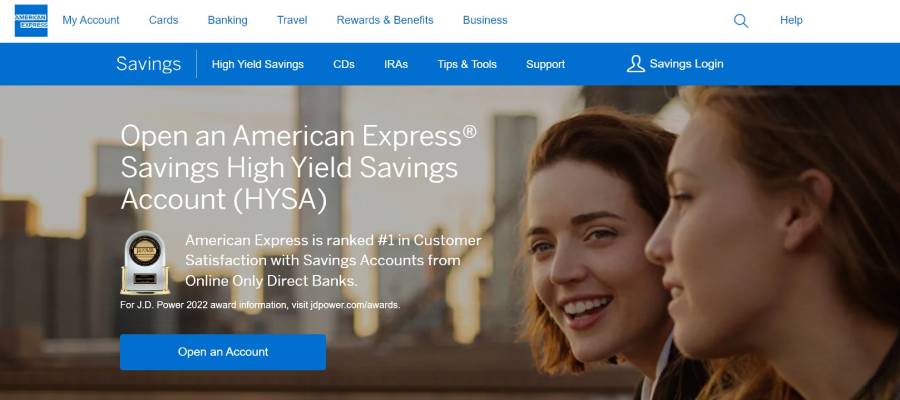 If you're already an Amex® holder, this is the best option for you. Those who are not might prefer looking elsewhere. This product offers up to 2.15% APY, which is lower than what any of the other yield accounts offer on this list.
But one of the best things about this investment is that it has no minimum balance requirement, so you don't have to worry about having a few dollars sitting in the bank just to get started. And since it's FDIC-insured, you can feel confident that you're covered in the event of a financial emergency.
Plus, with no minimum deposit, rewards and interest on a savings and checking account, it is easy to see why so many people choose this option over other high-interest savings accounts.
What Is a High-Yield Savings Account?
HYSA's offer higher interest rates than basic savings accounts. The average pays an annual interest rate of 1.69 percent. This is significantly higher than the typical savings investment, which pays only 0.34 percent.
They also have other benefits over basic savings options, such as a longer term to maturity and the ability to make higher withdrawals throughout the life of the investment.
High-yield savings accounts are a great way to earn some extra money while saving for your financial goals, such as buying a car or paying for college tuition.
How Do High-Yield Savings Accounts Work?
As with other savings instruments, HYSA's work the same way. The money you deposit in them accrues interest over time, and the balance grows as time goes on. The provider provides instructions on how to make a withdrawal when you need one.
High- yield accounts with high interest rates can usually be managed online entirely. The financial institutions set interest rates, which is why shopping around for the best rate is recommended.
High-Yield Savings Terms to Know
Before you go shopping, we recommend you look for and compare the following terms that are not common with traditional accounts:
APY: An APY (Annual percentage yield) represents a bank's or other institution's interest rate on deposits. When you know your APY, you can calculate how much interest you are earning over time. A higher APY means a higher return on your investment.
Compound interest: Banks can compound interest daily, monthly, quarterly, semiannually, or annually. Compounding more often may theoretically increase your take-home yield, but if you use the annual interest rate instead of APY to compare accounts, the compounding factor has already been taken into consideration.
Monthly service charge/maintenance fee: There are sometimes monthly maintenance fees and excessive withdrawal fees associated with HYSA's; both can be avoided if you read the fine print of terms and conditions.
Regulation D: Traditionally, banks have restricted the number of transactions customers are allowed to make each month, following the Federal Reserve's Regulation D rule that limited payments and withdrawals to six per statement cycle. The COVID-19 financial crisis prompted the lifting of this limit in 2020. And while there are no plans to reimpose the withdrawal limit of Regulation D, certain transactions may still be restricted by your bank.
Are High-Yield Savings Accounts Safe?
HYSA are safe and secure investment vehicles. The Federal Deposit Insurance Corporation insures all high yield deposits, and offers security features like 24-hour access, surveillance, encryption, and firewalls.
Your money is safe if something were to happen, such as a run on the bank (when many customers withdraw money at once). And any money sitting in your hHYSA is accessible if you ever need to tap into it. In spite of variable interest rates, a savings account remains a safer investment than other forms of investment, like the stock market, for example.
Why Are Most High-Yield Savings Accounts Online?
HYSA's tend to offer better rates, usually higher than that average, because they don't operate physical branches. This means they can save on overhead costs of maintaining them, such as staff wages, and energy prices. Since they are able to attract customers from around the country, their business equity is higher, resulting in better rates, usually higher than that average.
And for the customers, online HYSA's are a more convenient way to save. With an online platform, you can set up your account immediately. When compared to traditional accounts, it is also easy to open and maintain. Most can be opened in as little as 15 minutes.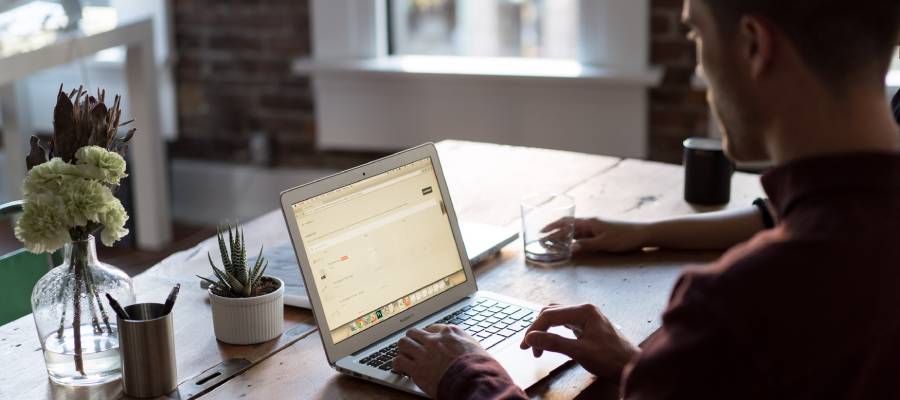 Is a High-Yield Savings Account Right For You?
High-yield savings accounts are ideal for those with long-term saving goals. If you're planning on taking a vacation next year or have longer financial priorities, it might be worth investing in one.
It's also worth keeping in mind that these types of investments typically come with much higher minimum balance requirements. So, if you don't want to deal with the hassle of maintaining a large balance, it might not be the best option for you.
In addition, if you think that your financial situation might change in the future, and you need emergency cash, you are better off using a basic savings account rather than one that offers a high yield.
How to Open a High-Yield Savings Account
If you've decided on an easy way to build your financial security, HYSA's are a great choice. Here's how to open one:
Shop around: Identify the current best high-yield savings products on the market by assessing the market for the best yields. Then check the following criteria meet your requirements- do you need to maintain a minimum balance? Is there a high initial deposit? Are there any excessive fees- withdrawal fee, late fee, for example?
Fill out an application: In most cases, the application process will happen online and should only take 10 to 15 minutes. Due to the fact that your interest earnings will be taxable income, you must provide the institution with your full name, address, phone number, e-mail address, and Social Security Number (SSN). In addition, you will need to provide a copy of your passport or driver's license.
Fund your account: The most common method of funding a new HYSA is a transfer from another bank. However, some institutions also allow you to deposit a paper check, deposit your check via mobile, or even use a credit card.
Pros and Cons of High-Yield Savings Accounts
It is a good idea for everyone to keep some cash on hand in case of emergencies and financial goals. An account with a high yield is the ideal investment to keep your money.
The pros include:
You don't have to worry about your cash if you deposit it into an FDIC-insured financial institution. In the event of a bank run, your money is safe.
If you ever need to access your savings, you can do so.
With mobile banking apps, you can manage your money on the go since the bank is online.
You earn interest every day, and you only need a small amount to save over time because they compound interest daily.
Investing in a HYSA has many benefits, but there are also a few disadvantages.
The cons include:
The process of transferring funds between banks can take up to 48 hours, depending on the bank.
In most cases, online providers do not have physical locations.
As HYSA's fluctuate in interest rates from time to time, while banks may advertise a high APR, these rates are subject to change.
Since inflation can exceed annual yields, it's better to put money into investments rather than keep building it up in savings.
The Bottom Line
Your savings account balance can be built quickly with high-yield savings accounts. Also, they're useful if you're trying to save for a rainy day or paying off debt. When choosing a HYSA, there are a few things to keep in mind.
First, make sure that the bank that you choose offers competitive rates and plenty of FDIC insurance coverage. Second, remember that since they tend to be more volatile than traditional savings accounts, they also have a higher risk of losing value if the stock market takes a downturn. Finally, find a HYSA that fits your financial goals and your personal style so that you can stick with it long term.