Traditional mortgages and loans are not the only ways to get extra funds. Home equity loans have become widely available around the world. This is because users can get more significant amounts than they would with a conventional loan. It's an excellent way for homeowners to improve their homes or consolidate their debts.
There are many banks and financial institutions out there offering this service. But each user has specific goals and situations. So there's no go-to bank for everyone. Instead, the decision lies with you. Hence, this guide will help you decide on the essential feature to consider when making your decision.
Best Home Equity Loan Lenders in 2023
Finding the best home equity loan can be a tedious task. From nitpicking at interest rates and comparing amounts, anyone can't get confused in this process. However, we've compiled a list of the best options you can find in the market. Each of the items on this list offers the most reasonable rates.
Of course, you'll find the right amounts that suit your specific needs too. Getting approved with any of them is easy as long as you have a satisfactory credit score. Hence, take your time to compare the crucial highlights to find the one that resonates with your interest.
| | | | | |
| --- | --- | --- | --- | --- |
| Lender | Best For | Loan Amount | Loan Term | APR Range |
| Discover | Long-term Loans | $35,000-$300,000 | 10-30 years | Varies |
| BMO Harris Bank | Flexible Amounts | $25,000-$150,000 | 5-20 years | Starts at 4.24% |
| KeyBank | High CLTV | From $25,000 | Up to 30 years | Varies |
| Spring EQ | Fair Credit Borrowers | $25,000-$500,000 | 5-30 years | Varies |
| Flagstar Bank | Large Loan Amounts | $10,000-$1,000,000 | 10-20 years | Ranges from 6.53% upwards |
| Third Federal | Low-Interest Rates | $10,000-$200,000 | 5-30 years | Ranges from 3.29% upwards |
Discover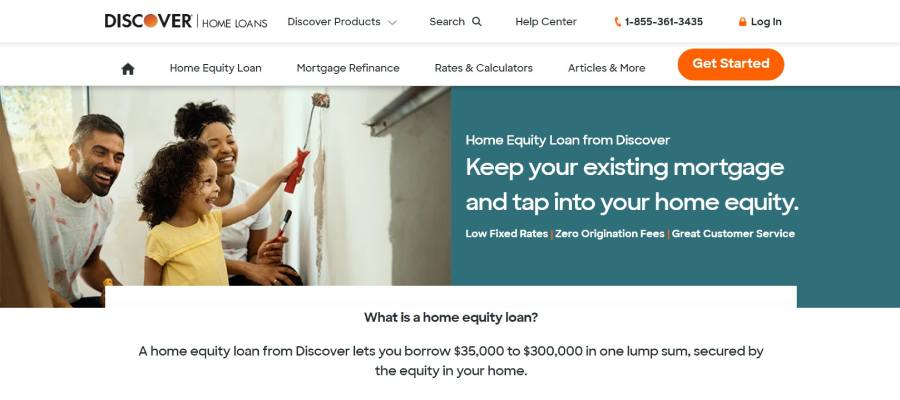 Best For: Long-term Home Loans.
Discover is a top contender for the best mortgage provider in the United States. It's been around since the 1900s but became independent in 2007. Since then, it's provided various ranges of services for consumers. It's established online, so its significant activities, including application, monitoring, and payment, are done online.
Some of its services include the best home equity loan, student, credit cards, mortgages, etc. There is a wide range of available amounts for borrowers. So you can borrow up to $300,000 on a single loan. Even though they are huge loans, Discover isn't too strict with its application process. Getting approval is pretty easy as long as you have a good credit score (620+).
Loan Amount: $35,000-$300,000
Loan Term: 10-30 years
APR Range: Varies
Pros
Zero upfront fees.
High loan value.
A fair interest rate on loans.
Cons
Its minimum credit amount can be too high.
Doesn't offer a HELOC option.
BMO Harris Bank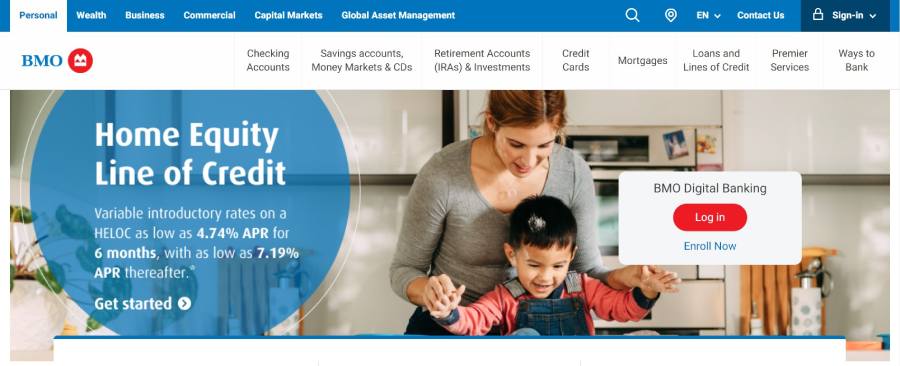 Best For: Flexible Amounts.
BMO Harris Bank is a reputable loan provider based in Chicago. It's been owned by multiple banks over the years through acquisitions. As a result, this is one of the largest banks in North America, ranking 8th on the list. With over 500 branches and thousands of ATMs spread across the U.S, BMOe Harris makes the perfect place to get the best home equity loan.
The application process here is simple too, but it's pretty demanding with its Hugh credit score requirements (700+).
However, there aren't any fees to pay for its services too. Once you're happy with the interest percentage, you don't have to pay origination, application, processing or other fees. It also offers multiple options to make and receive your payments.
Loan Amount: $25,000-$150,000
Loan Term: 5-20 years
APR Range: Starts at 4.24%
Pros
Borrowers are charged zero fees.
There are multiple payment options.
Offer a fixed-rate HELOC.
Cons
Requires a Good score for approval.
KeyBank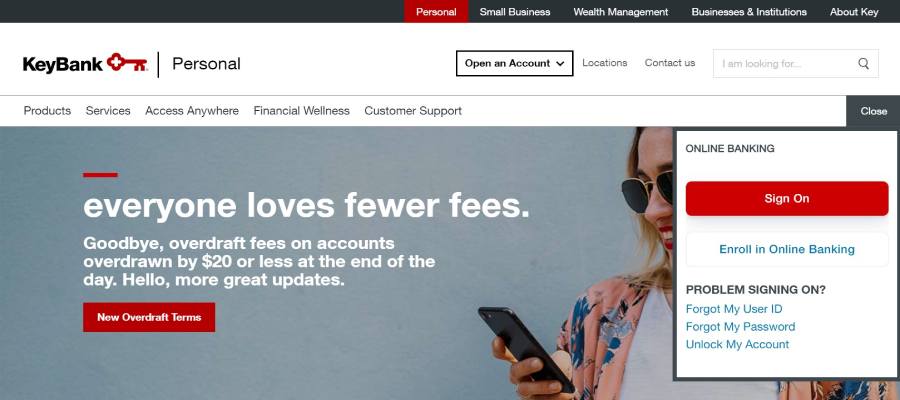 Best For: High CLTV.
KeyBank is a subsidiary of KeyCorp. The bank was initially formed in 1994 and has provided many financial services. Its primary lending services cover the best home equity loan option and HELOCs. It also offers credit cards, bank accounts and investment accounts. Sometimes users can get approved for a personal or emergency loan, though there is a lower chance of getting approved.
In addition, it has some add-on benefits that aren't available in its alternatives. For example, it gives a 0.25% discount on your credit if you have an account with the bank.
Loan Amount: From $25,000
Loan Term: Up to 30 years
APR Range: Varies
Pros
Gives borrowers APR discount.
Has a high combined-loan-to-value-ratios (CLTV)
Users can lock the fixed payments on their accounts.
Cons
Requires a high score for approval.
Has expensive early termination costs.
Spring EQ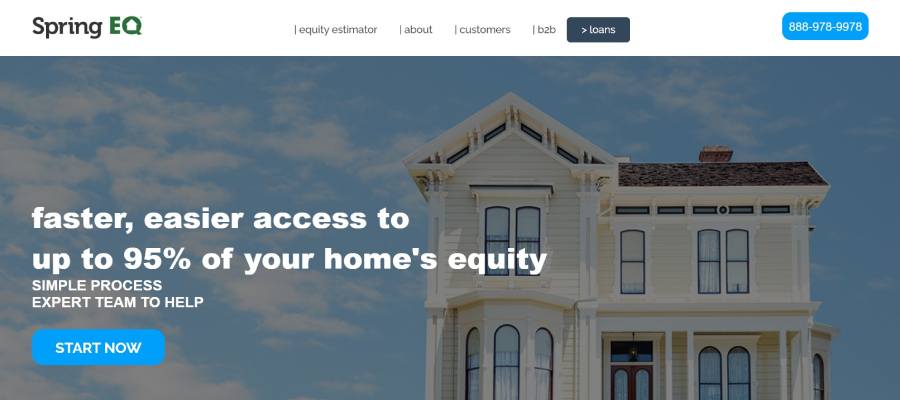 Best For Fair Credit Borrowers.
Spring EQ is a modern financial institution that was founded in 2016. The platform is a renowned lender for appraised houses. It's pretty famous for its fast processing and payment system, and it sometimes issues home equity loan with bad credit borrowers. So it borrowers don't have to wait too long to get their funds. It also allows a wide range of loans, allowing you to borrow up to half a million dollars on a single loan.
With its headquarter in Philadelphia, Spring EQ manages its services across multiple states. Its unique process allows the lender and borrower to remove the stress of paperwork. This is why you can quickly get your money within 11 days of requesting.
Loan Amount: $25,000-$500,000
Loan Term: 5-30 years
APR Range: Varies
Pros
Fast payment processing.
Flexible lending and repayment structure.
Reasonably easy to get approved.
Cons
Charges upfront fees on borrowed funds.
Not available for everyone.
Flagstar Bank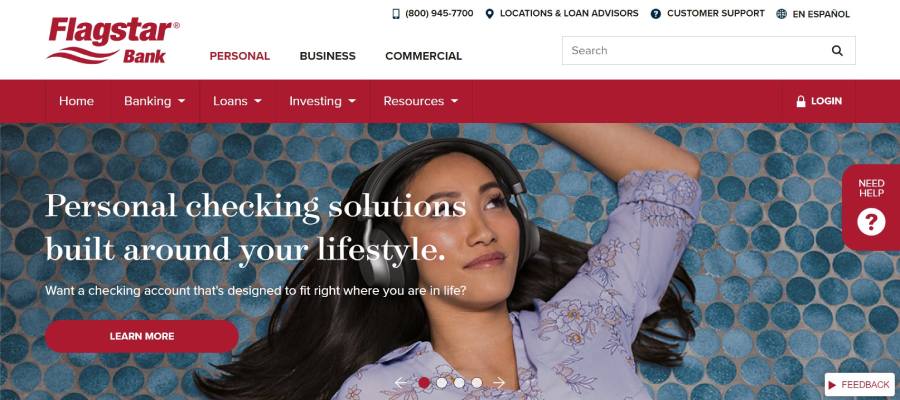 Best For: Large Loan Amounts.
Being one of the earliest in the industry, Flagstar Bank has over 150 branches across the United States. It offers many financial services, including the best home equity loan, credit card issuing, checking accounts, loans, etc.
As a result, it's one of the most competitive in terms of interest rates and fees. It also has an extensive range of amounts available for borrowers. Here, you can borrow up to $1 million if you have that much equity.
However, its major downfall is the lack of online applications. This means only people close to its branches can register. However, you can check the available loans and their APRs when you enter your zip code on its website.
Loan Amount: $10,000-$1,000,000
Loan Term: 10-20 years
APR Range: Ranges from 6.53% upwards
Pros
Doesn't charge for early termination.
Has a relatively low-interest rate.
It has a wide range of amounts to borrow.
Cons
Not available everywhere.
Does not allow online applications.
Third Federal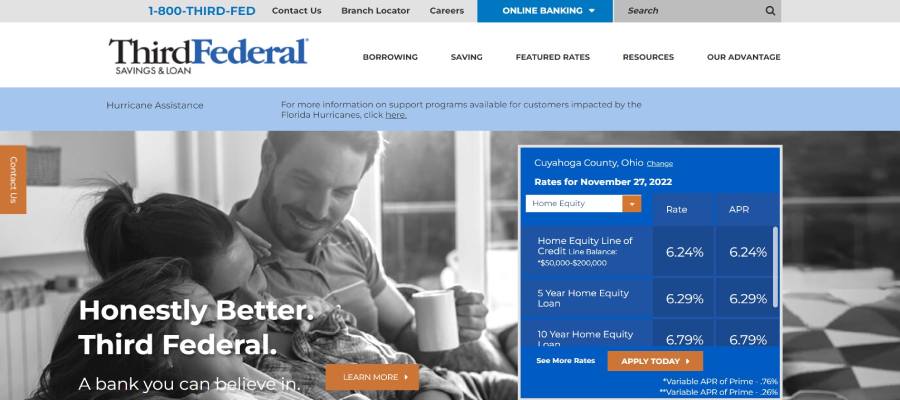 Best For: Low-Interest Rates.
Third Federal is based in Ohio and has extended its services across Florida. There are now more than 35 branches between these two states. It was also highly rated as a reputable financial company for many years by Independent Rating Agency.
The services here cover both home equity loans and HELOCs. It's known to offer low-interest rates on its funds. In addition, you can negotiate a longer repayment term for as long as 30 years. So, if you are a resident of Ohio, Florida, or anywhere its services are available, you might want to consider Third Federal for the best home equity loan.
Loan Amount: $10,000-$200,000
Loan Term: 5-30 years
APR Range: Ranges from 3.29% upwards
Pros
It has the most competitive rates.
There are various packages and options.
Doesn't charge heavy fees.
Cons
Not widely available.
No transparent eligible requirements.
What Is A Home Equity Loan?
Home equity loans are the amount of money you borrow using your home's equity loan. So, it calculates this percentage of your home's value as the part you own. The value is usually calculated by the difference between the amount you owe on a mortgage and the actual home value.
For example, if you own a house and add value to the house, the house's equity increases by how much value you add. So, home equity allows you to access the extra values you add to your home through a loan.
The value is never constant, so you can build your equity over the tune as you add value to your home and pay off your mortgage. Traditional home equity loans often depend on the borrower's information to determine the amount and interest rates. The factors considered include your financial history, credit score, debts, etc.
How Do Home Equity Loans Work?
The process is simple. Home equity loans are borrowed in huge sums from lenders. So, you can repay the amount borrowed with fixed monthly payments. The payments don't change regardless of any changes in the home.
It's a great way to access your home equity without losing any part of your home or getting into serious risks. But you should note that it might be difficult to move if you're still repaying your balance. You might also lose your home value if real estate changes. So you can end up paying more than your house is worth.
What Are Home Equity Loans Good For?
You can leverage your home equity for several uses. There is no fixed use, though, since everyone has unique needs. However, not all situations require you to risk your home. These types of loans are often huge. For example, a typical lender offer starts from $10,000, which might be too much if you don't need much cash.
So always opt for it when you need lump sums and don't mind paying for an extended period. Try to avoid it if the need isn't worth risking your home. Some ideal situations to apply for one are home improvements, debt consolidation, weddings and celebrations, and education.
Pros And Cons Of Home Equity Loans
Pros
Fixed Rate Payments: Rather than pay based on monthly interests, which fluctuate over time. You will pay for a fixed interest throughout the repayment period.
Fixed Payment Amount: You'll also have a fixed amount to pay. This amount doesn't change regardless of the economy or your home's value depreciation.
Can Be Tax-deductible: It might allow you to bear the interest from your taxable income if you use it to work on your house.
Lower Borrowing Cost: Using your home as collateral allows you to gain lower interest rates. This means you might get better rates compared to other types.
Higher Chance of Approval: You have a higher chance of getting approved than other loaners if you meet the home equity loan requirements.
Cons
Risk Losing Home: Since you'll be using your home as collateral, you could lose possession if you default on your payment.
High requirements: These extra funds usually require high credentials such as credit scores, debts, credit history, etc.
Might Create 2 Mortgages: If you're already on a type of loan, you might end up in two mortgages even if you take the best home equity loan.
How To Get A Home Equity Loan
Before you apply, there are basic details you should pay attention to. For example, you need to know your financial health, debts and credit score. Others are your employment record and income streams. Then you can figure out how much equity you have in your home.
Determining how much you want to borrow will help you decide on the best lender to apply with. Lastly, you should confirm your ability to make monthly payments without defaulting. Once you're sure you've met these criteria, follow the step-by-step guide below on how to get home equity financing:
Visit the official website of the lender or physical office,
Request the application form or click its button.
Provide personal information such as income, debt, and home documents.
Provide an appraisal if your lender requires one, and get ready for an underwriter to approve the loan.
Wait for approval and sign the necessary documents.
Home Equity Loans VS Home Equity Line of Credit
A Home Equity Line of Credit is similar to Home Equity Loans. The major difference is in the fund's access. HELOC allows you to receive money but by bit, while you receive a lump sum for traditional equity loans. For example, you accept all at once for conventional borrowers. But for HELOC, you can borrow into a credit line more than once over a specific period. This credit line remains available until you finish your term.
In addition, the amount you can borrow from HELOC varies from time to time. So, your payment amount also changes as opposed to the fixed amount you get with your regular home's equity loan.
Choosing which one to take depends on your interest and needs. You can choose HELOC if you want a loan with minor interest and smaller amounts available over a long period. However, the interest rates vary for HELOC. It also allows you to draw and repay over more extended periods. For example, you can draw for ten years and repay for 20 years. That means your credit can extend to over 30 years.