12 Dave Alternatives & Why To Choose Them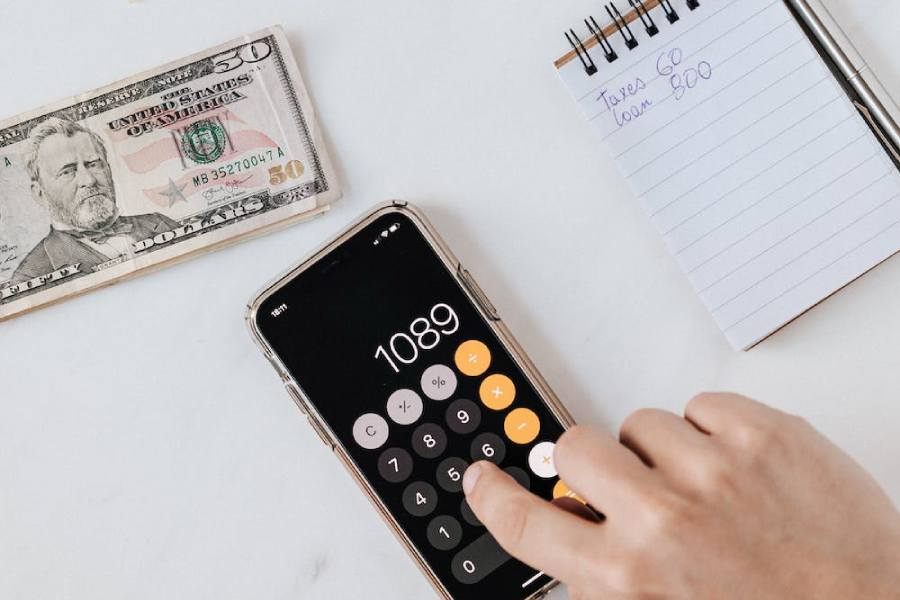 Dave is one of the most popular cash advance apps that lets you borrow a few hundred dollars at 0% APR. However, it has drawbacks, such as the small maximum amount of cash advance, so you can find all the alternatives in our article.
Below we have described 12 apps like Dave Instacash that provide loans often without a credit check. Some operate on a subscription basis and lend money at an APR of 0% for $1-$12 a month. Others, on the other hand, have a broad base of lenders from which you can choose the one whose offer you like best. In any case, you will find the right lender like Dave in this article.
Need Money Fast?
Dave Alternatives: Best Choices
The Dave app has a few significant drawbacks: 
You can borrow a maximum of $500 if you've been using the application long enough. New users usually have a $25-$50 limit on their first loan. 

You don't have the option to choose a repayment period for the cash advance. The company will automatically charge you on your next payday or the following Friday when you took the advance. 

The free transfer of money to your account can take several business days, and to get the funds within an hour, you have to pay an express transfer fee.
Accordingly, when we looked at alternatives to Dave, we looked first at apps that didn't have these disadvantages. In addition, we evaluated the options that users like best, so the list will include cash advance apps that function like Dave and use the same model. Let's start our comparison with one of the most popular cash advance apps like Dave, as rated by users.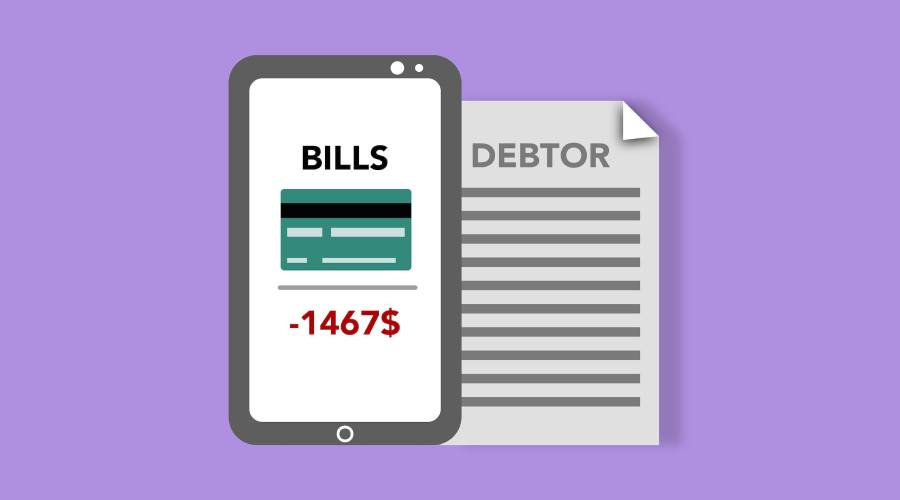 MoneyLion – Best For Existing Customers of the App
MoneyLion is a financial management and credit-building application. Its main products are investment accounts, financial tracking, and credit-builder loans, so if you use them and have a MoneyLion checking account, you can get a small cash advance on favorable terms.
The application works as follows: 
The maximum loan amount is $250. 

Time of payment – until your next payday or next deposit to the account (money is automatically withdrawn). 

Speed of receipt of funds – about two days if you use free withdrawal and up to several hours if you pay an express transfer fee of $0.49 to $8. 

The application provides a 0% interest rate loan, but you can pay an optional tip.
The main advantage of this alternative is that you can get a cash advance without paying a monthly subscription. However, at the same time, it has the same disadvantages as Dave, namely an express transfer fee, short repayment term, and a small loan limit.
The app does not run a credit check before lending you money, but it does require you to connect your checking account, to which you regularly receive funds. It is based on the data from it and your history of using the application that calculates the maximum loan amount available to you.
Users have positive feedback about the application, but according to their reviews, we can conclude that the support service does not always respond correctly to questions.
PayDaySay – Best For Wide Lenders Base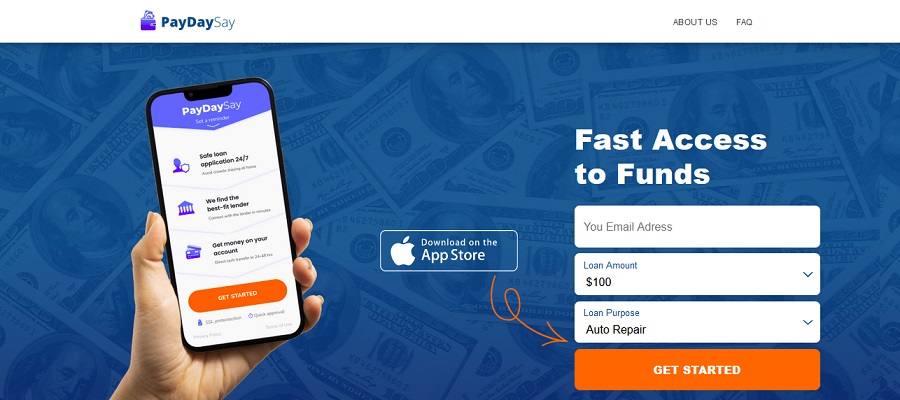 This option is suitable for those who want to quickly find a lender with good credit terms. The PayDaySay works like this: 
First, you fill out a prequalification form with only basic information about yourself, i.e., first name, last name, loan purpose, and Social Security number. 

The company will do a soft credit check in minutes and show dozens of lenders willing to lend you money and their terms and conditions. 

You analyze all offers and choose the one that suits you best.
With PayDaySay, you can get a loan of $100 to $5,000 for several weeks to several years. However, its main drawback is that lenders willing to work with people with bad credit set very high interest rates.
The advantages of this alternative are as follows: 
Most of the lenders you can work with through the application transfer money to your account within one business day. 

You don't need proof of your employment or income level to get a loan.  

The company does not set a minimum credit rating for its users, with over 95% of those who want to get a loan through it. 

PayDaySay has the broadest base of lenders, over a hundred of them. 

The app is free and has no monthly subscription or extra fees.
Users speak very positively about PayDaySay because it allows them to borrow money quickly and reasonably.
OppLoans – Best For Bad Credit Loans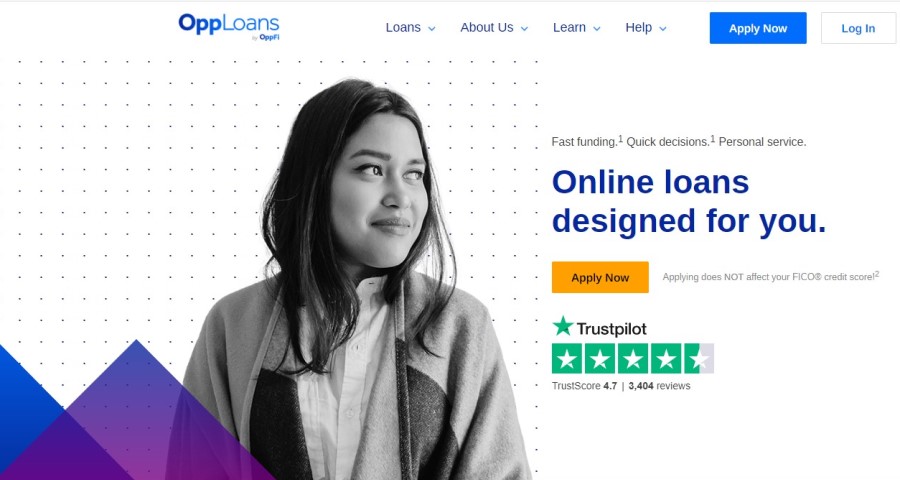 Opp Loans is one of the longstanding apps that help users get up to $4,000 in their bank account in one day. Opp Loans does not check your credit history before showing you offers from lenders and has no minimum credit score requirement.
The terms and conditions for loans through this application are as follows: 
The APR range is from 59% to 160%. 

Repayment term is from 9 months to three years. 

There are no prepayment, origination, or late fees. 

Opp Loans does not ask for a monthly subscription and offers its services for free.
Of all the app's pluses, users most often note the high speed of transferring funds to a bank account (one business day) and the fact that Opp Loans reports to all three credit bureaus. However, at the same time, they point to drawbacks such as monthly income requirements (minimum $1,500) and high interest rates starting at 59% APR.
Empower – Best For Fast Cash with 0% APR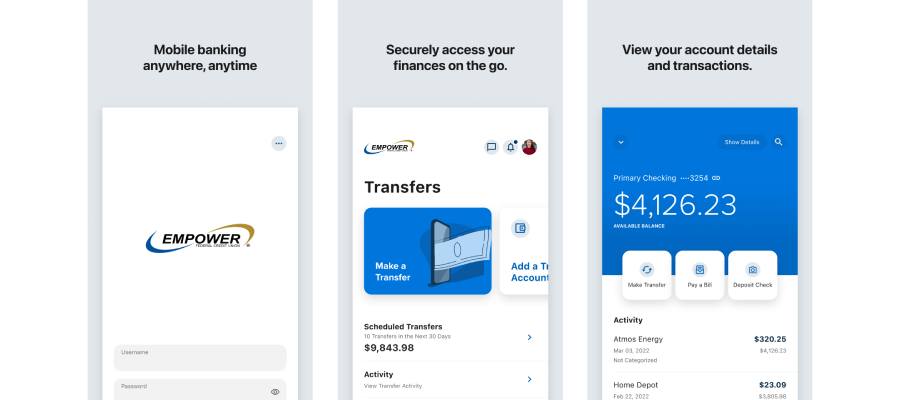 Empower is an instant loan application that runs on a monthly subscription business model. In it, you can get from $10 to $250 if you pay an $8 monthly subscription fee.
Payment of credits received in Empower occurs on the next payday. A significant advantage of the application is that you can change your repayment date if you write to support. In addition, the APR on loans is 0%, which can be obtained by a borrower with any credit score, as Empower does not conduct credit checks.
Branch – Best For Loans up to $150 per Day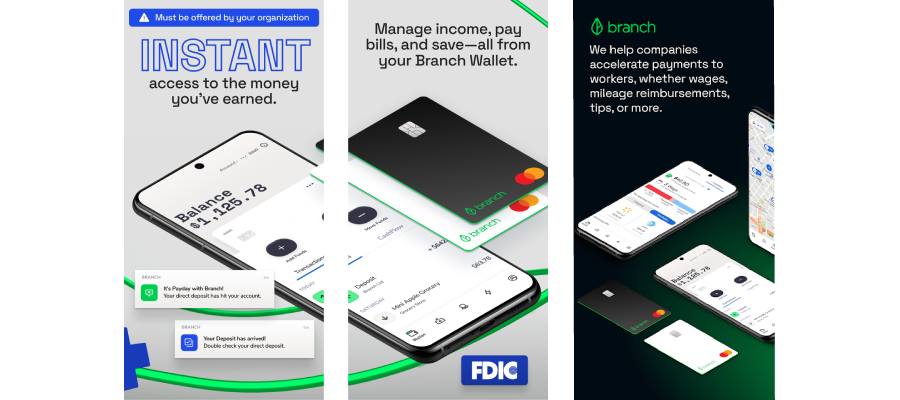 This alternative is best for those who want to get money offline via ATM. You can get up to $150 per day or up to $500 before your next paycheck through the Branch app at a high APR of up to 360%.
Based on user reviews, the app is straightforward and has many handy features. For example, you can get a small cash advance and choose your payment date (60 to 336%). However, its main drawback is that it takes up to 3 business days to transfer funds to your account as standard and a paid transfer costs $2.99 to $4.99.
The app does not run a credit check before giving you money, but it requires access to your primary bank account to see your expenses and income. You will also need to upload proof of official employment, as Branch does not provide loans to remote employees.
Klover – Best For Small Advances with 0% APR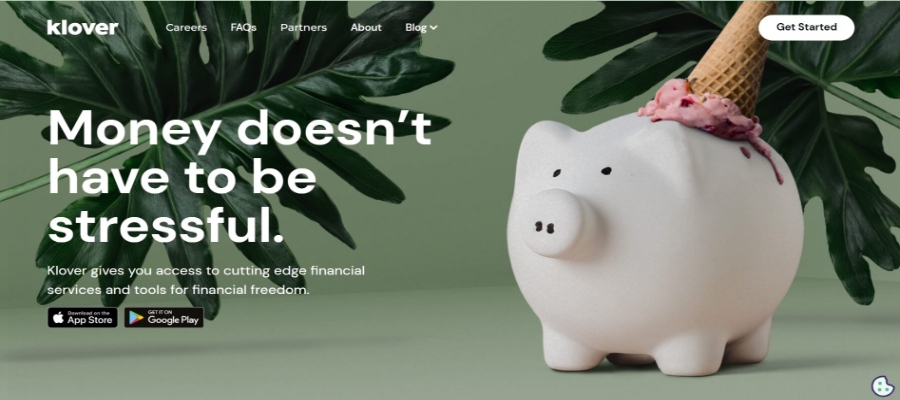 An alternative called Klover offers small loans starting at $100 to anyone, regardless of their credit rating. To get money through this app, you must provide access to your bank account with more than $250 in it and where you receive your basic income (every one or two weeks).
If you see ads on Klover or take surveys, you can increase your possible loan amount to $130. In addition, the app doesn't ask you to pay an interest rate on a loan. However, it has a few significant drawbacks: 
You can't choose a payoff date for the loan, as Klover does this automatically by selecting the closest day you'll receive your paycheck.  

Waiting time to receive funds into your account can be up to three days, and the instant transfer fee is expensive, up to $14.98. 

You cannot request more than one loan at a time. Once you pay off the first one, you can get a new one two days later – and so on every payment cycle. 

You will have to pay a monthly fee of $2.49 to use the application.
Klover users do not rate its service very highly because it takes so long for support to answer questions.
Affirm – Best For Buy Now Pay Later Purchases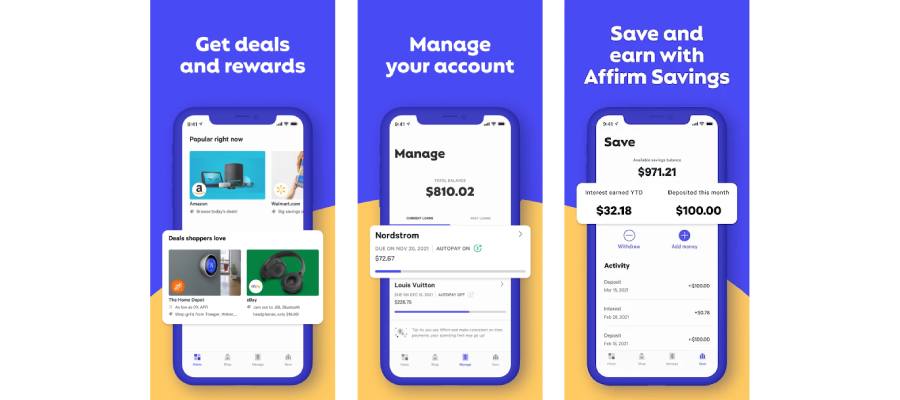 This alternative will allow you to make large purchases on credit. Affirm is not very similar to payday loan apps like MoneyLion and Dave; it is more like a bank or financial institution that provides large personal loans.
Affirm will allow you to make a purchase you've been dreaming of for a long time and divide the amount into several more affordable payments. The app works with thousands of companies in the U.S., such as Amazon, Walmart, and Nike.
How does Affirm work? 
First, you download the app and sign up for a new account. Next, you provide basic information about yourself so the app can run a soft credit check.

The app will assess your creditworthiness and show you what terms you can get. 

When you arrive at one of Affirm's partner stores (or select an item online), you can use the "buy now, pay later" service. Make your first payment on the spot, and you're done! 
Affirm lets you pay for anything from $50 – $17,500 with 0% APR for three months. In addition, the app has no additional fees and allows you to choose repayment plans (3, 6, 12, and 60 months) at a low APR of up to 30%.
The only drawback of this app that users often talk about is the service. The customer support number is not listed in the app or on the website, so you must communicate with a chat advisor, who often takes a long time to answer. And of course, the problem is that not all stores are Affirm partners, so you can only take advantage of this installment plan in some places.
AfterPay – Best For 0% Purchases with BNPL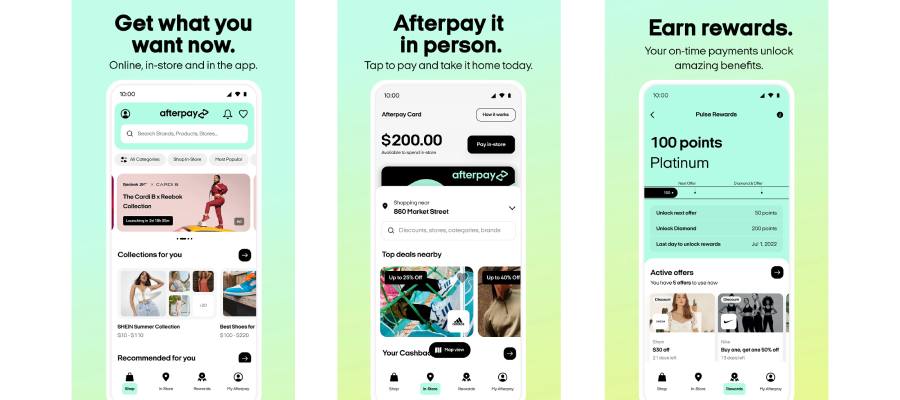 Another company provides users with small credits for purchases at stores after a soft credit check. What's more, credits from Afterpay won't affect your score because the app doesn't report to the credit bureau.
Afterpay works on the "buy now, pay later" principle and offers you to divide your purchase amount into four equal payments, the first of which you make while still in the store. The app often offers credit for six weeks, during which you pay ¼ of the purchase price every two weeks. If you miss a payment for ten days or more, you have to pay a late fee of $8.
Overall, this is a great alternative that people often use before the holidays. However, be aware that the customer service at this company is slow to respond, so try to resolve any issues before you're at the checkout counter in the store.
Brigit – Best For Budgeting Tools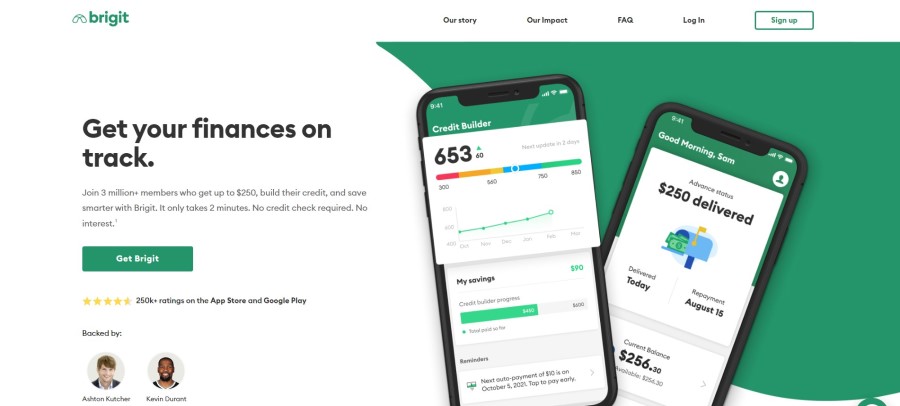 This app ranks with Dave in popularity and allows you to borrow up to $250 at any time of the month. The functionality of these apps for instant money is similar – they offer small cash advances at 0% APR for a monthly fee. However, while Dave costs $1 per month, Brigit is priced at almost $10.
This price includes credit monitoring and other budgeting tools, so this may be a good option for those who want to improve their financial literacy. However, if you are only looking for a short-term loan, you may prefer something other than the one that allows you to borrow only up to $250 before your following income.
The good news is that Brigit, unlike Dave, transfers funds quickly to borrowers' accounts. Even without extra fees, the app transfers money to your bank account the same day if you request it before 10 a.m. or the next business day.
Brigit is also very well-rated on all platforms where it can be downloaded, and users note quick responses from customer support in their reviews.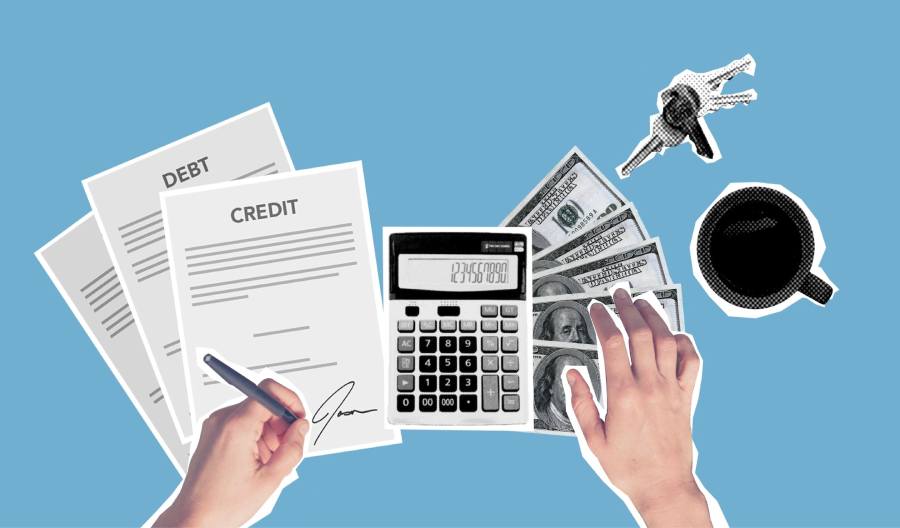 Chime – Best For Overdraft Protection
This alternative is suitable for those who want to protect themselves from overdraft fees of up to $35 per small tip. Chime does not charge you any fees and provides cash advances instantly and automatically, which is its significant advantage.
The main drawback of this app is that it is not available to everyone. You must have an active Chime account and transfer at least $200 every month into it to use this feature (you will only get access to fast loans after two months of opening this bank account).
Your first loans will be $20-$25, but your credit limit will increase after each payday (typically on your next payday). In addition, Chime does not run a credit check when you sign up for the app and does not have a minimum credit score.
Overall, this app is not just an alternative to Dave but a supplement – install it on your phone to protect you from overdraft fees. 
Avant – Best For Personal Loans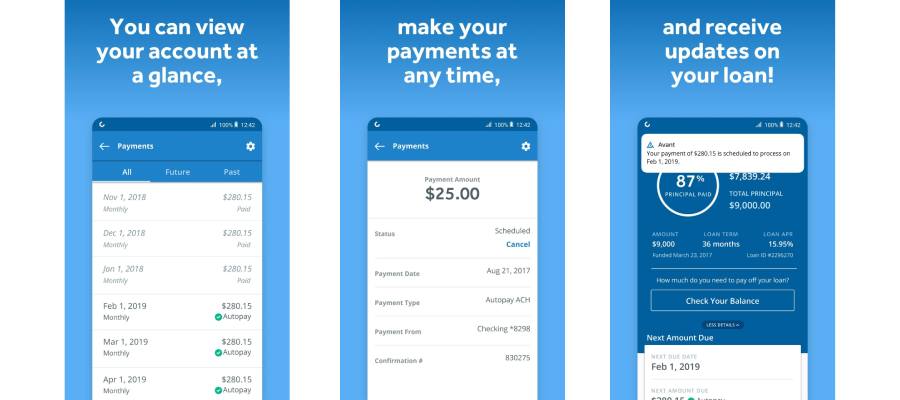 Avant is an app for people with bad credit of 550 FICO points or more who want to borrow a large amount of money. Through it, you can get from $2,000 to $35,000 at an APR of up to 36%.
Avant does a credit check before showing you what credit terms will be available. Then, on the app itself, you'll be able to choose a repayment period of 2 or 5 years and sign a contract with the lender on the same day.
To get the money to your bank account within 1-2 business days of signing the agreement, you will need to provide its details. Remember, getting a big loan through an app like this is easy, but paying it off with all the fees (including origination fees) can be tricky.
Daily Pay – Best For Accessing Your Earned Income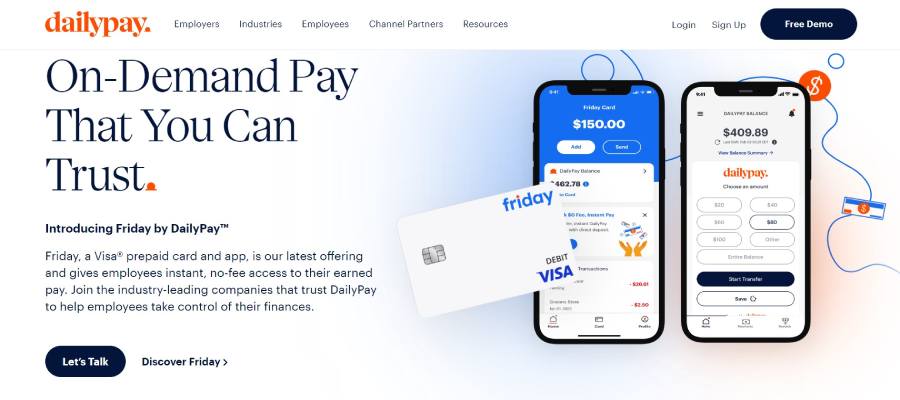 If you don't want to borrow someone else's money, you can use this app to access your paycheck a few days early. The main advantage of this method is that you don't have to pay APR; the only thing you pay for is the money transfer.
Although this type of application is an excellent alternative to payday loans, Daily Pay has a few drawbacks: 
You can only use it if your employer is a company partner.

The app doesn't indicate the exact fees it charges for transferring funds.
Users complain about the slow work of the support service.
On the other hand, Daily Pay can be a good option for many, as the app allows you to get 100% of your earnings before payday, doesn't run a credit check, and doesn't even require your Social Security number. In addition, Daily Pay transfers money to your bank account immediately or on the same business day.
Dave: What You Need To Know
Dave is an app for people who can quickly borrow a small amount of up to $500 with no credit check or interest. Compared to many competitors, its main advantage is that you can get such a loan either online to your bank account or offline in cash through an ATM at 32,000 locations.
Dave protects you from overdraft with its notifications and costs only $1 a month. Overall this app is the best for anyone who needs to borrow a small amount for a few days because it only has one repayment term, which is on your next payday.
How to Compare Dave?
To compare Dave with its alternatives, we had to consider many factors and check not only the websites of these apps but also user reviews about them. Most of all, we paid attention to objective data like figures and amounts (fees, interests, repayment terms, number of services), but we also considered subjective ones like good customer service.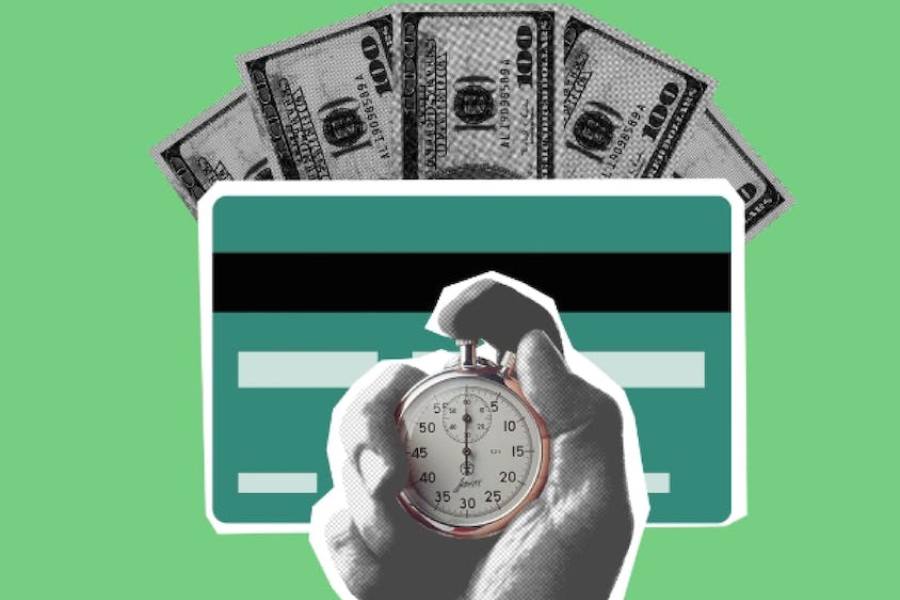 Service
Users evaluate the application significantly positively; it scored 4.4 out of 5 on the Google Play Store, which is an excellent result for more than 430,000 reviews. In addition, more than half a million Americans have left their ratings for Dave on the Apple app store; the final score is 4.8 of 5 stars.
The only place where there are a lot of bad reviews of the app is the BBB rating website; out of 500 reviews, most have 1 star, and the average rating of the app is 1.2 out of 5.
Users generally note that customer service works well and can answer any question. Considering that this is a weakness of most apps, paying attention to this merit is essential. 
Loan Amount
Being able to lend any amount you need is a critical virtue of instant loan apps and a weakness of Dave. Given that you can borrow a maximum of $500 in the app, and the first time you are unlikely to get more than $50 or $100, we have selected the article alternatives that allow you to borrow significantly more.
Fees 
It's important to note that Dave has the most favorable terms of all the apps available on the market. No alternative can offer you loans without obligatory tips and only a $1 monthly subscription.
Of course, users can leave a tip, but it's not required. They can also pay extra for faster funds transfer to their account, starting at $2.99 and $11.99. However, this is normal for all applications of this type. 
Interest Rate
Considering that alternative payday loans usually have an APR of 300%-500%, Dave is a very inexpensive option, providing loans at 0% APR.
However, it is crucial to understand that additional fees can count as interest. For example, if you get $100 for seven days through Dave and pay $1, $2 tip, and $4 for instant transfer, it'll cost $7 to borrow $100, which is a 365% APR. 
Waiting Period 
We understand that sometimes even one day of waiting can be a severe problem, so we've found alternatives to Dave that help you get your loan within one business day.
However, if you need to get your money precisely the same day, you're better off choosing other apps like Dave with a paid transfer option. It's better to do so because no app can guarantee a free same-day withdrawal. 
Credit Check 
When a lender requests the credit bureau to get information from your report, this is called a hard credit check. This is because lenders often have specific requirements for borrowers, such as a good credit score, and they do this check to see if you qualify.
However, a credit check can be a barrier to getting a loan if you have a low credit score. That's why almost all the apps like MoneyLion and Dave lend money without a credit check.
Why Choose Alternatives To Dave
Dave is a good app with favorable terms, but it is not perfect, and sometimes it's worth trying something else. For example, Dave lets you borrow up to $500, while PayDaySay enables you to borrow up to $5,000. If you don't want to borrow from an outside app, you can get earlier access to your earnings if you connect Earnin to your bank account.
Also, if you need a loan today and don't want to pay an instant transfer fee, you can download the Brigit alternative, which offers cash advances up to $250.
There are dozens of reliable companies and lenders in the U.S. financial market today willing to lend you money on various terms. Try their services and determine which suits you best – don't agree to terms you don't like. 
FAQs
What is the most similar to Dave?
The most similar alternative to Dave is Brigit. Brigit allows you to borrow $50-$250 at 0% APR until your next paycheck, but it costs $9.99, which is ten times greater than Dave's. The one significant advantage of Brigit is that you can get the money the same day or the next day without an instant transfer fee.
What app will let me borrow money instantly like Dave?
The most popular alternatives to Dave are Chime, PayDaySay, Albert, MoneyLion, SoFi, Empower, and Brigit. They allow you to get a small loan with no credit check for up to 4 weeks, typically before your next paycheck.
How much can I get with apps like Dave?
Most apps will lend you a maximum of $500 a month and no more than $150 daily. However, many other loan apps provide excellent personal or installment loans. For example, you can download PayDaySay or OppLoans to get up to $5,000 without a credit check.