If you are looking for Earnin alternatives, we have the best options for you! We have done all the research to find the best apps similar to Earnin for you. In our guide, we will talk about how to compare loan apps and other online money lenders, their key differences, and whether there's any better option.
Earnin Alternatives: Best Choices
In case you're short on cash or need some extra cash until your next paycheck, the Earnin app may make your life easier. The Earnin app, for instance, offers no-interest cash advances and asks customers for tips instead of charging them. It's important to select apps carefully as some of them come with fees and other costs.
If you're looking for an alternative to Earnin, there are several options. Here are the best ones and their key features we think you should consider:
Chime (Overdraft security)
Brigit (Track and analyze your spending)
Branch (Build great financial habits)
Dave (Low fees)
Dave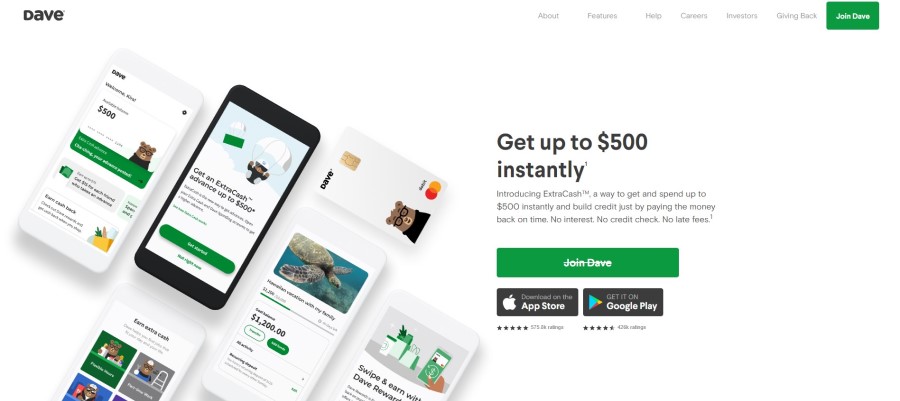 You can download Dave onto your Apple or Android device to access banking and financial services. Using Dave is as simple as signing up for a $1 per month membership, and you can either link an existing bank account – or open a Dave account with a debit card that works with your existing bank account. Maximum cash advances are $250, but there's no minimum amount.
If you are worried about overdrawing your checking account, the Dave app might be a good way to get access to some of your paycheck early.
You'll be alerted if your account is at risk of overdrawing when you use the Dave app to monitor your spending. In such a situation, you may need a cash advance to get you through until your next paycheck arrives. Although tips are accepted, there's no interest or fee. You don't have to worry about doing a credit check to get a cash advance since they don't require it.
| | |
| --- | --- |
| Pros | Cons |
| The credit check not required | After Dave's repayment due date, he could automatically recoup advances |
| Fees and interest are not charged on cash advances | A monthly membership fee required |
| The app gives you access to side jobs and automatic budgeting | |
PayDaySay

PayDaySay is considered a peer-to-peer lending site that enables you to lend and borrow money. Overall, PayDaySay is one of the apps like Earnin, so if you're having some type of emergency financial need that requires immediate attention. Your money will be sent to you within one business day, and often even sooner.
It's best for those who want to obtain a loan in the shortest time and with the least paperwork.
This is one of the apps that are free of charge, don't require a monthly subscription, and don't charge entry fees. The loan amount you can borrow ranges from $100 to $5,000. It's possible to pay as much as 2.290% interest on loans, and most loans last for 2-3 weeks. The average APR for personal loans is 50-400% and they are usually available for no longer than a month.
| | |
| --- | --- |
| Pros | Cons |
| The loan amount ranges from $100 to $5,000 | If you take out a loan through our app, interest rates can be as high as 2.290% |
| No need to provide any proof of capacity to pay, or any other documents (you only need your passport, address, and phone number) | Loans are due in 2-3 weeks |
| The app works 24/7 | |
MoneyLion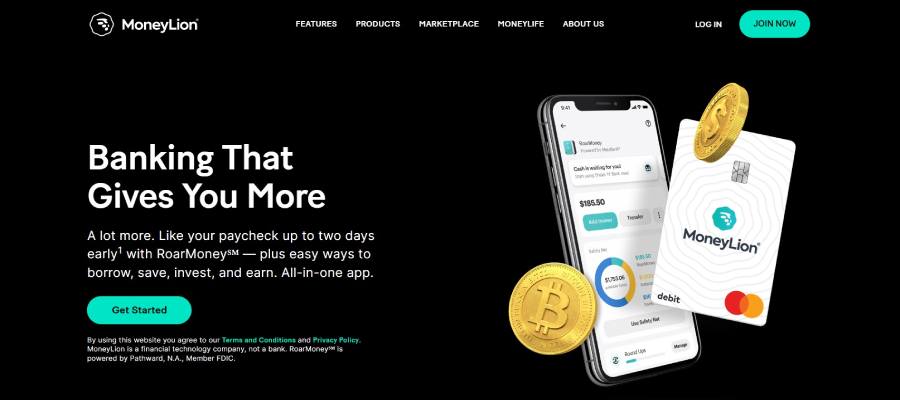 A key feature of MoneyLion's app is its cash advance service (Instacash) which offers cash advances for up to $250 with one tap. You can use Instacash fee-free with no credit check, no interest, and no credit check. The first deposit you make will be at least $25, but if they detect recurring deposits in your linked external account, your deposit will rise to at least $50 and up to $250.
You don't have to pay interest with MoneyLion, tipping is optional, and regular delivery is free of charge. It's possible to choose Turbo Delivery if you would like the money delivered quicker than normal.
If you use an external checking account, Turbo Delivery charges range from $1.99 to $7.99 based on the amount disbursed. If you have a MoneyLion RoarMoney account, Turbo Delivery fees are 99 cents to $5.99. It's best for people who are looking to boost their credit score, as well as for people who trade cryptocurrency.
| | |
| --- | --- |
| Pros | Cons |
| Credit builder loans, 0% APR cash advances, and other financial tools from your credit union can help you save money | No traditional retirement accounts like an IRA or 401(k) management options |
| Crypto friendly | No financial planner or advisor |
| Integrated digital personal financial services | |
Branch
With Branch, payday loans are no longer a necessity. The company has partnered with the FDIC-member Evolve Bank & Trust to provide banking services. The fee is based on the amount of paycheck advance you need and how you want to access the funds. The Branch interest rates range from 15% – 34%.
Their debit card can now be used with Google Pay and Android Pay since they've partnered with MasterCard.
Bank account transfers take about three days. On the other hand, transfers to your Branch Debit Card are instant and free. A debit card transfer for amounts of $75.00 or more is $4.99. They monitor your spending activity. Your advance amount may be reduced if your spending activity is high. With basically no fees, great service, and instant loans, this app is an amazing alternative.
| | |
| --- | --- |
| Pros | Cons |
| No advance fees (only if you want instant money you will pay a fee) | Advance amounts are limited |
| No membership fees | You need a debit card |
Brigit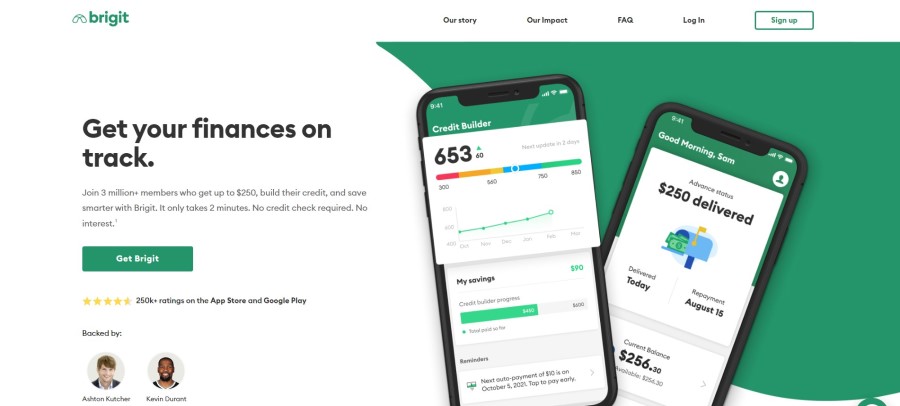 Besides providing small cash advances up to $250, Brigit offers budgeting tools. As part of a Plus membership, Brigit analyzes your spending – and if it thinks you may overdraw your account, it will automatically advance your money. As for the interest fees, Brigit doesn't charge any.
Nonetheless, the app requires a $9.99 monthly fee, and not everyone can sign up. Applicants must have a Brigit Plus score of 70 or higher to be eligible for a Brigit Plus cash advance. It's a great option if you're looking for fast money without the need to drain your bank account. Their scoring table looks like this:
70–80: Fair
80–90: Good
90 and over: Excellent
Overall, it's a great option if you're looking for fast money without needing to drain your bank account.
| | |
| --- | --- |
| Pros | Cons |
| No late or interest fees | The monthly fee is $9.99 |
| You have the option to extend your due date up to three times | You can contact customer support only via email |
| They will notify you if you're getting close to overdrawing your account | |
Chime

The primary product offered by Chime is an online checking account with no monthly fees. Although this may not seem like much, Chime's Instant Loan is a decent deal at $5 per $100 borrowed, which comes to nearly 30% APR over a three-month term.
Using the Chime app, you'll be able to find ATMs around the country and withdraw cash with no fees. The app is suited for employed individuals who need a little help with their financial problems. By opening this account, you will have access to several other services and products, such as:
| | |
| --- | --- |
| Chime Instant Loans | The minimum loan amount is $100, but you can borrow more and pay back the loan over three months if you want. |
| Chime Credit Builder | This credit card (Visa) has no annual fees, interest costs, or large security deposits. The money is transferred from your Chime checking account to your Credit Builder account instead |
| Early Direct Deposit | Paychecks are sent to Chime as soon as payroll information is received, which can be up to two days before the scheduled date. |
| SpotMe | Purchases overdrawing your account up to $200 are free of charge. Any negative balance in your account will be credited to your next direct deposit. |
| | |
| --- | --- |
| Pros | Cons |
| Savings rates that are competitive | Branch offices are not available for in-person service |
| Your financial habits can be improved with automated savings tools | Direct deposit is required for mobile check deposit |
| ATM access at more than 60,000 locations | |
Daily Pay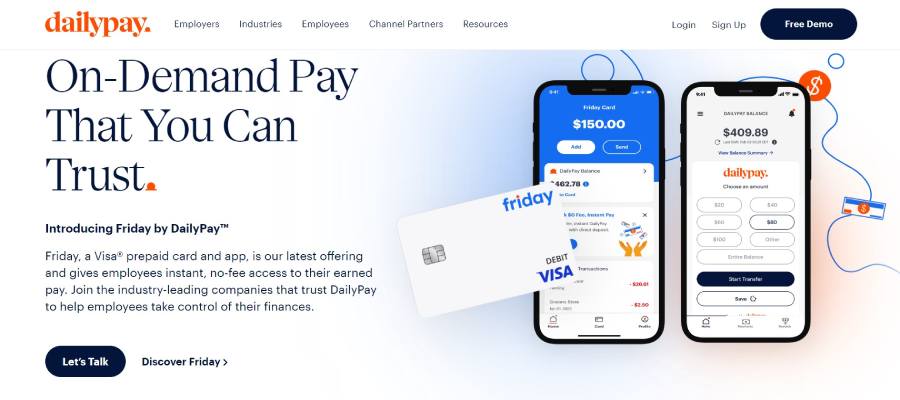 Among the few apps that advance 100% of your wages in a pay period, Dailypay is one of the best. As you earn wages, the app moves them into a Dailypay bank account, which updates every day. At any time, you can transfer funds from your Dailypay account to your bank account or debit card.
There's a transaction fee charged by the app every time you request a cash advance, although the app doesn't specify how much the fee is. Taxes are deducted from your daily pay to prevent you from overborrowing. A free savings tool has also been added to Daily Pay to help you automate your saving habits.
The advance offers a better rate than most other providers if you need an advance on more than 50% of your wages. Another provider or a similar app may be a better option for users looking for apps that help them manage their finances.
| | |
| --- | --- |
| Pros | Cons |
| App is easy to use | Being a Daily Pay partner is required |
| Savings are automated | It's hard to get in touch with customer service |
| Savings are automated | |
Earnin: What You Need To Know
Earnin is a great way to get your money fast. To get started with Earnin, users must first download the free app from either Google Play or the App Store (iPhone only). This is one of the apps with an easy-to-use interface, making it simple to track your Earnings and make payments.
Earnin offers loans from $100 to $500 per pay period. This makes it an ideal source of emergency cash for those who don't have enough saved up or who need extra money for bills or other expenses.
The amount depends on your creditworthiness and income level; so if you have a good history of repaying loans on time, then it will be easier for you to get approved for a larger sum than if you were just starting with this type of financing.
How to Compare Earnin?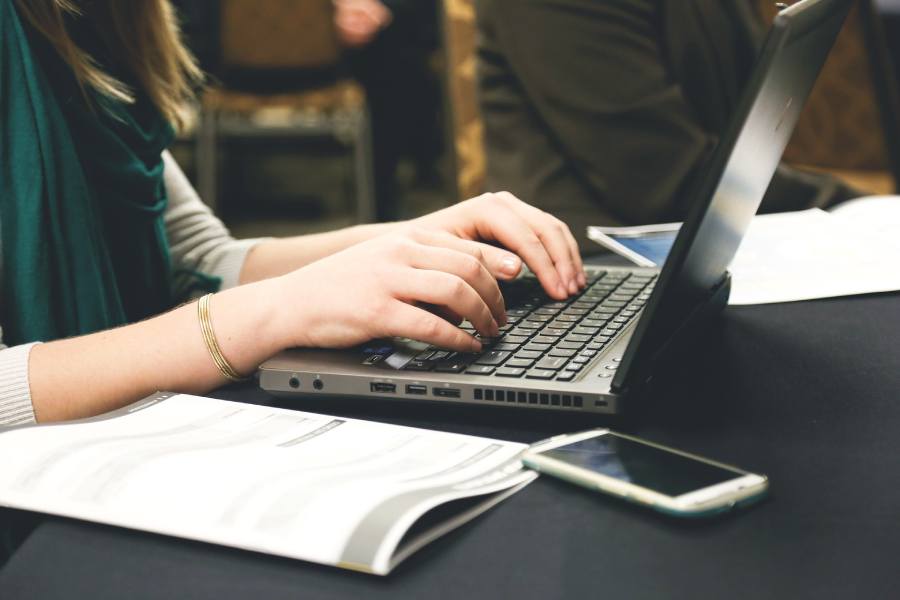 Choosing the best loan app like Earnin can be a daunting task, especially if you're not well-versed in financial services. If you are looking for apps like Dave, or apps like Cleo you must know what parameters to look at.
There are many different apps available in the market today (that are similar in a way), so it's important to know what to look for in a loan app. Our goal here is to help you choose a loan app that's a good fit for your financial situation.
When you're comparing apps like Earnin to, for example, apps like Albert, there are a few key factors to keep in mind. Let's go through them one by one.
Service
This is the first thing we look at when reviewing loan apps and it's also the most important. If an app has poor customer service or a bad reputation, then it will be hard for them to retain its customers over time. You should be able to get your questions answered quickly and easily if the app offers good customer service.
Be sure to watch out for hidden fees or minimum payments that are higher than expected. This is because they can be signs of a scammer or someone who doesn't care about their clients at all.
Loan Amount
The loan amount is one of the most important features of any loan application. It determines which type of loan you can get and what interest rate you will pay. If the interest rate on your loan is high – then this means that the credit institution will take more money from you than was originally planned in the contract. High-interest rates can lead to serious financial problems in the future if they are not paid according to schedule.
The amount of a loan is also determined by other factors:
The purpose for which you need money
Your monthly income
The credit history
Your age
Your location (this includes the city where you live)
Fees
When you're looking for a loan, it's important to understand all the fees associated with a given loan. Fees can include origination fees, monthly fees, prepayment penalties and more. Many lender apps charge you a certain percentage of the amount borrowed as an application fee. The higher the amount you borrow, the higher the application fee.
Most apps charge an origination fee of 1-3 percent on top of the principal amount of your loan. High-interest loans are those with an annual percentage rate (APR) above 36%. Some apps charge additional fees on top of the origination fee such as late payment penalties (up to $15 per month), and returned payment fees ($10 per returned check).
Interest Rate
This is the cost of borrowing money expressed as an annual percentage rate (APR). It's calculated by taking into account all fees and charges associated with your loan, including any origination fees or origination fees for refinancing your loans at a later date (if applicable).
If you have a bad credit score, it's better to choose an online lender that offers lower APRs as well as a shorter repayment period so that you can pay off your debt faster and improve your credit score faster as well.
If you're on a fixed-rate loan, your interest rate will stay the same throughout the life of the loan. But if you have a variable-rate loan, your interest rate can change over time. If your interest rate goes up, so does the amount of money you pay back each month.
Waiting Period
The waiting period is a pretty important factor when it comes to loans – especially if you want to get one as soon as possible. The longer the waiting period, the better for you because it means that you will get your money faster than if there was no waiting period at all.
Make sure you know what type of loan you want to apply for; this will help you determine which lender offers it and how long it takes for them to respond to your request.
Check whether or not there's a waiting period for your preferred lender and whether or not there are any hidden fees associated with it. Be sure to check if there are any other additional costs associated with using this or any other similar service.
Credit Check
A credit check is done by a lender to evaluate your credit history and determine if you are eligible for a loan. Credit checks can be done for both personal and business loans, but the reasons for doing them vary. A good credit score is considered to be anything above 700. The higher your score, the more likely you are to receive a loan with favorable terms.
There are several ways to evaluate a user's credit score. The most common method is by reviewing their credit report from one of the 3 main credit reporting agencies: Equifax, TransUnion or Experian. This report includes all of their accounts that have been reported to these agencies over time (mortgages, car loans, student loans, and more).
Conclusion
As you can see, there are alternative apps like Earnin, but they all work in a similar way. We've researched different services to figure out which alternatives are the best. This is not an entirely scientific process. We simply considered different factors when comparing these specific sites and gave you our top picks.
Overall, the list of alternatives offers compelling reasons for you to try one out. They may even provide similar, or different features that aren't currently available in the Earnin app. That's the main reason you should keep them all on your radar!