Sometimes, you have to struggle to meet your needs before the month runs out. However, there are times when urgency demands you seek another means of getting funds before your next paycheck.
This is where a payday loan comes into the picture. These are short-term cash advances that you pay back with interest. You can find lenders that offer these services online, though some have locations in several parts of the globe. If you're interested in this loan, you must have a good idea of what it entails. To this effect, we have created this informative guide to provide the necessary information about Michigan payday loans online.
Best Payday Loans in Michigan
There are a few service providers that offer payday loans online Michigan state. We have given a rundown of five of them below.
PayDaySay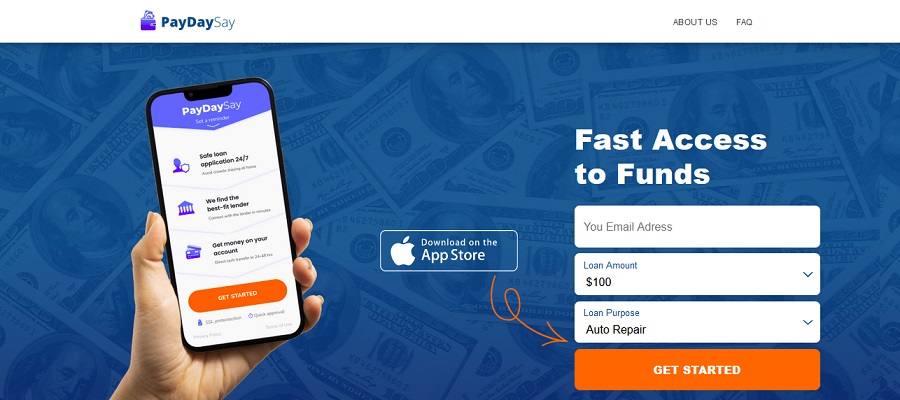 PayDaySay is a platform where Michigan state residents can get online payday loans. Since its launch in 2013, it has been serving individuals in several states in America, including Michigan. It operates in several locations, but you can easily download the app to use its services. You can get a Michigan payday loan online worth up to $350. However, this varies with your income and how much you intend to borrow. The repayment rate and other terms and conditions attached to the loan depend on how much you take out. In order to get a cash advance from PayDaySay, you must meet specific requirements. You should be up to 18 and also have the following:
30-day history of your account balance before your application
Checking account with permanent checks
Social security card
State-issued ID
Two letters of personal references
Two recent paystub
PayDaySay offers loans within 24 hours, provided borrowers meet the necessary criteria. This makes it a viable option when there's an urgent need for cash.
Advance America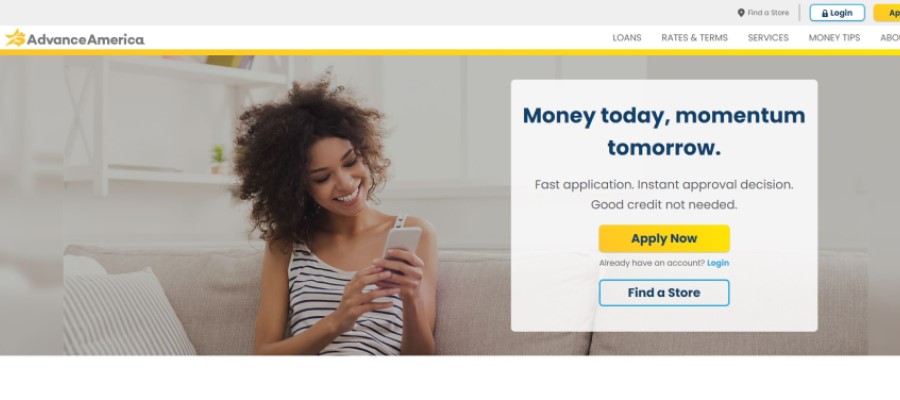 One of the leading names in the US, Advance America is one of the sites to get a Michigan payday loan online. The service has been in business since 1997 and continues to grow today. It has 92 locations in Michigan, including Adrian, Brownstown, Big Rapids, Farmington, Highland Park, and Hillsdale. With Advance America, you can get loans ranging from $100 to $600. The rate varies with the amount you want to borrow and the loan terms. For instance, a $400 loan to be repaid in 14 days has a 358.48% APR, but if it extends to 30 days, the APR becomes 167.29%. Borrowers can apply for a Michigan payday loan online or by visiting one of their physical locations. Before applying, ensure you meet the following criteria:
18 years of age
A checking account
Proof of income
Government-issued ID
Social Security Number
Advance America offers fast loans but has very high APRs. You should consider this before opting for this lender.
Instant Cash Advance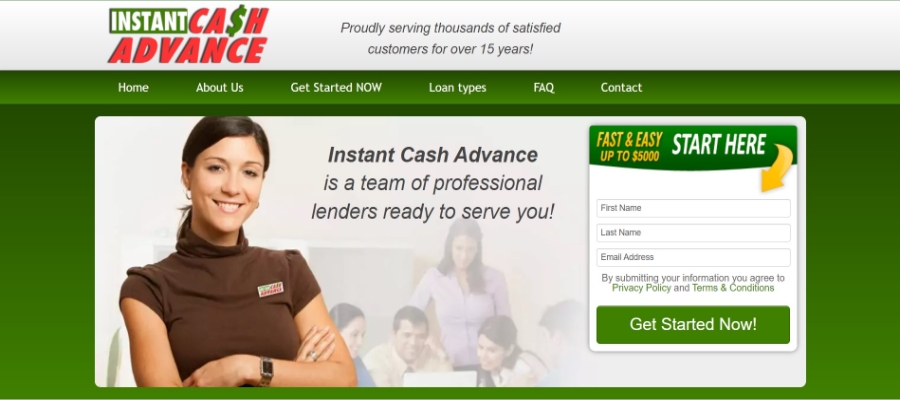 Instant Cash Advance also offers payday loans online to Michigan state residents. The service provider began in 1999 by providing quick and easy payday loans. Currently, it has 26 physical locations in Michigan, allowing borrowers to apply in person. With this lender, you can get up to $600 for payday loans. There is no set APR as this depends on your loan amount. Similarly, the terms depend on the agreement between the borrower and the company. While it processes payday loans in a few hours, borrowers must meet the standard age requirements before application. Other criteria include having a government-issued ID card, a checking account, and proof of income.
Instant Cash Advance is one of the locally owned brands that have built a positive reputation over the years. Borrowers can quickly get payday loans, but they must apply in person. This can be a drawback, unlike other companies that offer online applications.
CashNetUSA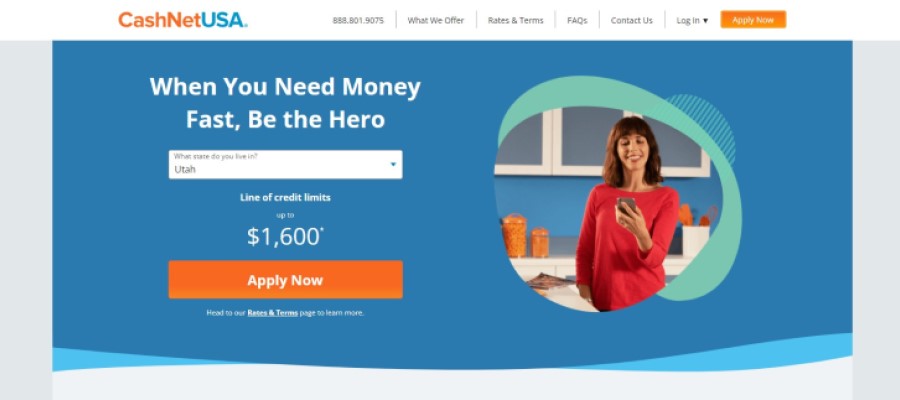 CashNetUSA is another lender you should consider for payday loans online Michigan state. The brand was established in 2004 and obtained a license from the Michigan Department of Insurance and Financial Services in 2015. It's based in Chicago but offers Michigan payday loans online of up to $600. As usual, the APR rates vary with the loan amount. The terms also differ but are no longer than 30 days. Borrowers can apply online or in-person but can only get approval if they meet the following criteria:
18 years and older
An active checking account
US resident
Verifiable income sourced
The requirements above are the basic options, but the lender might demand additional documentation. You get a deposit within a day or two if you're qualified. CashNetUSA has a great reputation amongst users. On the flip side, their rates are on the high side. They are an excellent alternative but should not be your first option when considering payday loans.
Check 'n Go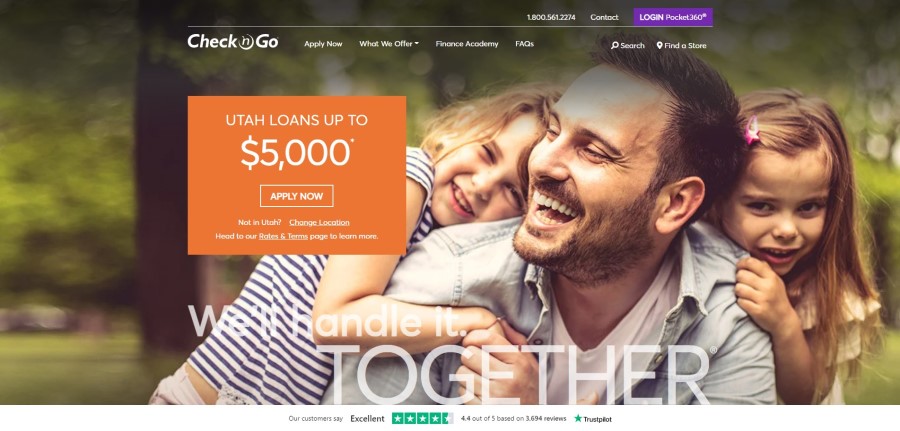 Another platform that offers Michigan payday loans online is Check 'n Go. Founded in 1994, it operates 92 storefronts in Michigan in addition to its online site. As a result, you can apply online or at its closest store. There's a slight difference in the amount you can get from both locations. Online, borrowers can receive between $100 to $600, while stores offer between $50 and $600. There are no specifications on the term, but it doesn't exceed 31 days. APRs also vary depending on the term and amount of the cash advance, but it usually ranges from 332% to 416%. Whether applying online or in person, you should be at least 18 and have the following:
Social Security Number
Checking account
Proof of income
While Check 'n Go offers quick loans, there have been several complaints about its services. One of these is inaccurate deductions or payments. That said, you should consider getting payday loans online from this lender when there's no other option.
Are Payday Loans Legal in Michigan?
Taking out payday loans online or in physical locations is legal in Michigan state. Payday lenders must adhere to the regulations of the state specified in the Deferred Presentment Transaction Act. The law was passed in 2005 and covers repayment terms, financial charges, and the principal amount. Following these laws, Michigan online lenders must not offer over $600 for payday loans. The regulation didn't specify the minimum loan term, but a borrower should pay it back within 31 days. There's also a limit on the percentage a provider can collect as fees for these cash advances. Getting two payday loans is possible, but it must be from separate lenders. Nevertheless, the total you collect from these companies should not exceed $600. Plus, you should be able to repay both on or before the terms are up.
Why Might You Need Michigan Payday Loans?
Most times, Michigan residents opt for payday loans online in an emergency. It could be for an urgent medical situation or to cater to their families until the next payment. Yet, other scenarios cause individuals to apply for these cash advances. These include:
Making a large purchase like a new home
Renovation of a house or office space
To cover vacation expenses
For educational bills
To clear pressing debts
To handle moving costs
The top advantage of payday loans online Michigan state is that they're easy to get. Most lenders will release these funds within 24 hours after accepting your application. Furthermore, the application requirements aren't as strict as some loans. However, you must have a solid reason to opt for payday cash advances. True, money is necessary for several things, but taking a loan should be a last resort, and only for essential things.
Terms for payday loans in Michigan
One of the first requirements for a person to get payday loans online Michigan state is to be at least 18 years old. Besides this, other necessary criteria qualify you for a loan.
You must be a US citizen or a Michigan resident
A Social security Number when applying online. Physical locations will require a government-issued IC card instead of your SSN
Verifiable proof of income. This is one of the essential requirements as it determines how much you get
Valid customer details. When filling out an application, ensure to enter the correct contact information
Depending on the lender, you might need to fulfill other requirements.
Loan Amount
Loan amount, as its name implies, is the amount of cash a lender will agree to give you at a particular time. These vary depending on how much you earn and other factors. However, there is a general limit on how much an individual can borrow at once. The minimum amount is the least you can borrow; In Michigan law, there is no set amount for this. On the other hand, the maximum limit specifies the highest a lender can give. For Michigan payday loans online, the maximum loan amount is $600. The state law for payday loans permits individuals to collect two cash advances simultaneously. Despite this, the total must not exceed $600. The amount a person gets from the lender depends on a few things. In most cases, you don't always get the maximum amount from payday lenders for your first cash advance. However, it's possible if you promptly repay previous cash advances.
Loan Terms
No financial service provider would let a person borrow money without attaching a few terms and conditions. Simply put, the loan term encompasses the requirements of getting the cash advance. More specifically, they refer to the number of days a borrower has to repay the principal and the interest. In Michigan, a payday loan may only be taken out for a maximum of 31 days. Although there is no minimum duration, a two-week term is a standard. It could be lower, but that depends on the lender. If a borrower takes out eight or more payday loans in a year, MI regulations allow provision for a payback schedule. With this, the borrower gets better repayment terms and enough time to complete the repayment. Still, borrowers must apply for it 30 days before defaulting. Then, they pay a charge of $15, which is modified annually for inflation. The payback schedule must include three equal payments corresponding to the borrower's pay dates.
Loan Rates
Loan rates are the amount payday lenders charge, which you return with the principal – the amount you loaned. This amount is usually denoted as a percentage of this amount and varies based on how much you borrowed. Loan rates are generally noted annually as the Annual Percentage Rate (APR). The table summarizes how these rates apply to payday loans online Michigan state.
| | |
| --- | --- |
| Amount | Rate |
| First $100 borrowed | 15% |
| The second $100 borrowed | 14% |
| The third $100 borrowed | 13% |
| The fourth $100 borrowed | 12% |
| The fifth $100 borrowed | 11% |
| Sixth $100 borrowed | 11% |
By implication, a $100 cash advance would have a $15 fee. On the other hand, one of $350 would have an interest of $15+$14+$13+6%, totaling up to $48. A $600 loan would be $15+$14+$13+$12+$11+$11, giving a $76 fee.
Pros And Cons of Payday Loans in Michigan
Pros
Payday loans online are easy to get, making them a viable alternative for emergencies.
Borrowers don't have to meet too many criteria as with other loans.
It's an unsecured loan, so you can get a cash advance without using an asset as security.
You can get approved even if you have bad credit.
Cons
Paying off these loans is very expensive. Since online payday loans are short-term, they have very high APRs.
Payday cash advances are like a financial quicksand, a debt cycle that you might find difficult to break.
Some companies will require access to your account for an automatic debit once your term is up. Although you can cancel this access, it's a step too far.
These loans don't help your credit but could affect your score if you fail to pay.
While these cash advances are helpful, they have several disadvantages. You should consider the perks and drawbacks of payday loans before applying.
What Will Michigan Payday Loan Cost?
Borrowing costs can be a lot to handle, and it all depends on the APR. The higher a lender's percentage, the more money you repay. As a result, it's essential to compare the rates of different lenders before settling for one. To calculate the APR, use this formula: F+SIPrincipaln ×365×100
Where F = additional fees
SI = simple interest
Principal = the amount borrowed
n = number of days in the loan term
For example, you borrowed $400 for 14 days. Then assume your simple interest to be $54, while the service fee is $10. You can calculate the APR following these steps:
Add the fee, $10 to the interest, $54 to get $64
Divide $64 by the principal, $400 to get 0.16
Further, divide 0.16 by 14. You get 0.0114
Multiply 0. 0114 by 365, and your answer is 4.161
Multiply 4.161 by 100 to change to a percentage
Your APR is 416.1%
Following these steps, you can get the APR for different companies. With this, you can decide which provider has the best rates and which to settle for.
Michigan Payday Loans If the Credit Rating Is Poor
One of the bright aspects of taking payday loans in MI is that you get approved even with a bad credit rating. This is because payday lenders don't report to credit bureaus. In other words, a poor credit score doesn't come into play when applying for these loans. What you should have are the basic requirements. First, you must be at least 18, the legal age in MI. Then, you should have a Social Security Number and a Government-issued Identity card to identify yourself. Furthermore, you should have an active bank account, for which you must submit proof, like a copy of a credit card. You should also have a means of making money. This is essential as the lender would want to know how you can repay. It's also a determinant of how much you'll get.
What Are Alternatives to Michigan Payday Loans?
Online payday loans should not be your first option when looking for a cash advance. Instead, you can try other alternatives, including:
Borrow From Friends and Family
Though this might not be comfortable for you, asking a friend or relative is an excellent alternative. You might get a cash advance with little or no interest from them.
Take A Small Loan from A Bank or Credit Union
You should apply for a bank loan if you've not used up all your credit options and have a steady income flow. If you make early payments, you not only sort your problem but also build your credit score.
Bad Credit Loans
If you have a poor credit rating, you can opt for a bad credit loan. The downside is that they have a high-interest rate.
Lending Circles
You can become part of a lending group where individuals contribute to lending money to each other. It is a long-term commitment but has lower interest rates and friendlier repayment terms.
Conclusion
With this guide, we have explained in detail how payday loans work in Michigan. You've learned more about the amount, terms, and other requirements that you need to apply for this loan. Here, we also identified the advantages and drawbacks of getting a payday loan in Michigan. While you can easily apply for a Michigan online loan, you must consider the drawbacks mentioned. If you have no other option, these loans will work, provided you can fulfill the conditions and pay before the term is up. Nevertheless, you should also consider other alternatives to raising cash.