Traditional loans require a good credit score, a stable income, and other criteria a person needs to meet. Credit builder loans are an excellent alternative, specifically designed for people with a poor or limited credit history. We take a closer look at how a credit builder loan can help you.
Best Credit Builder Loans: Best Offers
There are several institutes that offer clients access to credit builder loans. The problem is the service differs among them, so you should carefully assess your options before you apply for a credit builder loan. We look at the top options you can use for loan funds that will help with building credit.
Republic Bank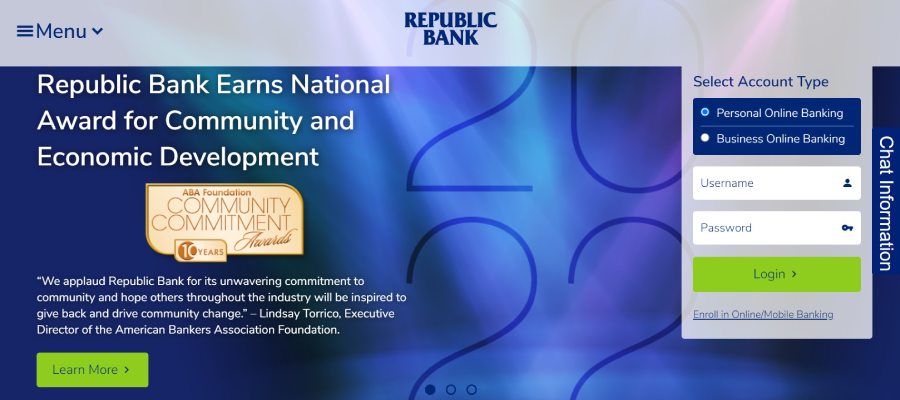 Republic Bank remains a popular financial institution within the United States. The company reports to major credit bureaus, which means you can use their credit builder plan to create payment history on your report. Republic Bank also states that the credit builder loans they offer help clients see improvements in their credit scores within the first year.
You can choose between three repayment periods, including 12, 18, and 24 months. The minimum amount you can apply for is $500, and the loan options go up to $1,500. The interest rate on Republic Bank's credit builder loans ranges from 9.118% to 11.805%.
Digital Federal Credit Union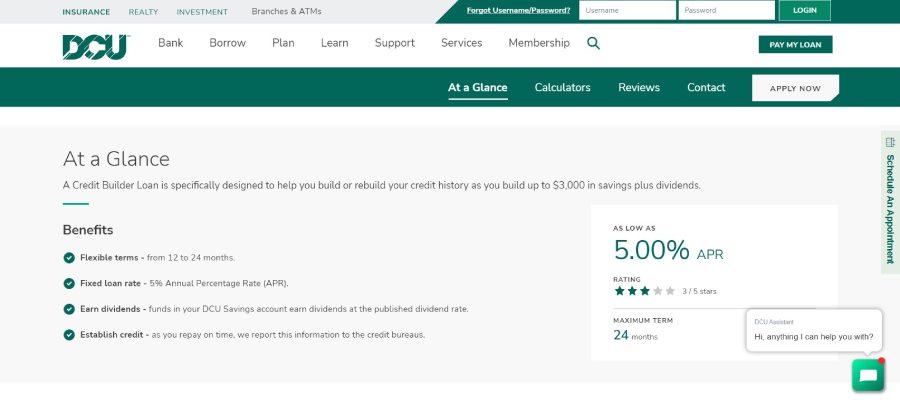 A credit builder account is also available at the Digital Federal Credit Unit. The credit builder account offered by this institute focuses on helping you build credit and your savings simultaneously. A great thing about the Digital Federal Credit Union's credit builder plan is that the APR they charge starts from 5%, which is considerably low compared to other options.
You can choose between 12 and 24-month repayment options. The loan rate is also fixed, so you do not have to worry about your monthly installments changing over time. The funds you "loan" are paid into a savings account, which allows you to earn dividends on the money left inside over the course of the loan period.
Self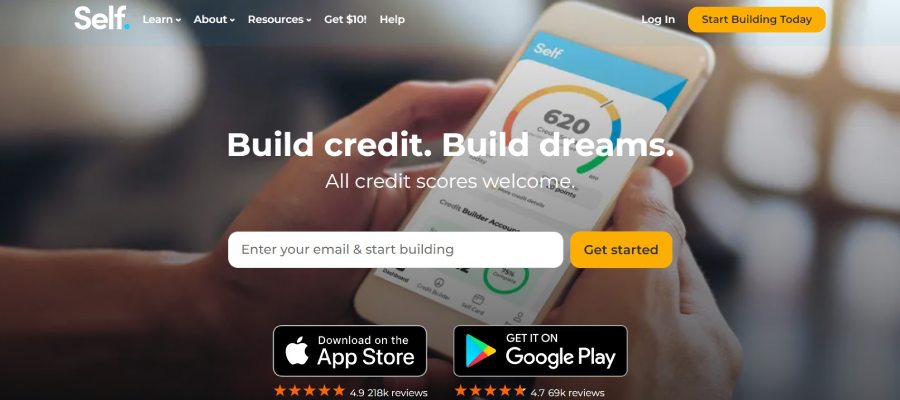 The Self Credit Builder Account is a very popular option and was specifically designed to help a person build credit. There is no minimum credit score that you need to meet before you are able to utilize the credit builder account from Self.
The company takes a digital approach to its system and gives you access to your own credit report. You can check your credit score at any point by simply signing into the app that Self offers. Repayment options start at $25 per month, and the company gives you access to an automatic payment system.
Metro Credit Union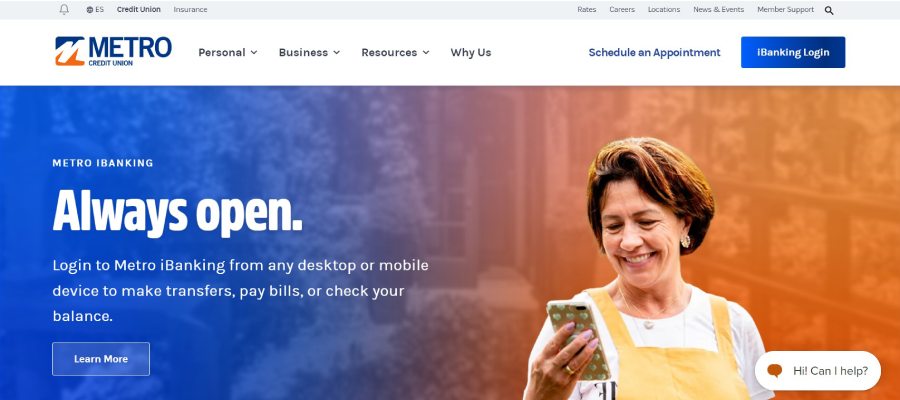 When using credit unions to open a credit builder loan, Metro Credit Union is also an option. The credit builder loan is part of the personal loan options that the credit union has. It is a good choice for people who want to establish a credit record. Those with bad credit can also utilize credit builder loan to improve their credit score.
There are certain limitations that you need to take into consideration with a Metro Credit Union Credit Builder loan. Apart from a minimum loan amount, these loans are only suitable for amounts up to $3,000.
Heartland Bank
The Credit Repair / Builder Loan Program from Heartland Bank was developed to help those with poor records improve their credit score. The goal is to help these individuals gain access to the financial services they require later on. The company offers credit builder loans between $500 and $1,500, so it is a good option for people who only want to pay a little monthly.
The loan amount you apply for will be placed into a separate savings account, which will incur interest over the loan period. Do note that you are required to show proof of consistent income over six months to qualify for a credit builder loan at Heartland Bank. Additionally, you need to complete a Money Matters Financial Education Class and present the Certificate of Completion before you are considered eligible for the loan.
What Is A Credit Builder Loan?
A credit builder loan is a type of financial service that helps people with an unestablished or poor credit history and score. The idea behind the loan is to report payments toward credit bureaus, to increase the person's credit score.
Unlike a traditional loan, this type of personal loan does not come with a front-up amount that is paid into your bank account. In fact, you do not get access to the funds you borrow during the entire loan period.
Once you are approved, the specific amount that you applied for is paid into a savings account. Here, it will receive interest payments on a regular basis, which means the funds will grow in value over time. You will then make monthly payments toward the loan. After the loan period ends and you have paid on time every month, you gain access to the funds deposited into the savings account at the beginning of this period.
When Is A Credit Builder Loan A Good Idea?
There are several scenarios where a credit builder loan is a good idea. If you have a low credit score, you can use the loan to build a positive payment history. This can gradually increase your credit score and give you access to revolving credit and other financial services later.
You can also turn to a credit builder loan if you do not have a security deposit for a secured loan or credit card. These types of services require a security deposit, which is held in a savings account. The security deposit decides how much credit you have available.
If you are just getting out of College and haven't been able to establish credit yet, it is difficult to get access to financial services. You can borrow a few hundred dollars through a credit builder account to help establish your credit record. Consider a short loan term, such as 12 months. This way, you do not have to spend too much time on the credit builder account.
Where Can I Get A Credit Builder Loan?
There are several institutes and facilities that give clients access to credit builder loans. It is important to understand how each of them works to help you understand what your options are. Some of these facilities may require you to pay higher interest rates, which can take a toll on your monthly budget.
Credit Unions
One of the first options to consider when you want to get a credit builder account is to look at credit unions. These are financial institutes that offer a range of different banking solutions, but the entity is owned only by its participants. These are essentially not-for-profit facilities that also do not pay corporate income tax.
This is a great option for people who prefer remote banking options, as there are usually limitations in the number of brick-and-mortar locations for credit unions. While there are generally fewer banking and service options at Credit Unions, you will find that they generally do offer good packages for people who want to apply for a credit builder loan.
Credit Bureaus
While credit bureaus do not offer personal loans or credit builder facilities directly, they can sometimes provide you with useful advice. You can contact one of the three credit bureaus to ask about how credit builder loans work. Each of the three major credit bureaus may offer suggestions on finding credit builder loans.
Furthermore, they can also analyze your credit record and determine if this type of loan is a good option for you. For example, they may suggest making higher monthly payments on your credit card account. Timely payments on the credit related banking services may also be advised if a credit builder account is not suitable for you.
Community Banks
A great way to get fast approval for a credit builder account is to utilize the services offered by locally operated banks. Large and National banks may have stricter criteria on what you need to qualify for a credit builder loan. Community banks are usually much smaller than these banks and can sometimes give you access to these loans at a more competitive interest rate.
There are many community banks in the United States, and they all serve only specific geographic regions. The great thing about community banks is that they often prioritize excellent customer service and want to ensure the bankers build relationships with their clients.
Community Development Financial Institutions
A Community Development Financial Institute, or CDFI, is established within a local community and is considered a privately owned company. It is a type of bank that puts an emphasis on providing a variety of traditional banking solutions to some of the poorer communities in the United States.
You can usually find a CDFI that can grant you access to a credit builder loan – but the maximum amount at these facilities may be much lower compared to the other options.
Online Lenders
Apart from looking at credit builder options in your local area, you can also search online. There are a number of online lenders that do offer an installment loan in the form of a credit builder plan. Some of these lenders may focus mostly on the digital presence of their business, which could mean you end up with less interest paid by the end of the loan period.
How To Get A Credit Builder Loan
The process of getting a credit builder loan is relatively simple. When you follow the instructions correctly, you should not run into any trouble applying for these loans. We will give a step-by-step guide in this section.
Decide How Much You Need To Borrow
The first thing to consider is the amount of money the loan. This is not a deposit but rather the amount to be added to a savings account throughout the lending period. The amount will have a large impact on how much you will be putting down monthly for the credit builder loan.
It is important to take a closer look at your budget now. Consider how much you can afford to repay on the loan amount that you are going to apply for. The loan payments should not make it hard to meet your monthly financial demands and requirements.
Compare Terms Of The Loans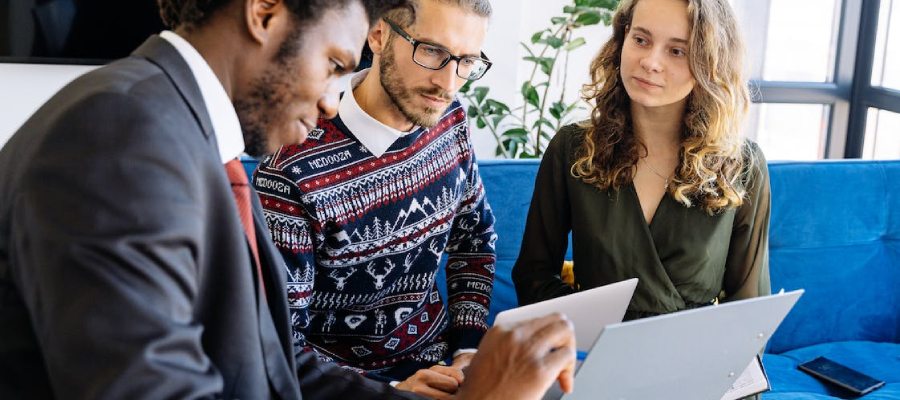 Many community banks, credit unions, and other financial institutes offer credit building loans. It is important to keep this in mind and to ensure you do not go with the first option that you see. So compare the variety of credit building loan options that are available and act accordingly.
Look at factors like the interest rate, minimum and maximum loan amounts, and the minimum monthly installment you have to make.
Consider whether the money you "borrow" is added to a security deposit or savings account, where it can incur interest. At this point, it is also a good idea to consider whether you gain access to the interest accumulated on the borrowed amount that will be sent to a savings account. Some banks may not pay out the interest that was generated during this time.
Choose The Best Lender
Choose a lender that you feel comfortable with. Consider customer service and take a closer look at reviews on the internet. This can help you understand which lenders are more reputable than others.
Submit A Formal Application
Finally, once you choose an amount and lender, you should fill out an application form. Many financial institutes will allow you to easily complete the application process on the internet. This can make access to the loan easier. Alternatively, visit a local branch and fill out an application at one of the banking consultants that are available.
Can I Get Credit Builder Loans If I Have Bad Credit?
It is often possible to get a credit builder loan even if you currently have a low credit score or bad credit record. Note that this loan will display on your credit record, but it will not work well for you if you are still skipping out on your debt payments – as these factors may cause your score to fall down again.
Can I Get Credit Builder Loans With No Credit Check?
With a traditional loan, a credit check is essential before approval. Things are a bit different with a credit builder loan, but companies may still perform a check. In most cases, this will not be a hard pull on your credit record but rather just a basic soft credit check. There are also some institutes that do not require a credit check when you want to open a credit building loan.
Alternative Ways To Build Credit
A credit building loan is a great way to improve your credit record and establish one, but it is not a suitable choice for everyone. Fortunately, there are alternative ways that you can use to improve your credit score and get a better credit record. We are going to take a look at three excellent strategies that you are able to use as an alternative to a credit building loan.
Secured Credit Cards
A common option that people turn to when they want to build credit is to apply for a secured credit card. This credit card works similar to traditional ones, but you need to make a security deposit beforehand. Your security deposit decides the line of credit you get access to.
The bank holds onto the deposit as a security for them should you fall behind on your repayments or be unable to pay the existing debt on the card. This is a flexible option that allows you to also keep your credit utilization ratio low – which is great for your credit report. Payments reported on the secured card still reflect on your credit record.
Secured Loan
Apart from a secured credit card, you can also consider the use of a secured loan. In this case, you will usually need to provide some type of asset as leverage for the loan that you want to take out.
For example, you could put your car up as leverage. This is the "security" that the bank has.
If you cannot make your loan payments, they then have the right to apprehend your vehicle and sell it to cover the outstanding amount on the secured loan. It is definitely a risky option, but can still help you put down payments on your credit record. Additionally, it is also a good way to gain access to credit if you are in need of funds urgently.
Personal Loan With A Co-Signer
Another option is to apply for a personal loan, but not alone. You can get a co-signer who has a good credit score, such as your partner or parent. This method ensures that the payments you make toward the loan are sent to credit reporting agencies. With this option, you do need to ensure you are able to make monthly payments on the loan.
Should you fail to provide on time loan payments every month, the other authorized user's credit record will also be affected adversely – this could cause problems for them in the future when they want to apply for financial services.
Thus, only consider these installment loans when you know you can adhere to the loan account requirements. You will also pay interest at a higher rate if you skip payments. This type of strategy does not involve using someone else's credit card but your own, with another person signing as an authority. On time loan payments can help to create a positive credit history, but you will need a valid bank account to apply at a financial institution.