Credit Card Cash Advance: What It Is & Best Offers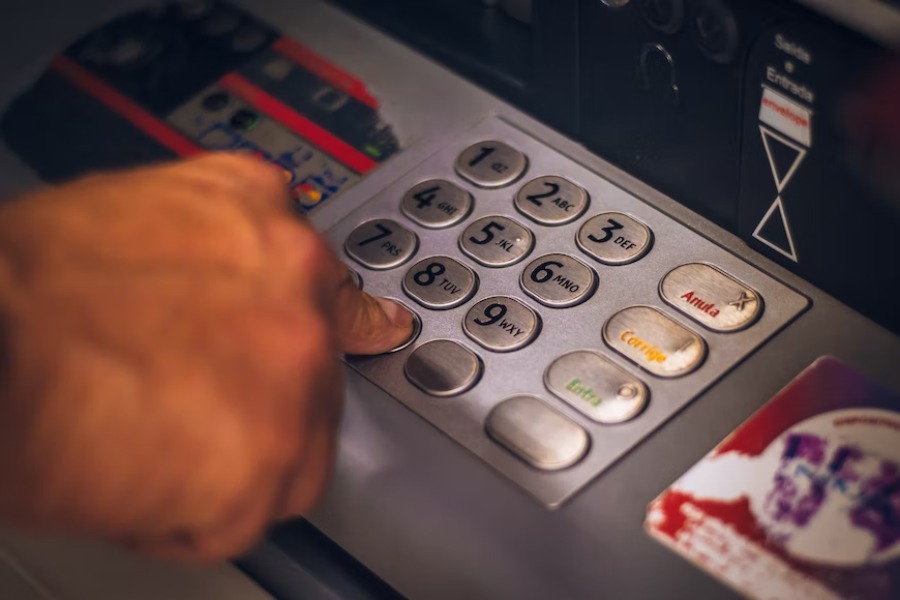 Are you in need of extra cash for a short-term financial emergency? Perhaps you're looking for a way to bridge the gap between paychecks or to pay for those unexpected expenses that pop up throughout the year. A credit card cash advance can be a great option when you need to access funds quickly but don't have the necessary cash on hand.
Cash advance credit cards allow you to withdraw cash directly from your account up to your credit limit. This makes fees and interest high, though, so it's important to make sure you understand the terms and conditions before you apply for one.
Need Money Fast?
Best Cash Advance Credit Cards
If you're in a pinch and need quick cash, you may be considering a cash advance. While using one can be an effective way to access money fast, there are a number of important things to know before tapping into your credit cards cash advance option.
This article will provide an overview of what a credit card cash advance is, along with the best cash advance credit card offers available. We'll also discuss the risks and costs associated with them, so you can make an informed decision about whether it's the right move for you.
Simmons Visa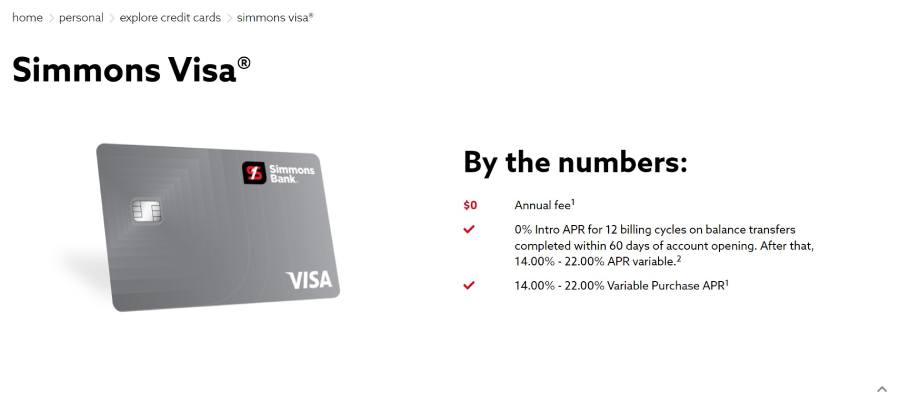 With the Simmons Visa credit card, you can make all your day-to-day purchases and get cash advances as you need them. With a competitive cash advance fee of 3% or $4 of the amount, whichever is higher, it's a no-fuss card designed to help those who want to build their credit.
Although the Simmons Visa doesn't offer rewards or benefits usually associated with traditional cards, it is notable for its low introductory APR and no annual fee. For the first 12 months, the card offers 0% APR (14.00% – 22.00% afterward) on all purchases and balance transfers, making it a great way to save money.
For those looking to consolidate debt, transferring debt within two months of opening an account gets one year interest-free. After the first year, there will be a 3% or $10 fee for the transferred balance.
DCU Visa® Platinum Rewards Credit Card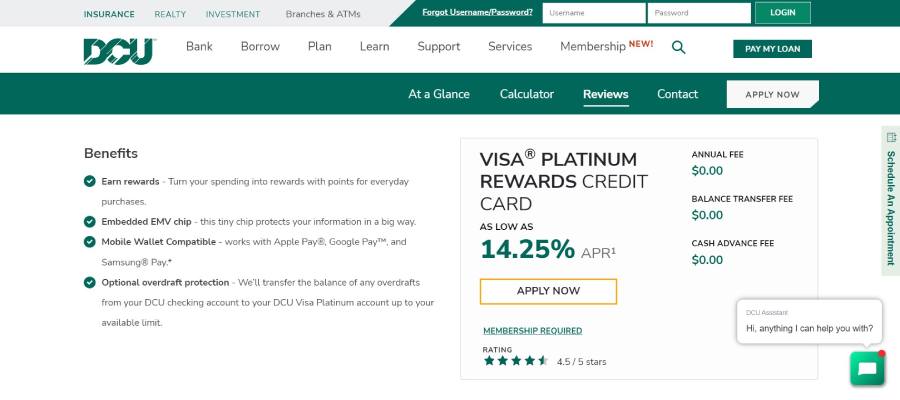 The DCU Visa® Platinum offers plenty of perks that make it an ideal choice for those looking for a reliable and rewarding credit card. Borrowers will need to become a member of DCU before applying, which means signing up for the associations that come with a credit union.
But once in, you can take advantage of the low APR—as low as 10.75% to 18.00%—which can help save you money on interest. Plus, it offers unlimited rewards points for every dollar you spend. You can redeem these points for cash back, travel, and more.
Furthermore, DCU Visa® Platinum comes with no annual, balance, or foreign transaction fees, so you won't have to worry about any extra costs. As for cash advances, there are no fees there either, but the 10.75% – 18.00% APR applies.
Navy Federal Credit Union Business Rewards Mastercard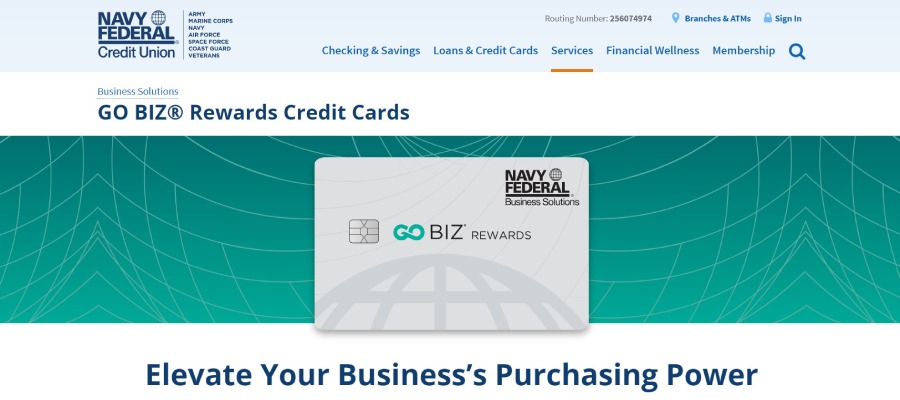 The Navy Federal Credit Union Mastercard is a great choice for business owners looking for a rewards card to maximize their earnings. This card offers an impressive rewards program with no annual fee and low-interest rates.
Here are some highlights of what this card has to offer: Earn 1 point on all purchases and redeem them for travel, gift cards, and cashback. In addition, borrowers can get travel insurance, business support, and discounts on travel-related services.
Since there are no introductory offers, but there are no annual fees, and the cash advance rate starts at 7.9%, along with 1% foreign transaction fees, it's perfect for the business traveler who doesn't mind paying a little extra for rewards.
PenFed Platinum Rewards VISA Signature® Card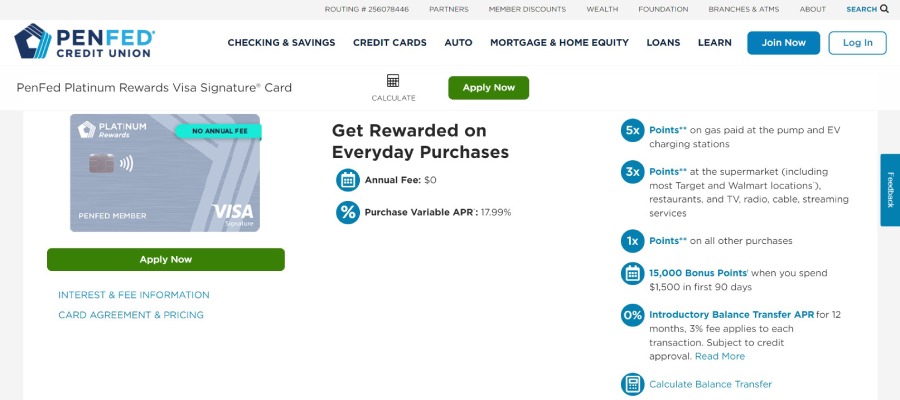 The PenFed Platinum offers a great rewards program with excellent benefits. One of the highlights of this card is the 5 points per dollar spent on gas and military base purchases. This makes it ideal for active military personnel, who can earn rewards quickly and easily.
Another great benefit of this card is the 0% APR introductory offer on balance transfers and cash advances. You can save money on interest by transferring your balances from other cards, allowing you to pay off your debt faster.
This card also comes with a sign-up bonus of $1,500 which can be used toward travel expenses or other purchases. And with no annual or foreign transaction fee, this is a great card for those looking to make their wallet a little lighter.
Simmons Rewards Visa Signature®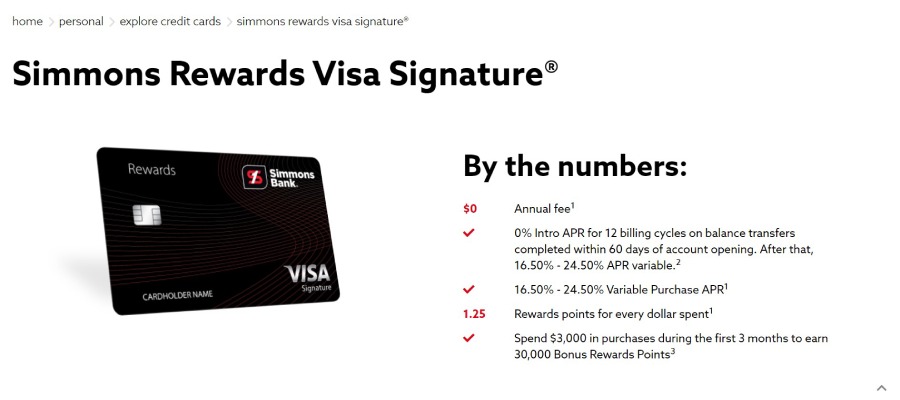 The Simmons Rewards Visa Signature® is a great choice for anyone looking to carry a balance and save money on their everyday purchases. With this card, you can earn a flat rate of 1.15 points for every dollar spent on all purchases.
Although not as reward specific as other cards, it is the flat rate of 10.25% APR that makes it stand out among the rest. Plus, you'll get a generous 0% introductory APR on purchases and balance transfers for the first 12 months. If you travel frequently, you will appreciate the Simmons Rewards Visa Signature's 2% foreign transaction fee, which is slightly lower than average.
Borrowers will be charged either a 3% or $4 fee per advance, which is similar to other companies on the market. All in all, this card is best for those who prefer to not spend on annual fees.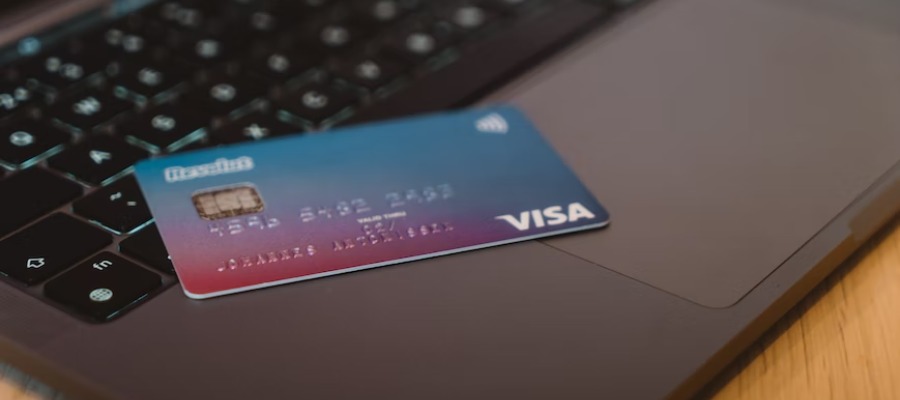 DCU Visa® Platinum Credit Card
Compared to the DCU Reward card, the DCU Visa® Platinum is a great option for those looking for reliable credit cards without the hassle of earning rewards. This card offers a highly competitive APR rate- 8.50% to 18%, no annual fee, no fees on cash advances, foreign transaction fees, or balance transfers.
Other highlights include overdraft protection and no returned payment fee. Although there is a penalty for missed payments, the charge for this is 18% APR, but this is a below-average fee. And with the DCU Visa® Platinum, you can rest assured that your accounts and personal information are protected by state-of-the-art security measures.
Overall, it's a generously reliable card that borrowers can use when they're in need. The low-interest rate and lack of fees is its main selling point. But, borrowers will need a good credit score to qualify.
Navy Federal Credit Union Platinum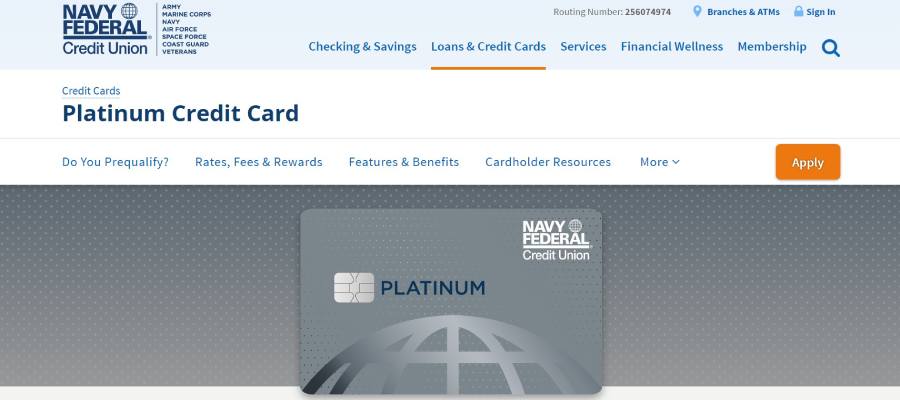 The Navy Federal Credit Union Platinum is designed to make your financial life easier. No cash advance, annual, and no foreign transaction fees make it a great option for those looking to build credit and save money.
It features an introductory one-year 0.99% APR rate on balance transfers. So you can take the pinch out of any high-interest accounts you might have. And although there are no rewards to gain with this card, the free FICO score makes it an appealing option for those looking to build and maintain their credit.
Finally, it offers a range of additional benefits, including car rental insurance, travel accident insurance, and damage protection. Ultimately, the Navy Federal Platinum's low and variable 8.99% to 18.00% APR makes it ideal for anyone struggling to pay off their outstanding balances.
PenFed Power Cash Rewards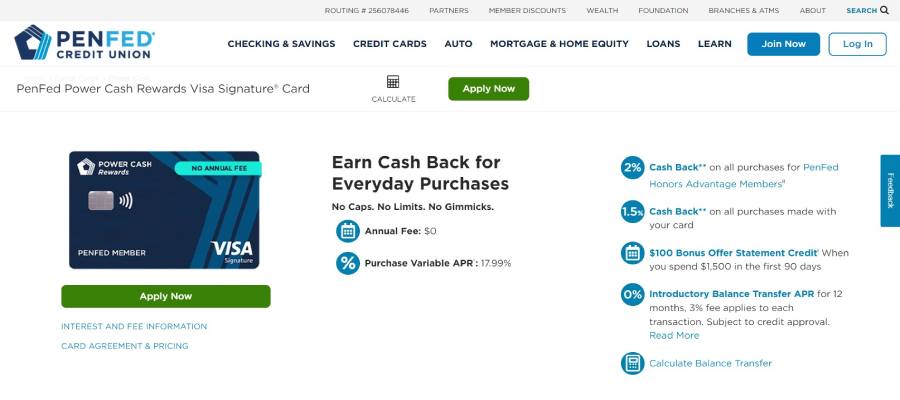 The PenFed Power Cash is an excellent choice for anyone looking to take control of their finances. With this card, you'll earn 2% to 1.5% cash rewards on all your purchases, up to a $100 card credit statement, after spending $1500. You'll also get a 0% intro APR on balance transfers and a low regular APR (17.99%) after that.
Plus, military service members can enjoy a fixed 2% cash bank rate. There's also a nice set of benefits, from no foreign transaction fees to a 0% cash advance fee. And with a generous credit limit and no annual fee, you can use it to make sure your finances are in order.
While the introductory offer does not apply to purchases, cash advances are free, and cardholders looking for cash back will benefit from this card.
DCU Visa® Platinum Secured Credit Card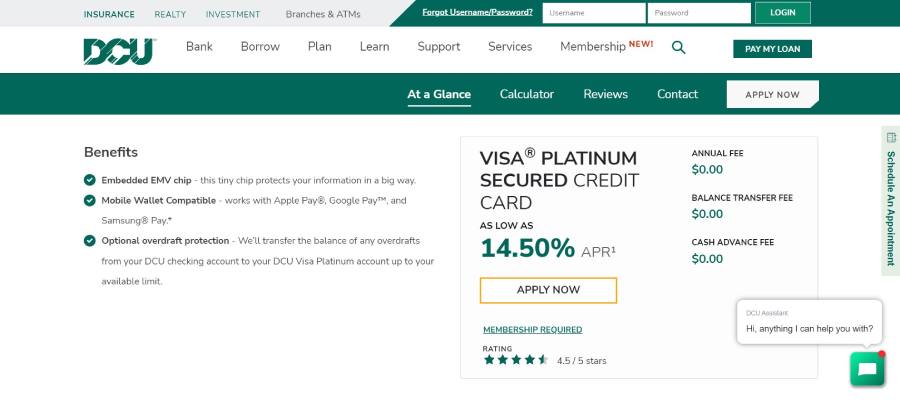 The DCU Visa® Platinum Secured is an excellent choice for those looking to build or repair their credit. This secured credit card needs a refundable deposit to qualify but doesn't come with an annual, cash advance, or foreign transaction fee, making it a great value.
It also offers a few added benefits, like a competitive 11.50% APR on cash advances. Plus, it's backed by Digital Federal Credit Union, so you can be sure you're getting a secure and reliable product. Another benefit for DCU members is overdraft protection.
With this, DCU will transfer funds from your other accounts to top up your balance to avoid overdraft fees. All these features make the DCU Visa® Platinum an excellent choice for those with poor credit looking for an easy and secure way to build or repair their credit.
What Is Credit Card Cash Advance?
A credit card cash advance is a short-term loan that can be taken out against your credit card balance. It is a quick and easy way to access cash when you need it, but it comes with a few risks. Typically, the advance amount is a percentage of your credit limit, and you will likely be charged a fee and a higher interest rate than regular purchases.
This interest rate is usually much higher than the rate for regular purchases, so you should be mindful of how much you're taking out and be sure to pay it off quickly. It is also important to remember that the lending company may require you to pay back your advance before other balances, so it's important to budget accordingly.
How Does a Cash Advance Work?
Cash advance credit cards work by withdrawing cash from an ATM or a financial institution. It's an easy way to get access to money, but it comes with some risks. To get an advance, you will need to provide your card number and the amount of cash you want to withdraw.
When you do this, the lender will withdraw the cash from your account and deposit it into your bank account. The amount of advance you take will then be added to your credit card balance, and you'll be charged interest on the amount you borrowed.
Why Are Cash Advances Expensive?
When you take out a cash advance, you are borrowing money on your credit card and paying an additional fee right away. This means that you are paying interest on the entire balance of the advance from the moment you take out the loan.
The interest rate for cash advances is usually much higher than the regular interest rate for purchases. Plus, they usually come with other hefty fees like transaction fees and foreign transaction fees. All of these additional costs make cash advances more expensive than regular credit card purchases.
How to Get a Cash Advance From a Credit Card
Getting a cash advance from credit cards can be a quick way to get funds in a pinch. But it's important to understand the process and the potential costs before you move forward. Here are the steps to follow if you're considering a cash advance:
Check your lender's terms and conditions to see if cash advances are allowed.

You'll also need to find out the advance limit on the card.

Next, decide how much cash you need and be sure to stay within the limit. 

Once you know the amount, you can contact your issuer for the details on how to proceed with the cash advance. 

Finally, be aware that a cash advance usually comes with a fee and a higher interest rate. It's important to pay it off as soon as possible to minimize these costs. 
When to Consider Using a Cash Advance Credit Card
A cash advance credit card is a great way to access extra funds when you're in need. Here are a few reasons why you should consider using one:
It's a convenient way to get your hands on extra cash when you need it. If you're facing an unexpected expense, they can provide a quick and easy way to cover the cost.

They can be a lifesaver if you have an emergency and need money right away.

You can use them to cover gaps between paychecks. If you find yourself running low on funds, a cash advance can help you get through until your next paycheck arrives.
Useful Tips to Avoid Taking a Cash Advance
Taking a cash advance is an expensive and risky way to access money, but it doesn't have to be. Don't be afraid to ask for help. There are a variety of organizations and individuals out there who can help you in a financial crisis. So if you're ever tempted to take out a cash advance, remember these tips — and don't hesitate to reach out for help if you need it.
In the meantime, here are some tips on how to avoid it. With a little planning and preparation, you can avoid the risks of taking a cash advance.
Have Emergency Fund
An emergency fund is a separate account that is set aside specifically for unplanned expenses. It can be used to cover medical bills, repairs to your home, or even a new set of tires for your car. Having an emergency fund is much better than taking out a cash advance, which is often expensive and comes with a high-interest rate.
Monitor The Balance
Maintaining a healthy credit card balance is essential for financial well-being. By keeping track of your spending, you can avoid taking a cash advance, which can be expensive and lead to higher interest rates.
You can also avoid any accidental overdraft fees, which can add up quickly. Furthermore, regular monitoring of your credit cards balance can help you recognize fraudulent activity quickly so that you can take steps to protect your finances.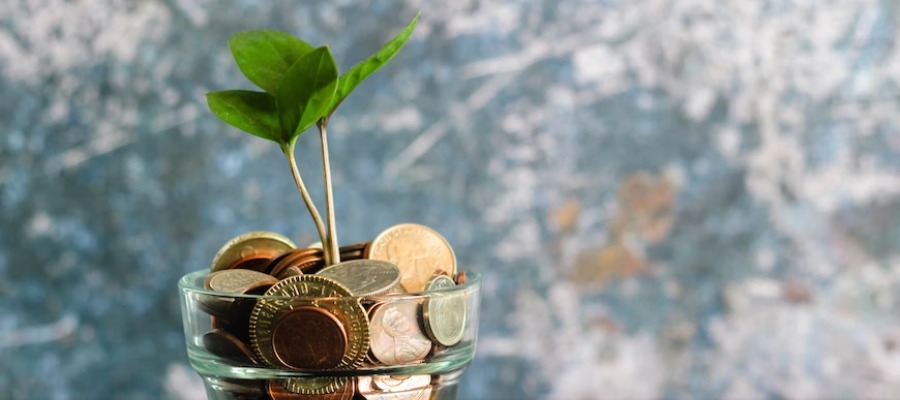 Avoid Unnecessary Purchases
Unnecessary purchases can really add up and put a strain on your budget. That's why it's important to be mindful of what you buy and only make purchases that are absolutely necessary. Avoiding unnecessary purchases can help you avoid taking out a cash advance.
Cash advances are a form of short-term loan and come with high-interest rates. If you're already struggling to make ends meet, adding an advance to the mix can make it even harder. So if you have to buy something, make sure it's something you really need.
Alternatives to a Cash Advance on a Credit Card
Taking a cash advance on a credit card often comes with high-interest rates and fees, making it a very expensive option. Fortunately, there are other cash advance alternatives you can explore if you find yourself in need of extra funds.
| | |
| --- | --- |
| 401(k) Loan | Taking out a 401k loan allows you to borrow money from your own retirement savings account without the need to pay hefty fees or interest rates |
| Peer-to-Peer Loan | These are direct loans between individuals. The terms are determined by you and the lender, making it a more flexible, cost-effective option |
| Payday or Title Loan | You can explore options like title or payday loans. These can be less expensive than cash advances but still come with high-interest rates and fees |
| Loan From Friends or Family | Asking money from friends and family can be uncomfortable, but consider keeping a written record of the loan – details such as the amount and the repayment schedule |
| Bank Personal Loan | Unlike a cash advance, a bank personal loan provides a longer repayment period with fixed interest rates and a set repayment schedule |
| Collateral Loan | These provide you with the ability to secure a loan with an asset you own as collateral |
| Salary Advance | With a salary advance, you can access a portion of your salary before your next scheduled payday |
Conclusion
With the right know-how and enough research, anyone needing a cash advance credit card can find a lender to suit their needs. Every issuer will have their own rates, fees, and benefits associated with their products, so it's always a good idea to compare lenders.
Additionally, cash advance cards aren't the only benefit to look out for. Rewards and low APR rates sound appealing, but these perks usually require good to excellent credit. So before applying, ensure that your credit score meets any requirements. This will prevent hard searches on your report.
FAQs
Can I get cash advance from my credit card?

Most issuers allow you to take out a cash advance, either as a cash withdrawal from an ATM or through a teller at a bank. If you're interested, some lenders will have an automated option online to enable the service. In any other case, contact your lender.

How to cash advance credit card online?

You just need to log in to your credit card provider's online portal and select the "cash advance" option. From there, you'll be prompted to enter the amount of cash you'd like to advance.

Can I use cash advance for a down payment?

The short answer is no. Cash advances are not suitable for long-term use; they are high-interest loans that must be paid back quickly. And while they can provide some short-term relief, they cannot be used for major purchases, such as a down payment on a house.

What is cash advance fee on a credit card?

This fee is typically charged as a percentage of the amount of the cash advance, usually between 3% and 5% of the total amount. In some cases, a flat fee may be charged instead.