Cash back credit cards are an excellent way to make your money work for you. Many of them give you a set percentage of cash back on specific purchases, like gas or grocery stores, or an unlimited number of rewards on specific categories each quarter. The best cash-back credit cards in 2023 can boast of having a low or no annual fee and other great perks such as lounge access, rewards for introducing friends, etc.
Then, how to choose the best cash back cards when there are so many options available? Read on to learn more about the benefits and why it's worth your time to apply for one today.
Capital One® SavorOne® Cash Rewards Credit Card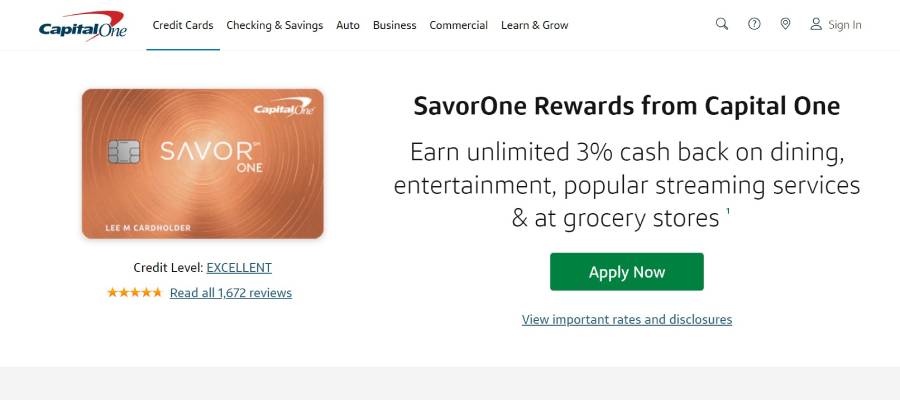 The SavorOne® is a no-annual-fee card that offers unlimited 3% cash back on streaming services, grocery shopping, and restaurants. Plus 8% on Capital One® categories and 1% on all other purchases. The card also comes with a generous signup bonus: $200 when you spend $500 in the first three months.
The only drawback is the excellent credit needed to apply. However, if you are a frequent diner in restaurants or a grocery shopper, you won't find a better cash-back card for $0. This card also makes a great entertainment choice.
Wells Fargo Active Cash® Card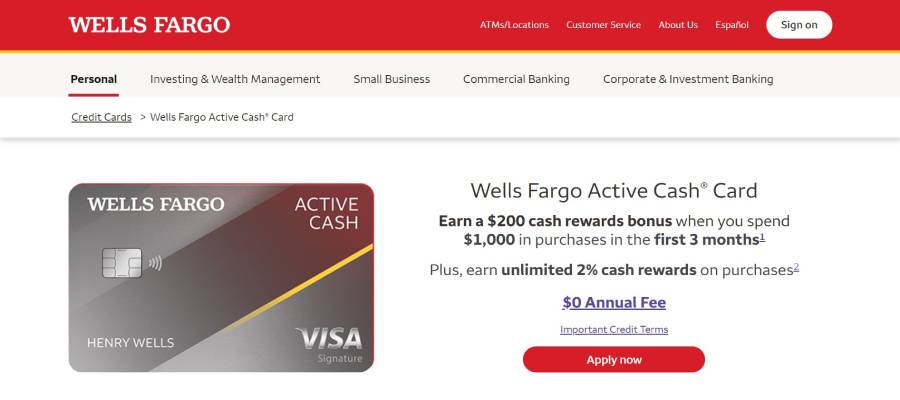 The Wells Fargo Active® is a top-notch cash-back card for people who are looking to earn money back on everyday purchases. Similar to the Capital One®, this card has no annual fee and a nice reward rate. The bonus offer isn't as achievable though- $200 if you spend over $1000 in the first three months, but the rate of rewards is better.
Wells Fargo offers a 0% interest rate for the first year, and then APR varies between 17.99%, 22.99%, and 27.99%. The rate will depend on your credit score. Again, this card comes with the necessary excellent FICO score, so those with less than stellar financial history should look elsewhere.
In terms of rewards, you'll get 2% cash back rewards on all purchases, and $600 cell phone coverage, and there is no expiry on the rewards. So, you can pile them up and not have to worry about spending them at the end of the year.
Capital One Quicksilver Cash Rewards Credit Card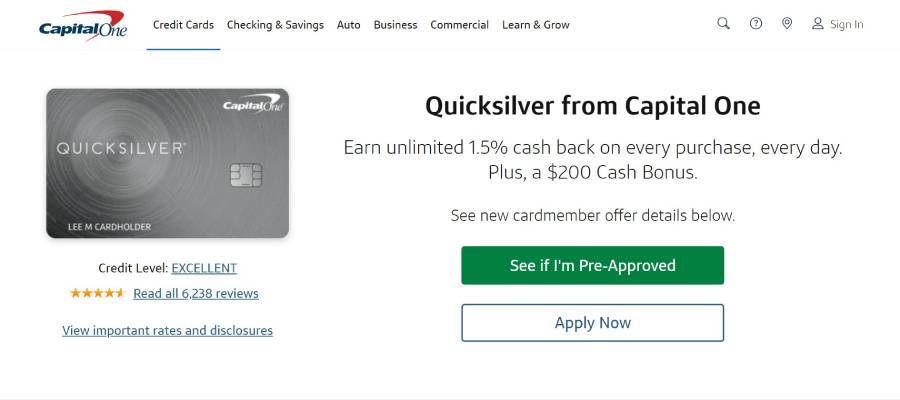 The Capital One Quicksilver offers a competitive cashback rate of 1.25% on every purchase and also comes with some valuable features. First, it has no annual fee. Second, it has a 0% introductory APR period that allows you to build your credit score while getting cash back on your purchases. Third, there are no foreign transaction fees, so it is perfect for those who travel a lot.
This card has a quick online application process and a 17.99%-27.99% variable APR, but because of the no bonus categories, this option might not be best for spenders who prefer to shop, eat or get gas at the same locations.
Some other benefits include travel insurance and extended warranties through Capital One Travel, as well as a 5% discount on rentals. There isn't anything extraordinary about this card, but if you're a frequent traveler, and prefer a no-fuss bonus scheme, this will suit you more than any of the others on the market.
Chase Freedom Unlimited®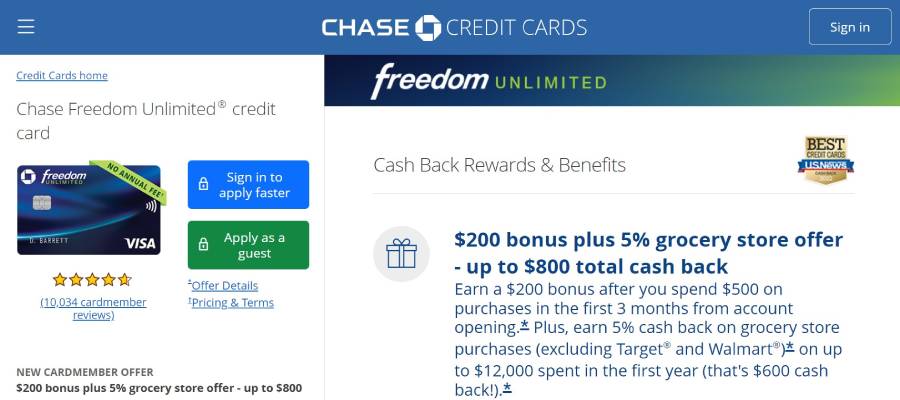 With no annual fee, flexible rewards, high rewards rate, and cashback by redemption, the Chase Freedom Unlimited® is a great all-rounder for low-spenders. This card offers a generous cashback bonus of 5% on Chase Travel, 3% at drugstores and restaurants, and 1.5% on all purchases.
The free Chase Credit Journey will be an attractive option for those looking to monitor and improve their credit score. With real-time updates and a free FICO report, this card is best for those who need a helping hand repairing their financial history, and like the idea of rotating bonuses.
To qualify for Chase Freedom Unlimited®, users will need good or even excellent credit, but it makes sense because the below-average variable of 17.24% – 25.99% APR means that the interest is lower for those with good spending habits. The $300 sign-up bonus might make up for the foreign transaction fees.
Discover it® Cash Back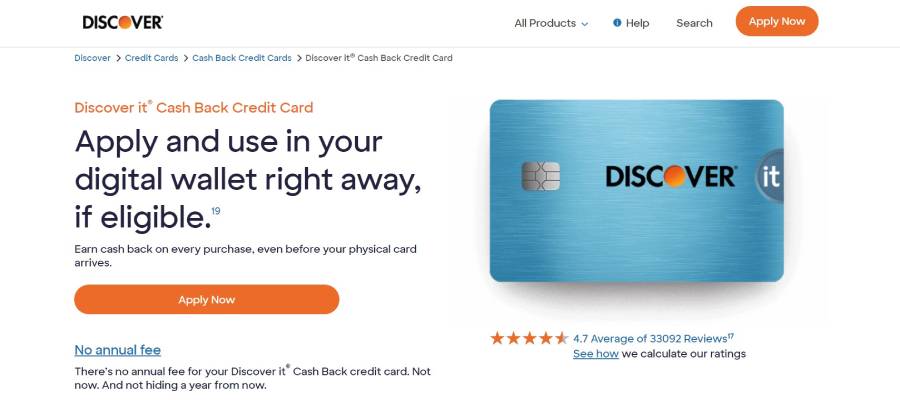 The Discover it® offers 5% cash back on certain categories each quarter, making it one of the most profitable credit cards for shoppers with high spending on everyday purchases. You also get 1% cash back at restaurants and gas stations on combined purchases up to $1,000 per quarter.
Furthermore, you will get cashback earnings during your first year as a customer. Discover it® is perfect for anyone looking to earn more money (5%) with Amazon, groceries, gas stations, and spending through PayPal.
The 0% annual fee, very competitive 14% APR, and quarterly rotating bonus categories make shopping around worth it. Among its best features are its 0% intro APR and free FICO score. However, the 1% cash-back and low acceptance abroad make it a mediocre rewards card.
Citi® Double Cash Card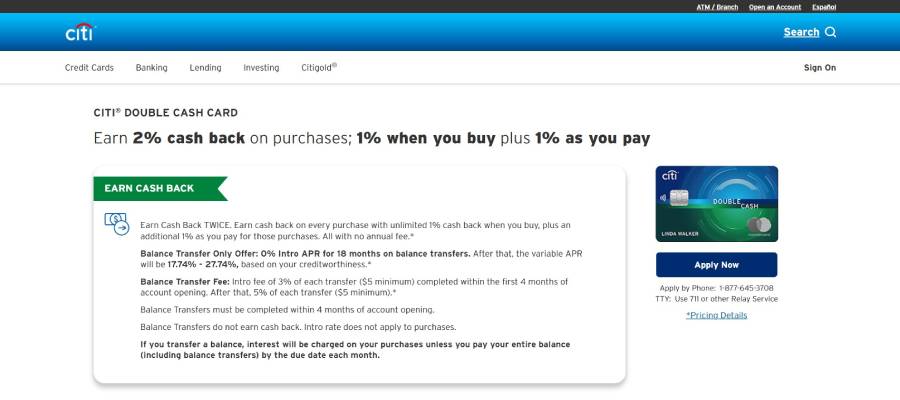 With a welcome bonus of 2% cash back on all purchases, the Citi® Double offers a competitive return on your purchases and a sign-up bonus ($200) and 0% APR on balance transfers for 18 months. Additionally, it can be used to make purchases at any retailer that accepts Visa debit cards. The card is free to apply for, and there is no annual fee.
To get the most out of this card, it's important to keep up with regular payments. In addition, if you're planning on transferring your balance to another card, make sure you know the fees associated with doing so before submitting an application, as they will depend on your credit score.
If you want a low-hassle, flat-rate rewards card at 16.99%-26.99% variable APR. Its rewards are applicable to all spending, and there are no limits on them. With a bonus-category card, you can increase your return rate even further.
Blue Cash Everyday® Card from American Express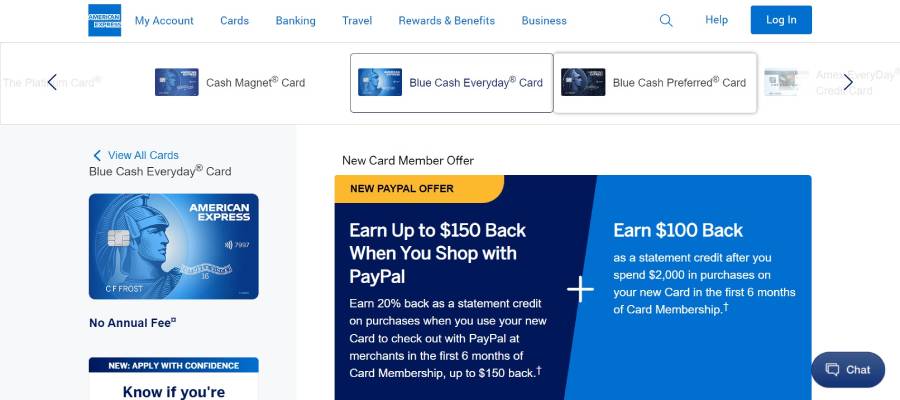 American Express' Blue Cash® is a good choice if entertainment, online shopping, groceries, and gas make up the bulk of your budget. When you use it to buy these items, you'll get a hefty 3%- and after the first year or $6000, whichever comes first, you'll get 1%.
You will also receive a $200 credit when you sign up and make purchases of at least $2,000 within the first 6 months. This means that if you pay off your entire bill each month, it won't take long to earn the statement credit.
Balance transfers are free for the first years, which makes it a great option for those interested in keeping their debts in one place. There is no annual fee for this card. However, there is a 3% fee when using the card abroad.
Chase Freedom Flex?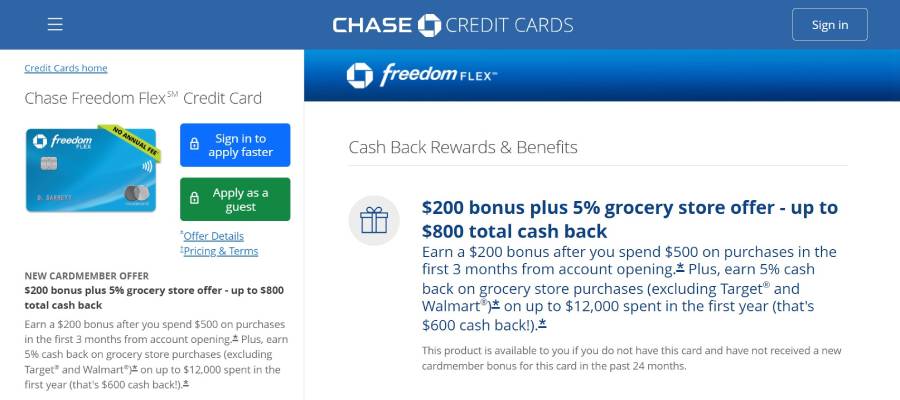 The Chase Freedom Flex? is a sister card of the Chase Unlimed on this list. They have a very similar structure in terms of APR (17.24%-25.99% variable), no annual fee, and cash back interest, but their bonus structure is where they vary. The Chase Flex offers quarterly rotating rewards, which means users will have to keep track of the bonus categories to ensure they're making the most of their spending.
If you want more cashback, consider adding a second card to your wallet and earn 2% cashback on all your purchases. Another perk of this card is that it offers a free credit check, but the trade-off is an excellent FICO score.
Discover it® chrome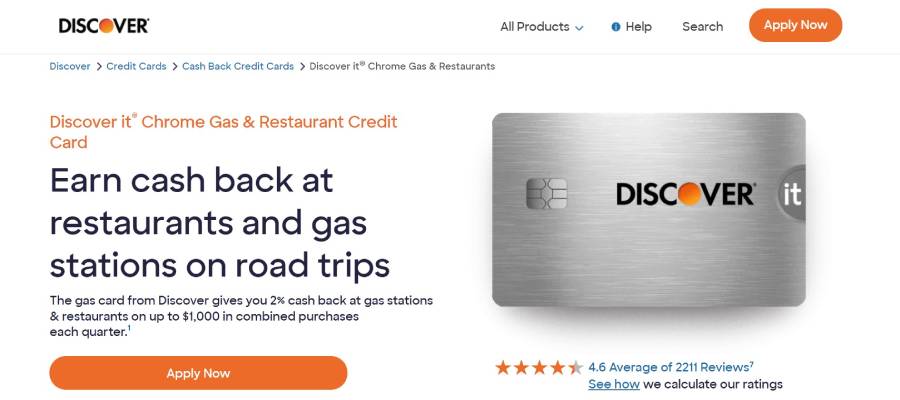 The Discover it® Chrome and Discover it® Cash Back (above) are very similar in many ways. Their issuer is the same, as is the APR,14.99%-25.99%, and they both offer 1% rewards. They differ primarily in their bonus categories. In contrast, Discover it® Cash Back offers 5% on rotating categories every quarter on purchases up to $1,500, and 1.5% thereafter.
With this one, you get the same 5% on purchases, plus 2% off at gas stations and restaurants for up to $1,000 in combined purchases every calendar quarter, then 1%. Then this option is best for those looking to spend more.
Amazon Rewards Visa Signature Card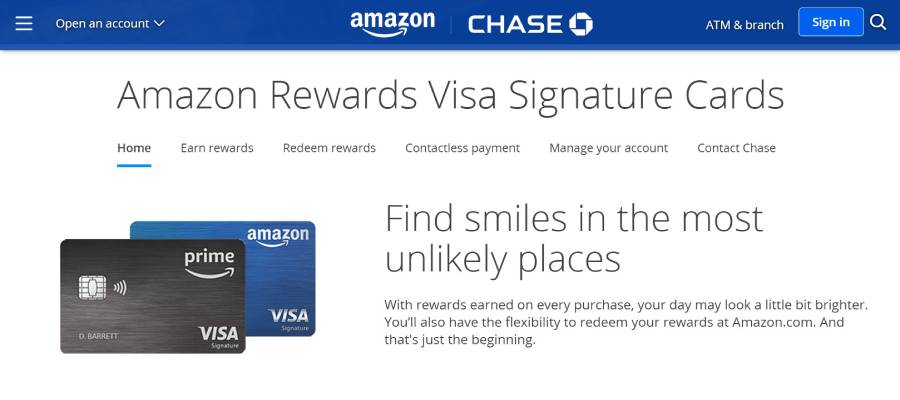 The Amazon Rewards Visa Signature Card is another popular reward card that offers 2% cash back on all typical purchases like pharmacies, gas stations, and restaurants. In addition, his card excels in its category of spending at Amazon and Whole Foods, which offers 5% on all spending.
It also offers a $100 Amazon gift card upon sign-up, plus additional rewards for different categories of spending, such as 1% on all other purchases, rideshare, and utilities (16.49%-24.49%).
One of the top reward cards available for Amazon entertainment and shopping offers large cash-back rewards and an attractive signup bonus. But its key weakness is that you have to sign up for Amazon Prime first.
What You Need to Know About Cash Back Credit Cards
Cash back credit cards are one of the most popular types of credit cards. Over 41% of US adults say cash back is king because they offer an easy way to get a little something back from every purchase.
The benefits can be substantial if you are going to pay your balance in full every month. However, many different factors come into play when choosing between options, so read on to learn more about these benefits and how they could impact you.
What is a Cash Back Credit Card?
If you use a cash back credit card, you will be rewarded for using their cards. These rewards are usually given in the form of cash back or points. They are typically issued by banks or credit unions and are available to individuals with good or sometimes poor credit.
Most cash back credit cards offer higher cash back percentages than other reward cards, such as airline miles cards or restaurant rewards cards. In addition, some will give you additional benefits – like discounts on flights, hotel stays, and car rentals – in exchange for your loyalty.
Other perks can include free shipping, waived foreign transaction fees, and extended warranty protection. Some will also have high annual fees. So keep in mind that not all financial products are created equal when it comes to offering value for your money.
Types of Cash Back Credit Card Rewards
There are three types of cashback: flat-rate rewards, tiered rewards, and rotating rewards on a quarterly basis.
Flat-rate rewards provide a fixed amount of cash back monthly. Each month, you typically earn the same amount of cash back for all purchases.
Tiered rewards benefit those who spend most of their money at a particular type of retailer. Cardholders who eat at certain restaurants, shop at the same chain, or get their gas at a certain station will receive cash back rewards depending on the card issuer categories.
The bonus categories of quarterly rotating rewards, however, change each quarter. A new category is usually added every three months. Cards with limited-time bonus categories can be attractive as they usually offer high cashback rates – typically 5%.
Pros and Cons of Cash Back Credit Cards
When you buy this type of card, the rewards and bonus programs seem too appealing to pass up. But remember, there is no such thing as free money. The issuers who offer the best cash back credit card rewards will typically have a higher annual fee or other small print charges. Let's take a look at some of the advantages and disadvantages of these products.
Pros:
The greatest benefit of all is that you are getting paid for what you have already been buying. You earn a small amount of cash back with each purchase, but it adds up over time.
If you find one with no annual fee and rewards that suit your spending, you'll save money in the long run.
There are several options for earning cash back, among them credit card bonuses and rotating categories.
When used responsibly, they can help you build or improve your credit history. The utilization rate should be kept low in order to accomplish this.
Cons:
They can come with high-interest rates or annual fees. It is important to be aware of these charges, as they have the potential to erase all the rewards you have earned.
In most cases, your rewards can only be redeemed within a certain amount of time or by a certain date. A lack of reward redemption flexibility means there's no way to spread out your own rewards over time so that they build up gradually. And you may end up losing them at the end of the year.
Rewards are usually redeemable after you earn a certain number of points. After that, there is another delay before these are available.
The rotating rewards categories might suit you at the beginning, but as the categories change, so too might personal spending habits.
How to Choose the Right Cash Back Credit Card For You?
Cash back cards are a really good way for earning additional money every month, but they're also designed for different types of people. Before you apply for one, make sure you know what type of spender you are.
For example, if you're someone who wants to earn rewards quickly, you probably won't be happy with a card that only offers 1% cash back on all purchases. Instead, look for cards that offer higher reward rates and longer redemption periods. This way, you can get the most out of your monthly rewards without having to spend a lot of time tracking your spending.
Another thing to consider is whether or not you already have another credit card in your wallet. If so, it might be better to choose a cash back card that fits in nicely with your existing credit profile rather than creating a new one.
How to Make the Most of Your Cash Back Credit Card?
You know how it feels to get a surprise bonus on your credit card statement? It's like a present! And it can feel really good to get some money back that you've spent – especially when it happens regularly. Follow these steps to ensure you get the most from your card:
Avoid carrying a balance: Carrying a balance can have some drawbacks. First, you'll be paying interest. Second, you could end up paying more in fees than you're earning in rewards. Not only can keeping a balance on your credit card hurt your credit score, but it also leaves you vulnerable to interest charges.
Step away from your cash back credit card if you start carrying a balance: If you're carrying a balance from month to month, you may be paying more than you need to. Consider getting rid of your card for a while until your spending habits have improved. By closing the gap between what you owe and what you have available to pay off your debt, you can save yourself money each month.
Choose a card that matches your spending habits: If you spend most of your money on groceries, for example, it might make sense to choose a card that offers cash back rewards for grocery purchases. Or maybe you want to improve your credit score, in this case, select a card with a low APR to avoid big returns.
Look for a sign-up bonus you can achieve: Some cards offer generous introductory rates and rewards- but they come with hefty fees or unachievable milestones.
Earn extra cash back: It is earned when you pay your bill in full every month. You can also get cash back on balance transfers, or when you move money from one credit card to another and pay the new balance off in full each month. You can also earn rewards for engaging with a brand through social media or by referring friends or family members.
Remember the cash back card's other benefits: Don't just use the card for the categories that interest you. If you can, take advantage of all the benefits on offer. You never know when you or a friend might be able to use them.
Ask for a retention offer: Issuers will typically offer their customers extra cash back in return for loyalty or healthy spending habits. Retention offers come in many forms, including cash back rebates, waived annual fees or foreign currency purchase fees, extended warranty or insurance coverage, or even discounted rates.
Conclusion
The best cash-back credit cards are one of the most popular types of spending. Many people like them because they offer an easy way to get a little something back from every purchase. The benefits can be substantial if you pay your balance in full every month. However, many different factors come into play when choosing between options.
They're also designed for different types of people. Before you apply for one, make sure you know what type of spender you are so you can make use of the benefits that apply to you.