You may have heard that borrowing is difficult if you have bad or limited credit. But with the right information, it doesn't have to be so frustrating and complicated. As a potential borrower, the trick is knowing where to look for the best starter cards with bad or limited credit.
Fortunately, there are lenders out there who understand that not everyone has perfect credit from the get-go. To help people with limited or bad finances get started on the road to establishing a good credit history, many lenders now offer favorable terms and conditions for borrowers who fall into this category. Read on to find out more about these lender-friendly starter cards with limited or bad credit for 2023.
Starter Credit Cards: Best Offers
There are many reasons why people lack credit. Maybe you are just starting out, or perhaps you've made some mistakes in the past that have hurt your FICO score. Thankfully, there are also a number of companies that recognize this problem and offer great starter cards as an option for those who may not qualify for one of their other products.
With so many different starter programs out there, it can be difficult to figure out which ones will work for you. If you're looking to get back into the world of borrowing but have a limited history or score, here is a list of some of the best starter credit cards available today.
The First Progress Platinum Elite Mastercard® Secured Credit Card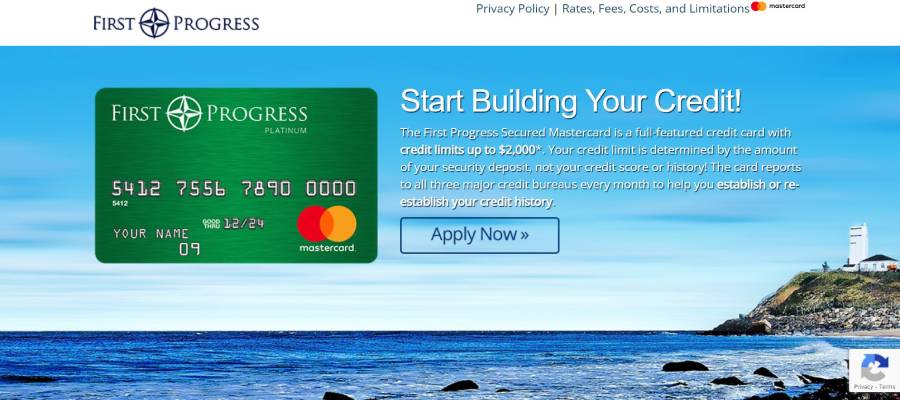 You can qualify for instant approval with the Progress Platinum Elite even if you have a low credit score. When it comes to benefits, introductory bonuses, and any other kind of perks are concerned, this card does not come with any.
In any case, it's about giving borrowers with limited financial histories access to instant approval cards where they can improve their FICO scores. Compared with other secured options, this one has a higher interest rate of 23.74%, and the fee is $29 per year. The truth is that there are other secured cards that are better than this one.
The service is, however, aimed at borrowers who have been unable to find a lender who will approve them for a loan. A deposit of at least $200 is required to secure the loan, and you will also be expected to make your payments on time since the lender reports to the three major credit bureaus that you use for your report.
Capital One Platinum Secured Credit Card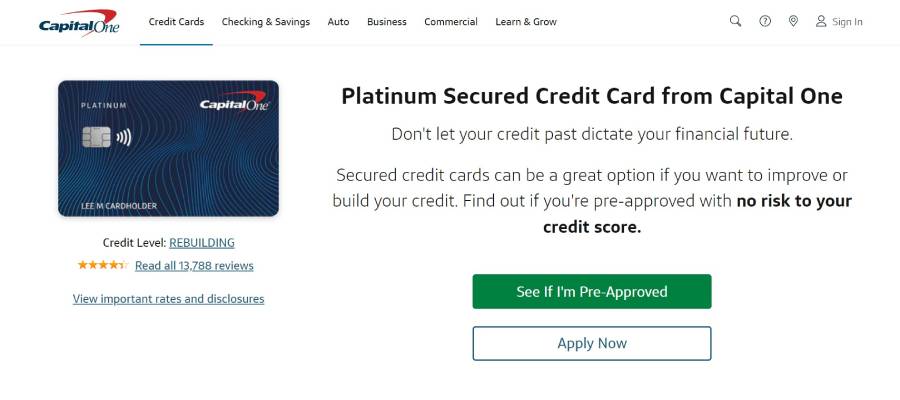 The Platinum Secured program from Capital One consistently delivers exceptional customer service. It's consistently compared to the Chase starter credit card, but there's no doubt that this is one of the top secure cards on the market, which is one of its best features.
You can start building your score for as little as $49, so it's a good option for those who want to start without spending too much at the beginning. With Platinum Secured, you'll get a six-month automatic rate increase and no-cost protection against identity theft.
Since Capital One makes checking your FICO score free every month, it's perfect for those with low scores. Aside from that, there are no foreign transaction fees payable, and although the 28.49% variable APR is quite high, there is no annual fee.
Citi® Secured Mastercard®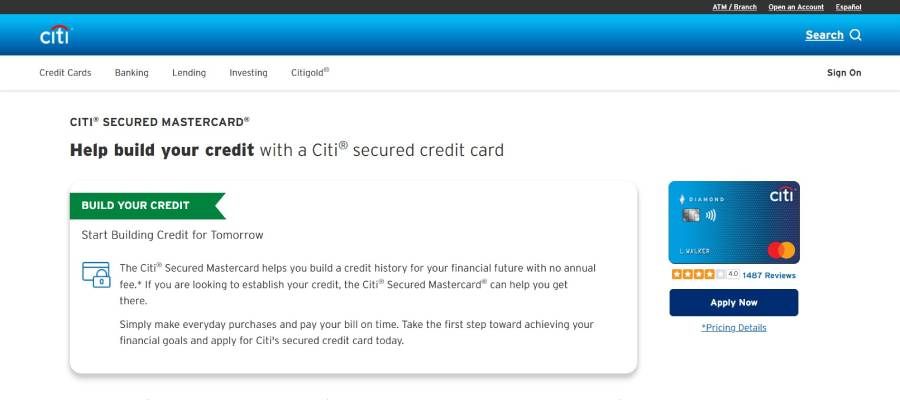 With a Citi® Secured Mastercard®, you can instantly be approved without credit. With no annual fee, access to your report, and monthly reporting to the three main reporting bureaus, you can't really go wrong with this one.
The Citi® is partnered with Mastercard, which means it is available to use worldwide, although there is a foreign transaction fee associated with cash withdrawals and payments. There are also no annual, or maintenance fees, but consumers who have declared bankruptcy within the last two years are not eligible.
The variable APR (26.24%) is high, but this might be the only downside to the Citi® card. Even the lack of rewards makes it a viable option for improving or building credit.
Capital One Platinum Credit Card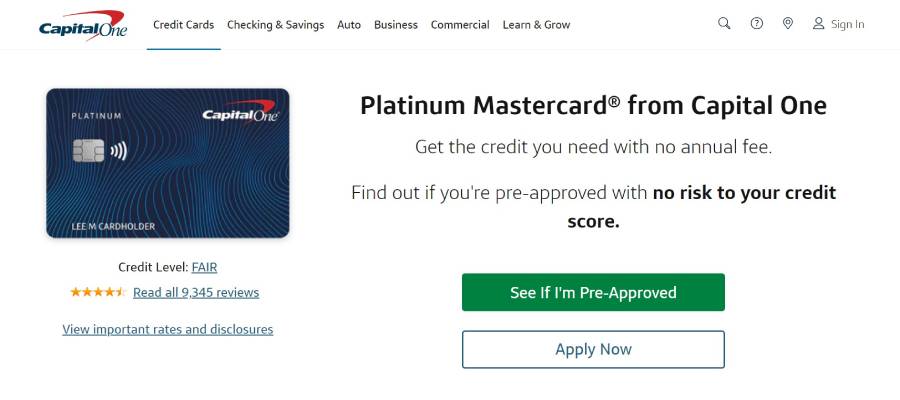 The Capital One Platinum Select® offers excellent financial building opportunities for consumers with low to bad credit scores. It's designed for consumers who want to improve their FICO score and build their financial history, but have struggled to establish traditional financing.
It has a high variable APR (28.49%), but no annual fee or foreign transaction fees, making it an easy way for consumers to start building their FICO score without too much fuss. Although it doesn't have a rewards program, its free access to CreditWise is what makes it stand out in regards to keeping tabs on your financial report.
PCB Secured Visa® Credit Card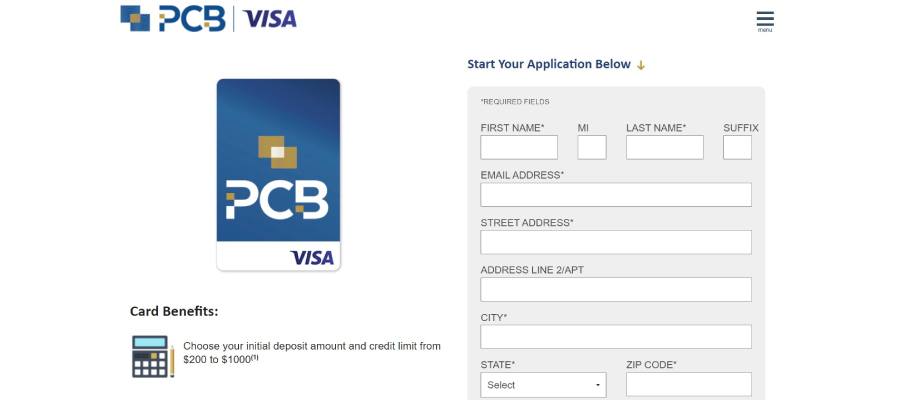 Getting approved for the PCB Secured Visa® from Plains Commerce Bank is easy because you don't need good credit, meaning you're highly likely to get approved. The only downside is that applications are not accepted in Wisconsin, while Mississippi residents must be 21 and Alabama residents must be 19.
This is a secured card, so a $200 minimum deposit is required, as well as reporting of payments to the three major reporting bureaus. Aside from its $39 annual fee, PCB Secured offers a maximum of $1000 in the first year, and up to $5,000 with responsible use.
Petal® 2 Visa® Credit Card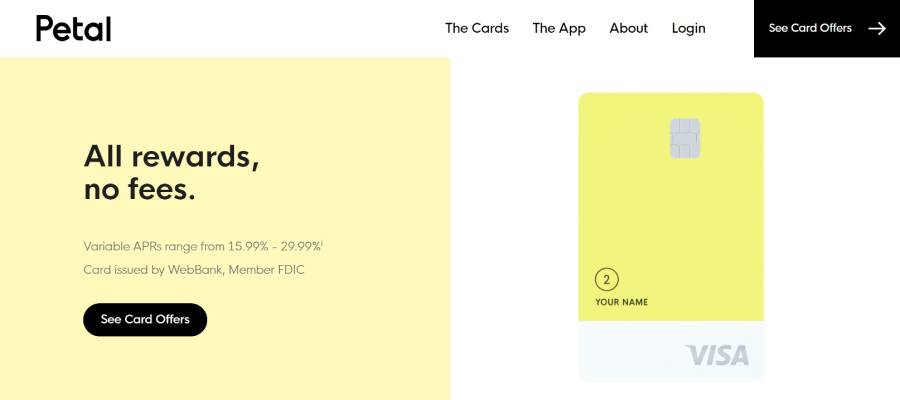 The Petal® 2 Visa® is a very suitable option for people with limited credit history. It has some of the lowest rates on the market (15.99%- 29.99% depending on score) and doesn't ask for an annual fee, or a deposit.
It offers the flexibility of use anywhere Visa is accepted, and it's one of the few options that can be used overseas without a foreign transaction fee. There are quite high preset limits on how much you can borrow (up to $10,000) so this is a great choice if you want to build up credit without worrying about hitting any hard limits.
And unlike some other no-credit-check cards, there are no fees for opening an account or monthly maintenance. There's an incentive for making online payments, too, with 1.5% cashback available after one year of using the Petal® 2 Visa® responsibly. The only downside is that consumers with a very poor financial history might not be approved.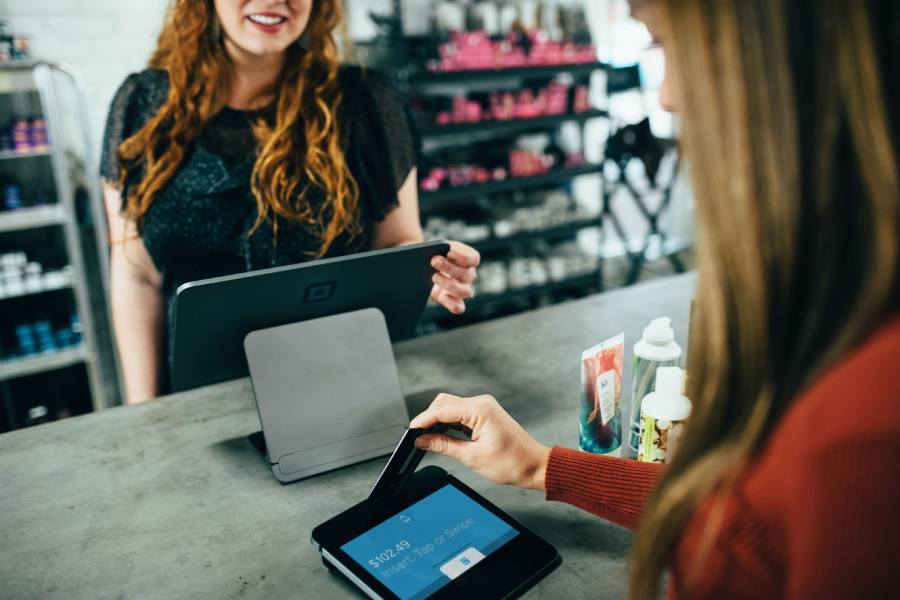 Capital One QuicksilverOne Cash Rewards Credit Card
The Quicksilver Secured from Capital One is for people with less-than-perfect credit looking for instant approval. Despite the high variable 28.49% APR, this is an attractive option for those who are looking for a solid financial profile, as there are no annual fees or late fees associated with it.
In addition, this Quicksilver comes with a free report monitoring service, along with a six-month subscription to Uber, which makes it a very appealing option for frequent Uber users. In addition to reporting to the three main reporting bureaus, it also proves access to your FICO score through its connection with CreditWise.
It offers 1.5% cashback rewards on all purchases, and 5% cashback on Capital One travel purchases, so it's the best first credit card for students who want to build their financial history and travel a lot.
Reflex Mastercard®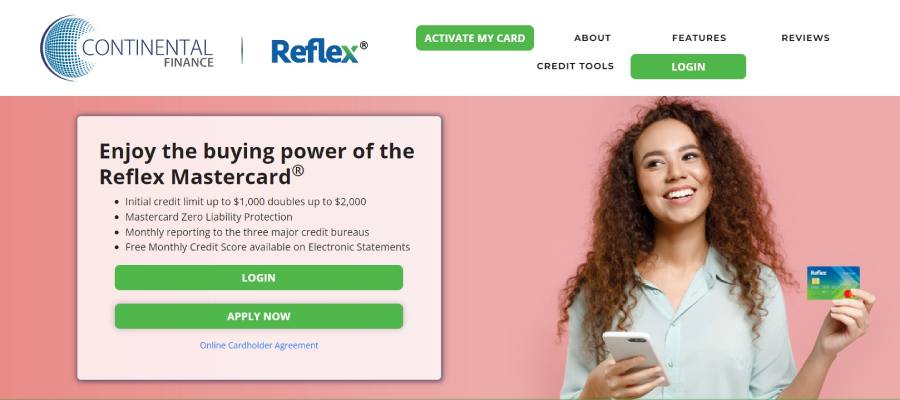 There is still a chance that you could find the Reflex Mastercard® as a good alternative if you cannot get approval elsewhere, in particular since it requires such a low minimum deposit – $49.
In addition to the $75-$99 annual fee, the foreign transaction fee is quite high at 3%, and users will be charged a $120 maintenance fee which is waived for the first 12 months, and paid on a monthly basis thereafter.
Reflex reports to all three major reporting bureaus, so if you are able to make your payments on time and in full, you will be able to improve your FICO score as well. And although there are high fees, it is targeted toward consumers with bad credit who are looking to build their FICO score.
How to Choose the Best Starter Credit Card for You
Choosing the right card to start with is not just about taking a loan. It's also about getting the right fit for your needs. For example, if you're starting out with a small amount and are looking for credit cards to build credit, a secured plastic may be better suited for you. If you're planning to use it for large purchases, on the other hand, a regular card may be more appropriate.
The main thing to consider is why you want one in the first place. Do you want one as a way to build up your credit? Are you trying to avoid interest by paying it off each month? Or do you just want some plastic for emergency cash? Whatever your reason, here are a few things that can help you decide which type of card is best for you.
Understand Your Needs
Starter cards are perfect for new or credit-challenged borrowers. They are designed for people who are just starting out in their financial lives and have little or no financial history. This means that new cardholders can focus on building their FICO score, rather than catering to their immediate needs as an individual.
You'll have to consider your budget. If there's no way you can afford to pay off the full balance every month, it will only be harder to build good credit over time. And make sure that your desired card has features that fit your needs. If all you're after is some plastic safekeeping while you build up your savings, there are plenty of options that offer that kind of service at lower rates than traditional borrowing.
Meet Requirements
These cards are designed for people who are just starting out in their financial-building journey and will have low APR rates and lower limits, which can be great for newbies who may not yet qualify for higher-limit options. The typical requirements for a starter card are relatively low.
For example, a lot of them offer their products to people with low to bad credit. If your FICO score is very low, or you have currently declared bankruptcy, some lenders won't accept your application. In this case, there are still options. You can try for a high APR option or opt for a lender that accepts a co-signer.
Just remember that they aren't designed to take you all the way to building a solid credit history. They're more of an "introductory" card that's meant to get you started on your path to financial independence.
Read Conditions
Not all starter cards come with the same terms and conditions. If you have not read the terms, it could result in problems in the future. For example, if you don't know that your card has a low introductory APR (six months, for example), you may end up paying more than you expected.
It is always a good idea to do your research before signing up. As part of the application process, look closely at the terms and conditions. You will want to find out how long it will take to build your credit history after signing up, as well as what type of fee you will be charged.
Know how much money you can spend each month and how far in advance of your purchase date that amount must be set. You will also want to know how much money you can transfer from another account each month or about any limits on cash advances.
When Should I Take a Starter Credit Card?
There are a lot of reasons to take a starter credit card. Maybe you are building up your FICO score, trying to get approved for your first card or pay off another balance faster. Perhaps you just want to enjoy the perks of having options if in need of emergency cash.
Whatever the reason, it's important to start small. By taking a starter card first, then moving on to something bigger after you have some experience under your belt, you'll be less likely to make costly mistakes.
When deciding when to take your first credit card, there are a few things to consider. First and foremost, always look at your budget and see where you can make room for the new account in your spending plan. Then think about how long you will use it and whether or not it makes sense for your financial goals.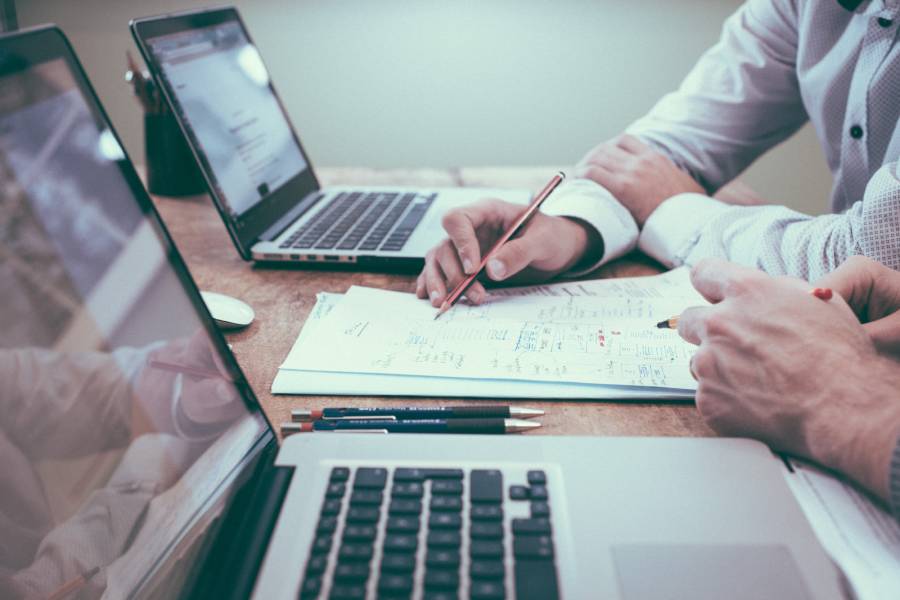 What to Look For in a Starter Credit Card
The first thing to consider is whether the card comes with a signup bonus. This could be a percentage-off discount on your first purchase or a free introductory period.
If you don't qualify for the signup bonus, don't worry. You can still get a great deal by finding an introductory APR offer that's better than the standard one.
Another thing to look for is whether there's an intro APR offer. An intro APR offer is like a promotion that gives you a great rate on your purchases in exchange for your money. This can be especially helpful if you have bad credit or no credit history because you may qualify for an intro APR offer even if you haven't applied for the card yet.
Make the Most of Your Starter Credit Card
Starter cards are designed for new users who are looking to build their financial history before applying for more expensive alternatives. That said, there are still some benefits to be had from using one — especially if you're just starting out, and you don't have much of a spending history yet.
Look for one that offers rewards on purchases you already make. This will generate some savings, even if it's just a little bit.
Be sure to pay as much as possible each month on your bill – this can reduce any interest fees.
Keep the account open for as long as possible – credit scoring models favor long-standing accounts.
Keep track of all of your recurring charges so you know exactly how much you're spending each month.