Best Student Credit Cards Of 2022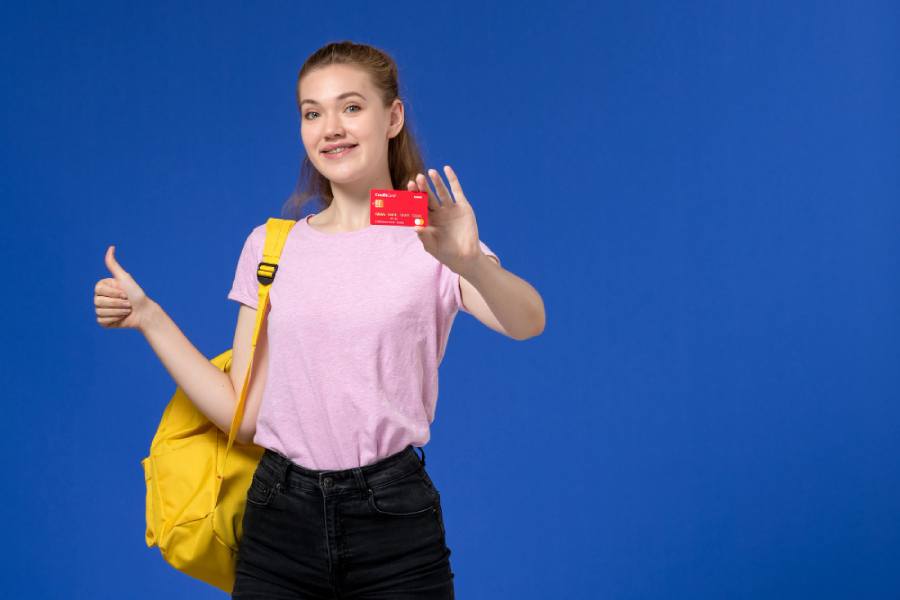 Getting a student credit card while studying can be one of the crucial decisions in your financial journey. The importance of this card cannot be over-emphasized when handled responsibly. Apart from the fact that credit cards can help in purchasing books and sorting emergencies at school, they also have other benefits.
For example, they can make it easy for you to get loans, jobs, and even a house later in the future because your credit score will portray you as financially responsible.
In addition, using them gives you the privilege of enjoying cashback that you can use for real-time shopping or gift cards.
Need Money Fast?
Student Credit Cards: Best Offers
Choosing a good credit card can be tasking because of the many options available to students. But we've put together a list of some secure and trustworthy cards below, which will give you a great experience.
We thoroughly investigated each one through a series of tests, including reviewing their user satisfaction data, reward earnings, interest rates, and annual fees, among many others. 
Discover it® Student cashback card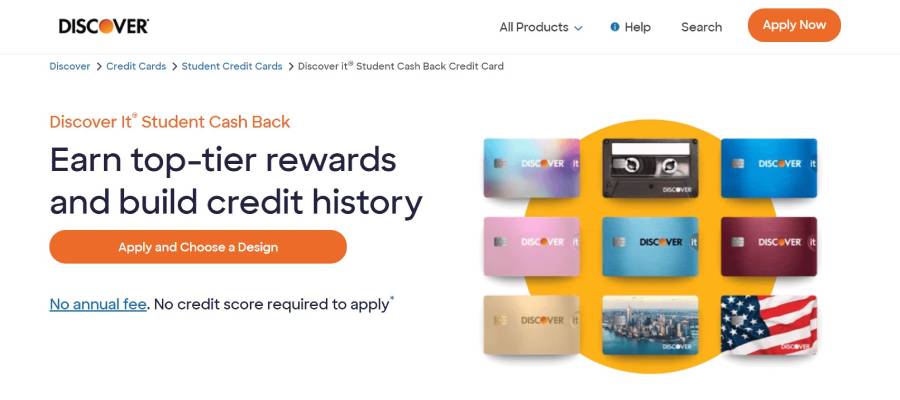 This is a student-friendly one with no annual fee. It gives you the best offer to build credit score while earning bonuses on the side.
You can enjoy a 5% cashback bonus on everyday purchases at restaurants, grocery stores, and gas stations. Regular APR is between 15.99% to 24.99% variable.
Pros: 
cashback, 

welcome bonus, 

no required credit score.
Cons: 
available only to US citizens, 

cashback can be activated no more than once per quarter, 

you have to be 18+.
Bank of America® Travel Rewards credit card for Students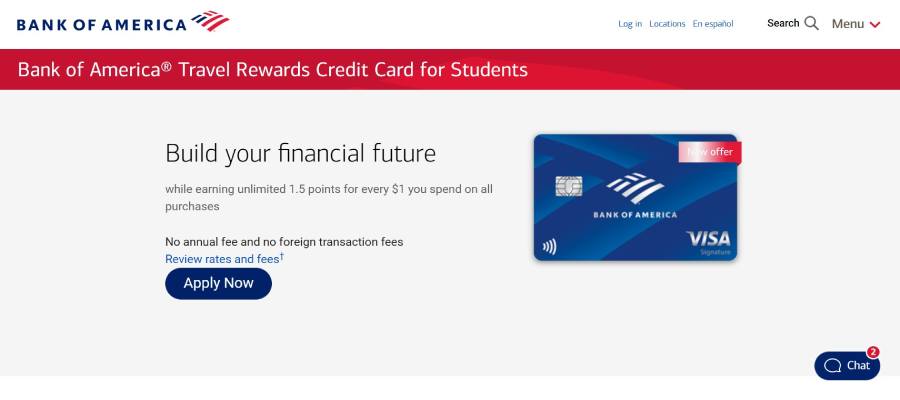 The Bank of America® Travel Reward is one of the best students credit cards that offer up to 25,000 points for a welcome bonus.
Each point is worth 1 cent and can be used for shopping, paying for flights or accommodation, and buying food at restaurants.
Another good thing about the Bank of America® Travel Rewards credit cards is that students who study abroad can use them for free, and no foreign transaction fee is removed.
Pros: 
0% APR option for students, 

1.5 points per dollar on all purchases, 

$0 annual fee.
Cons: 
requires good credit, 

no bonus categories.
Bank of America® Unlimited Cash Rewards for Students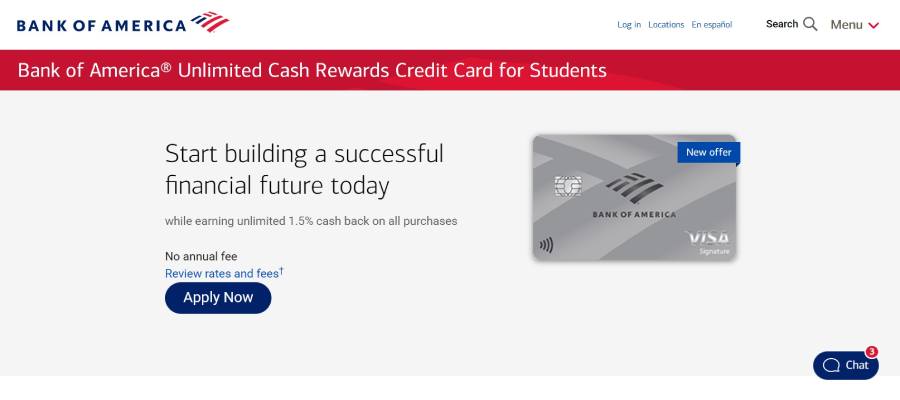 This excellent type has a rewards rate and a low introductory APR on purchases and balance transfers for 18 billing cycles made within two months of opening the account.
However, the card's standard APR is between 16.99% and 26.99%. Also, there is a welcome bonus of $200 after making a minimum of $1,000 purchase within 90 days of opening.
Pros: 
$0 annual fee, 

0% introductory APR, 

good welcome bonus.
Cons: 
3% fee on each transaction, 

charges on foreign transactions.
Capital One Quicksilver Student card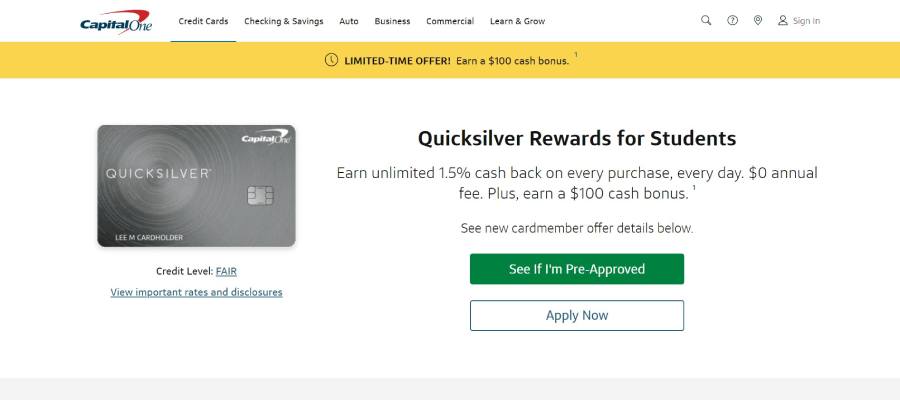 This is suitable for students schooling abroad or going on a vacation abroad because it charges no foreign transaction fees. It is also the best for shopping.
In addition, these cards offer cash rewards instead of points. There is a welcome bonus of $100 after spending $100 in the first three months.
Pros: 
annual Fee of $0, 

no foreign transaction fees.
Cons: 
high variable APR of 17.99% and 27.99%.
Capital One SavorOne Student Cash Rewards Credit Card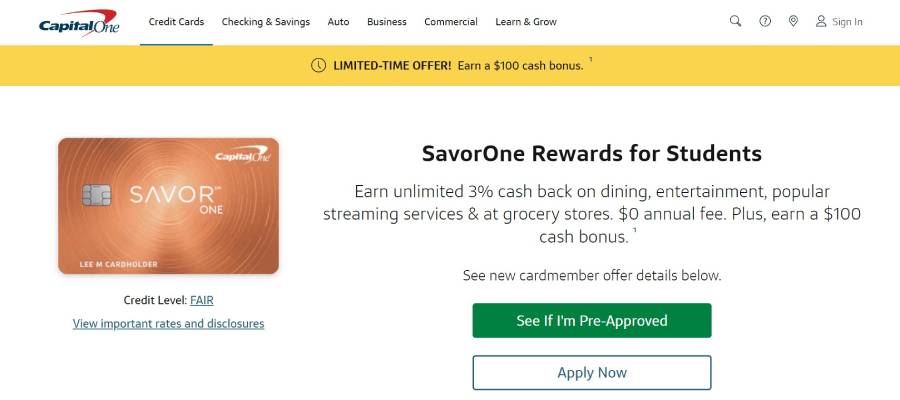 The Capital One SavorOne Student Cash Rewards Credit Cards operate on a $0 annual fee and offer excellent benefits and fantastic cashback in high-spend categories.
There is a 3% cashback reward on dining, entertainment, and at grocery stores. You can also get a welcome bonus of $100 on $100 spending, which is good for shopping.
Pros: 
8% cashback on Capital One Entertainment purchases and tickets at Vivid Seats.
Cons: 
purchases from Walmart and Target are excluded from cashback.
Bank of America® Customized Cash Rewards Secured Credit Card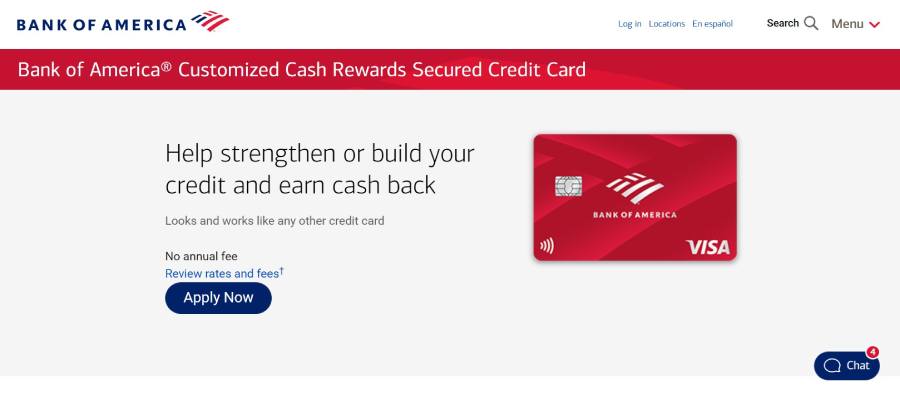 With this card, you have the option to switch categories every month. Secure cards have credit limits, and you can increase them by making a high deposit. You earn 3% cash using it for gas, online shopping, dining, travel, and medicine. You'll also get unlimited cashback on all other purchases.
Pros: 
cashback on online shopping, gas, and medicine,

$0 annual fee.
Cons: 
no welcome bonus, 

there is a deposit requirement.
Deserve® EDU Mastercard for Students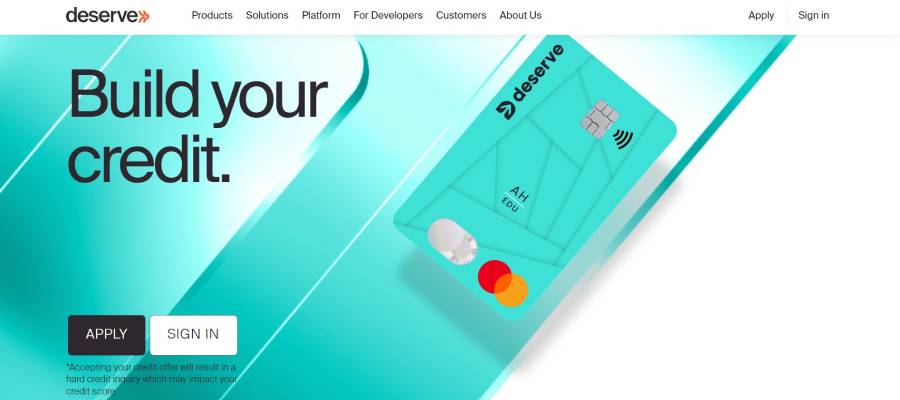 It is known as the "best credit card for international students." The process of getting it is straightforward. No need for an SSN, credit history, or a co-signer. One more great thing about this credit card is that you receive one year of Amazon Prime Student after spending $500 in the first three billing cycles.
Pros: 
no annual fee or foreign transactions fee, 

ID Theft Protection.
Cons: 
Discover It® Student Chrome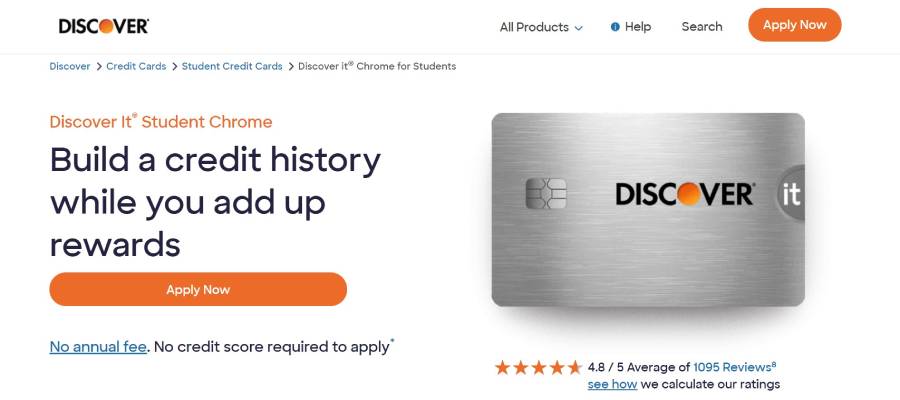 Discover Student Chrome cards are easy to get because they do not require a credit score to apply. With Student Chrome, all cashback earned will be automatically matched at the end of your first year. Furthermore, there is no minimum spending or maximum rewards.
Pros: 
no annual fees, 

there is an introductory APR.
Cons: 
What Is A Student Credit Card?
A student credit card has features and benefits tailored specifically to college students. With their help, they can sort out emergencies, buy books and gas, and even go shopping at school.
Moreover, this card serves as a tool that teaches students what financial responsibility is at an early stage. It also has a positive impact on whether a student gets traditional credit cards after college. 
Why Should I Get A Student Credit Card?
Credit cards come with many benefits, like low-interest rates. Still, there are other significant perks that you can enjoy. First, you will have the possibility to start building up your credit score.
If you use this chance responsibly, you will get out of college with a good credit history. This will be a great benefit when you decide to get real credit cards, a job, an apartment, or even a mortgage.
The other good news is that this kind of credit allows making sound financial decisions. College is just like a bridge between adolescence and adulthood. How you use your student cards can determine how you will make life-changing financial decisions after graduation.
How to Compare Student Credit Cards
Picking among the available student credit cards usually looks like a challenging task to students new to it. Because of the many available options, you must carefully consider your variants by comparing what options and benefits the available cards have. Some offer generous welcome bonuses, while their interest rate is very high. As knowing all the factors is crucial, we have described them below.
Welcome Bonus
A welcome bonus is a reward you get for taking up student credit cards. It differs from provider to provider because they all have their terms and conditions. Knowing these T&Cs is quite important.
After a few months, an excellent welcome bonus should be $100 or $50 on average. However, welcome bonuses that come in the form of points are also a good deal. 
Annual Fee
Traditional credit cards usually charge annual fees, probably because they provide a high limit and better rewards. Nevertheless, the best offer of most student credit cards is not to charge annual fees, and as a student, you should be on the lookout for options like that.
However, there are some student credit cards with annual fees. If you are considering such, you should keep in mind that these fees are frequently added to your accounts, and this decreases available credit. As a student, you should consider a zero-annual fee option.
Regular APR
A regular APR is the interest rate you are charged for using your student card. However, you will not be charged for extra interest if you pay off your balance on time and in full each billing cycle.
APR changes annually, but if you want to calculate your monthly interest rate, divide your APR by 12. For example, if you have a 16.22% APR divided by 12, you will get a 1.351% as your monthly interest rate.
To avoid interest charges, make sure you pay up in full and on time. If you are afraid that you may forget to do so, set up auto-pay.
Credit Score
A credit score is a three-digit number that typically ranges from 300 to 850 and indicates how likely you are to repay loans and make payments on time. A good credit score starts from 690 and above. It is still fair between 630 and 689, but anything from 629 and below is considered a poor score.
To have a good score, pay all bills in a timely manner. Equifax, Experian, and TransUnion are the three national credit bureaus you can use to check your credit scores.
How to Use Student Credit Cards on Maximum?
As a student, there are numerous ways to enjoy student credit cards to the maximum and also increase your score. One of the most important things we've mentioned is to pay all bills at a specified time or even before the deadline. Failing to do so can affect your score in a bad way.
Besides, remember to stay within your monthly budget. Going over your budget without a payment plan would hurt your credit score. Plan your spending and let it fall within your budget.
Moreover, don't use your entire credit limit. These suggestions will help you achieve a good credit score in college, and will give a lot of benefits for you after graduation.
Alternatives to Student Cards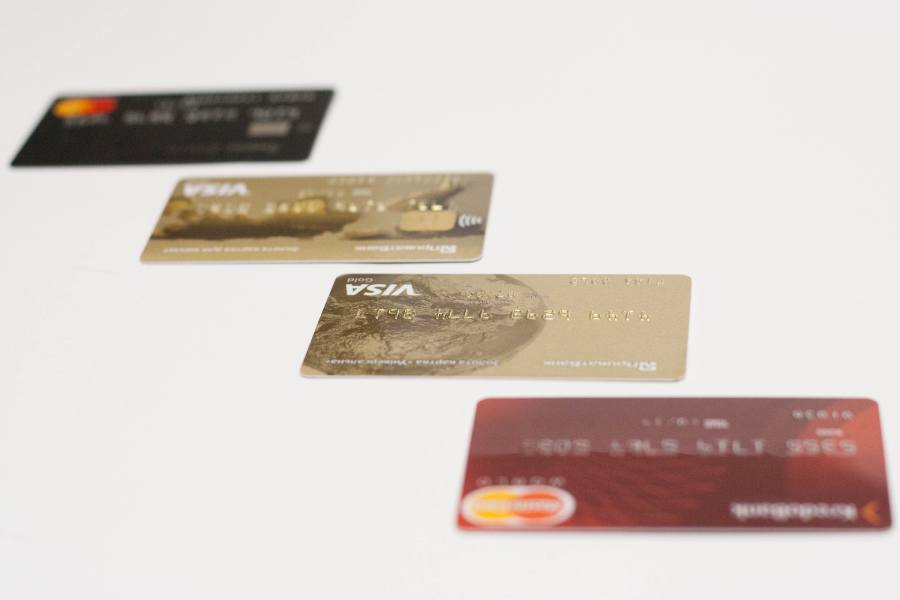 Getting a student credit card whenever you apply for one is not always guaranteed. Some students get rejected from time to time based on one reason or another.
In case you are among those unlucky ones and want to explore other options apart from a student card, rest assured that they provide similar benefits as a student card. Check below to pick any of the available options.
Secured Credit Cards
One of the best alternatives to consider is a secured card. Over the years, more people began to see it as a good financial option.
Unlike student cards, its approval rate is high, and you have to make a cash deposit before accessing it. The cash deposit will determine your credit limit, meaning the more money you deposit, the more money you have access to.
The cash deposit also ensures that an outstanding balance will not be unpaid. The deposit will prompt you always to pay back when due.
Charge Cards
Charge cards come with excellent convenience and simplicity. They function much like credit cards, but unlike a student credit card, they require you to make a full payment monthly instead of allowing your balances to roll over with interest. It means if you spend a thousand dollars a month, you pay back the total amount at the end or beginning of another month.
Gift Cards
Another good choice is to explore gift cards. It is a prepaid stored-value money card you can use instead of cash. To enjoy this, you can set spending priorities by choosing options like Amazon and Apple for shops you know you frequent.
Having gift cards can assist you in creating a more organized spending plan without having to dip into your savings or make frequent withdrawals.
Also, many big businesses, like Apple and Amazon, offer numerous discounts and promotions for students who use this type to purchase items at specific supermarkets. You might also qualify for such discounts.
FAQs
Which is the best credit card for students?
It depends on the person. What is a good deal for some, may not be good for others. But based on our review, Discover it® Student cashback card is the best among the student cards. It is student-friendly, and it charges no annual fee.
What should I do if I can't get a student credit card?
First, you should read the process well. But if it does not help, make use of some other option. Many of them provide almost the same value as the student credit card. Consider among those we have earlier mentioned, namely secured credit cards, charge cards, and gift cards.
Is it better to get a student credit card or a normal credit card?
As a student card requires a simple process, unlike the normal one, it will be the best choice. Moreover, most normal types charge a particular amount that might not be favorable to you.
How much income do I need for a student credit card?
You don't need to prove any income aside from your parent's one. What matters the most is to stick to your budget strictly. Don't spend more than you can afford. If you do so, you are good to go.