Interest rates are an extremely important part of any banking service. Your credit score has a huge impact on the rates that you get. A low score means a high APR.
Luckily, if your score is damaged, there are ways to repair it. You have the option to hire a repair company to help you out. Their job is to remove any negative and wrongful information.
The price of their services can vary greatly depending on the company. It can go anywhere from $50 to $150 monthly. There are also actions you can take to improve your history.
Best Credit Repair Companies: Understand Costs
Credit Repair companies take it upon themselves to fix your bad credit for a certain price. Most people have incorrect information on their reports, which affect their score negatively. These companies will build credit by making sure this information is no longer on your statement.
Having a good credit history is highly important because every lending company and banking institution will check your score before doing business with you. Not only that you can get high rates, but you also might not even qualify. For that reason, it is important to repair your history.
The Credit People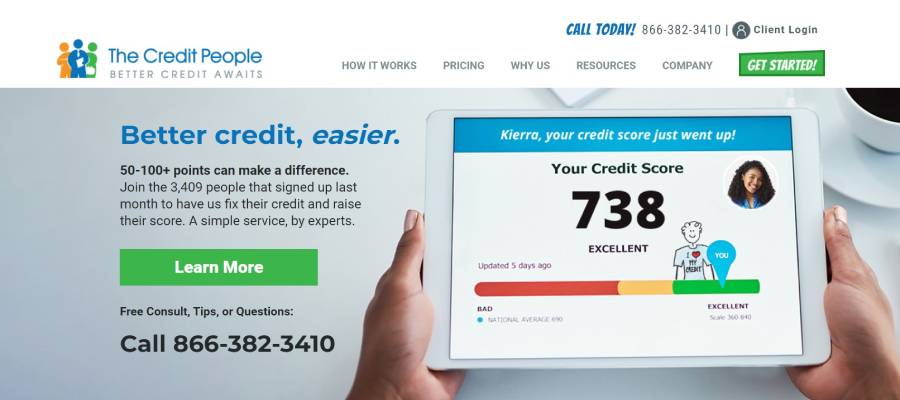 The Credit People is one of the companies that provide repair services. Their main goal is to ensure that your report card is being modified fairly. Equifax, TransUnion, and Experian are in charge of updating your score and history.
Pros:
Free consultation
Seven-day trial for $19
Guarantee
Cons:
High cost
No individual advisor
The company offers two plans: Monthly and Flat Rate. The monthly plan costs $79 per month. It has a setup fee of $19 and provides monthly score updates. The Flat Rate plan costs $419 and does not have monthly or setup fees.
Their major advantage is transparency. They want to make sure you know every step they take for you. Unlike many other companies, they provide free credit score reports and statements.
It is important to mention that Credit People have a 100% Satisfaction Guarantee. That means if you are not satisfied with the end result, you do not have to pay. You can also cancel your plan at any time, and you will not be charged.
Ovation Credit Repair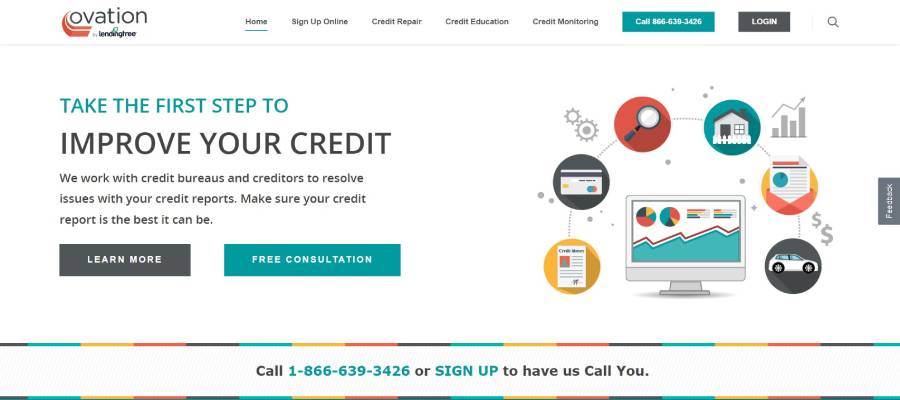 It is one of the biggest companies in this business. They make sure to guide you through the entire repair process professionally. They aim to help you get good credit, which is why they offer various discounts!
Pros:
Discounts
Education
Free Consultation
Cons:
Ovation has two plans to offer: Essentials, at a monthly cost of $79, and Essentials Plus, for $109 per month. The first work fee is $89, which can be a little setback. However, you can always refer to their discounts section and look for a better deal.
You can even get $30/$50 for recommending them to a friend. They also have couples discounts, senior and military discounts. Ovation Credit Repair offers a free consultation at any time.
The Credit Pros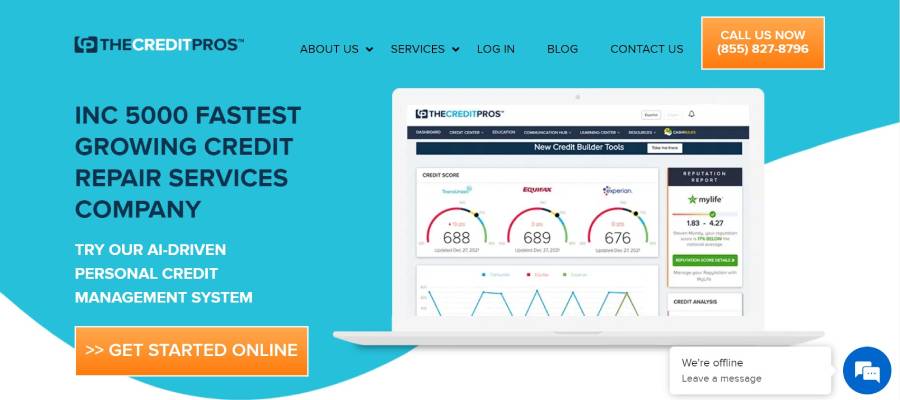 This company is one of the repair companies whose job is to help you build credit. They do not only work behind the scenes, but they also intend to educate their clients for the future. You can easily sign up online and begin your repair process!
Pros:
Great customer support
Guarantee
Free consultation
Cons:
Expensive services
Setup fees might be high
Their methods and strategies distinguish them from other credit repair companies. The Credit Pros owner spent 10 years working on the laws and development. That is why they have excellent reviews all over the internet.
Credit Saint
Start your credit repair process with Credit Saint and get a 90-day Money Back Guarantee! They offer services to suit everyone's needs. You can even get free credit score consultation by dialing 1-877-637-2673!
Pros:
Money back guarantee
Multiple plans
Free Consult
Cons:
This company offers three packages to suit everybody's budget. You can get the Premium for $119.99, but a relatively high setup fee of $195. There is also the Remodel for $99.99 per month, and the first work fee is the same amount. Lastly, the Polish costs $79.99 per month, but the setup fee is still $99.99.
What differentiates them from other companies is that you can cancel the plan whenever you want. They do not have strict policies to keep you as a customer. Credit Saint takes their business directly to the three major bureaus.
Lexington Law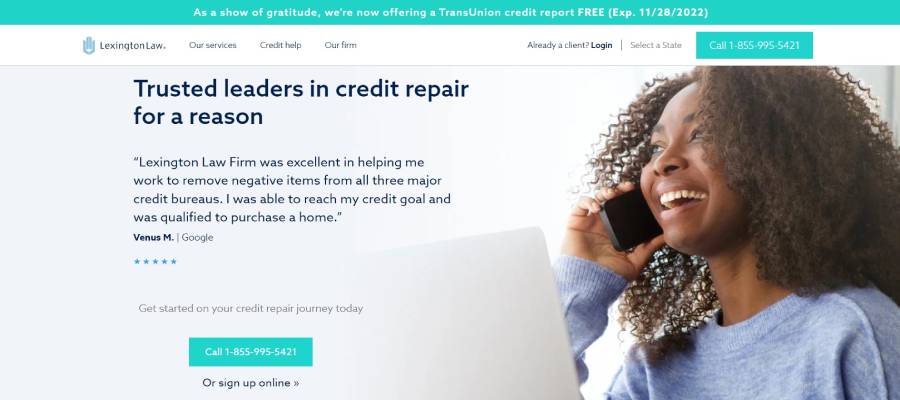 Lexington Law is the industry leader when it comes to credit repair companies. Experienced and trusted attorneys are there to help you get good credit. They will also help you better manage your finances in the future!
Pros:
Three plans
Discounts available
Free Consultation
Cons:
No guarantee
No instant results
Lexington Law Firm offers three plans for you to choose from. Concord Standard costs $99.95 per month, and the setup fee is $89.95. Concord Premier repair plan will cost you $109.95 with a first work fee of $89.95. Finally, their most expensive plan is the Premier Plus plan for $139.95 per month and a first work fee of $129.95.
Even though the plans and fees might seem costly, they offer a 50% discount on the first-work fee for eligible customers. Their customer support is at your service 24/7. To top it all off, they offer identity theft insurance as well.
Sky Blue Credit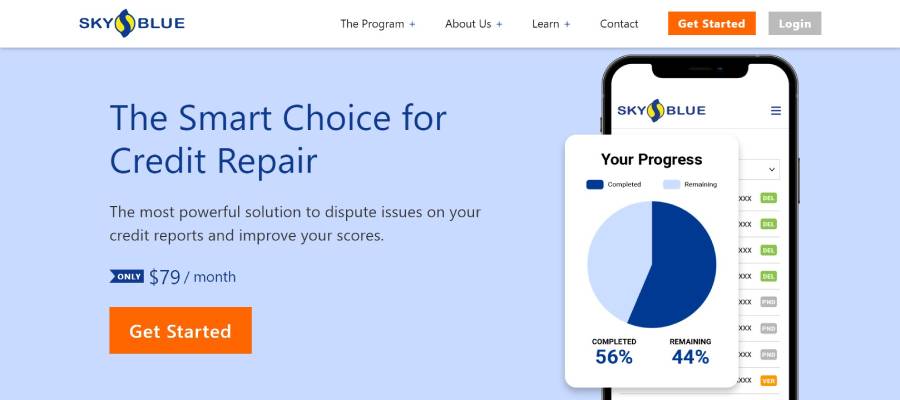 If you are looking to fix your bad credit, you might want to consider doing business with Sky Blue Credit. All you have to do is sign up, and they will be providing you with free credit score reports. They will review your history and work towards resolving the issues that affect your score right away!
Pros:
Guarantee
Option to cancel/pause the membership
Various services
Cons:
They do not have a mobile app
You cannot monitor your score
Signing up is entirely free of charge, but the credit repair cost per month is $79.00. The setup fee is in the same amount, charged within the first 6 days. Sky Blue offers a couples discount, and the other person only pays an additional $40/month! They also do not charge upgrade costs.
They boast their dispute cycle that lasts for only 35 days. Most credit repair companies have a cycle of 45 days! They even customize the disputes to fit your needs better and get you a good credit score!
Credit Versio
This company is one of the highly trusted credit repair companies that work with 3 credit bureaus! They want to help you build credit and include you in the repair process. Credit Versio easily gets your report without a hard check that damages your score.
Pros:
Affordability
Simple interface
Brilliant AI
Cons:
No money-back guarantee
You might have to do some work yourself
This company offers three incredibly affordable plans that you can cancel at any time. They do not charge you for using their services but rather for the bureau subscriptions. Smartcredit®BASIC plan costs $19.95; Smartcredit®PREMIUM is $24.95, and; IdentityIQ will cost you $29.99 per month!
Credit Versio can help you with multiple issues that harm your good credit. They can help remove late payments, inquiries, repossessions, foreclosures, and so on from your record. They will immediately link you to all credit bureaus.
What Is a Credit Repair?
Credit repair is a process utilized by companies that work on fixing a bad credit score. Their goal is to remove any false information that harms your score from the record. They work on removing late payments, judgments, charge-offs, and so on.
Credit repair companies help individuals boost their scores so that they can get better rates and loan deals. If your score is damaged, you will likely not even be considered to get a legitimate loan. If you are not a financial expert, you might want to look for help to build credit.
Bear in mind that some negative information can take years to get off your record. However, if there is anything inaccurate, it will be removed in no time. The entire repair process usually takes up to 6 months.
How Does Credit Repair Work?
Credit repair begins with you hiring a professional to help you get a good score. Their job is to make your report more accurate. They will get in touch with the three bureaus and review your history.
After that, they will enter a dispute in order to remove any false and negative information from the record. Most repair companies charge a first work fee that is generally larger than the monthly fee. However, a lot of them offer a money-back guarantee in case you do not like their work!
What Is Credit Repair Software?
The main goal of Credit Repair software is to identify the issues that are harming your score. You can easily find problems from anywhere in the world. Sometimes, you might even find free software.
In order to file a dispute with 3 credit bureaus, you must collect the information needed. Use Credit repair software to detect what can be fixed and what does not belong on your record. Credit Repair Cloud and Credit Versio are the perfect examples of functional software.
How Much Does Credit Repair Cost?
Prices for repairing your bad credit depend on the company that you choose. You can be charged anywhere from $50 or less up to $150. Most companies even offer different plans with contrasting prices.
The most optimal plan you can get would be around $80 with a setup fee in the same amount. Credit repair companies charge a monthly fee, and you can choose how many months you need them for. A lot of them will even let you get out of the deal free of charge if you determine you do not need their service within the first few days.
Explore your options and search for the best deal. As credit repair is a lucrative business, you have plenty of options to choose from. Make sure to pick one while being well-informed.
How Long Will It Take to Repair Credit
Repairing your credit can never be a quick process. It can take months or even years to get to a good point. Of course, the time spent fixing the score depends on how bad your score actually is.
Any incorrect information or data from records that are not yours can be easily removed from your statement. That process of removal usually only takes a few months. However, it can take years to remove truthful information, such as late payments.
On average, you might need up to 6 months to make progress. To fix your score entirely, it can take a year or two. This is not an easy process, and you have to be patient.
Is Credit Rebuilding Worth Its Cost?
Getting a rebuilding service can be quite helpful if you are not a financial expert. They can save you a lot of time by removing incorrect information from your record. However, some companies do charge high fees for their resources.
If you manage to get a good deal that will not rip you off, then repairing credit is definitely worth your money. It also helps you in the long run. If you ever decide to get a loan, it will be a lot easier and with much better rates.
How to Repair Your Credit For Free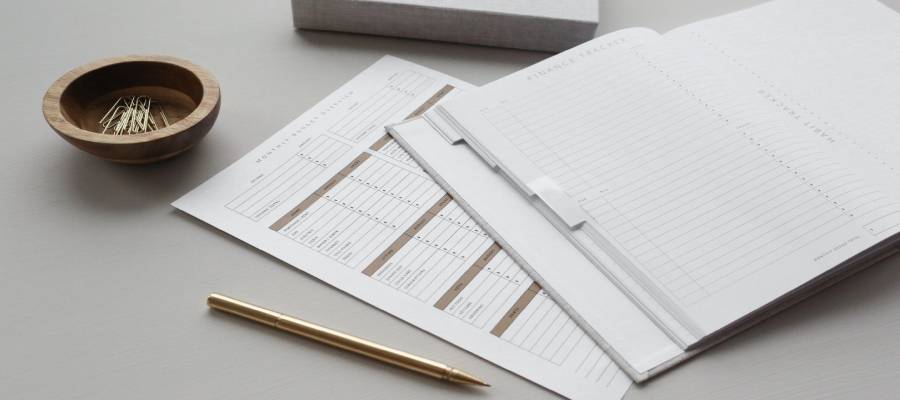 To fix your score, you do not necessarily have to hire professionals. With proper research, you can do everything they can. Save yourself some money and invest time in getting your score up.
Here are some steps you can follow if you are willing to take on this quest on your own:
Request a copy of your free credit score report from bureaus
Look into the report and search for issues and inaccurate information
Highlight the problematic parts, or utilize repair software to do it for you
Write a dispute letter to each bureau for all mistakes
Get a response
Wait for a few months and then check your score again
Scam Credit Repair Companies
There are quite a few legitimate companies out there that can help you rebuild your score. However, many scammers are looking to take your money as well. Before getting into business with any repair company, check their background, find reviews, and look for anything suspicious.
Credit Repair Organizations Act (CROA) statute is a law that protects you from getting scammed by a repair company. All companies must follow these regulations. If they do not obey the rules, they are likely not legitimate.
You can generally recognize scammers by the following:
They advise you to lie about your record
Preventing you from contacting reporting agencies
No written contract
Ask for payment in advance
Conclusion
Credit repair is an excellent option if you are looking to benefit long-term. By hiring professionals to fix your score, you can get better rates on loans and other banking services in the future. Many companies offer excellent packages for low fees in order to help you.
Look for the best options and let them handle everything. However, be aware that there are scammers out there. Make sure to do proper research on a company before you start doing business with them!