A personal loan is a money from local banks, online banks, or credit unions to serve your expenses. These unsecured loans come with fixed payment terms and conditions, including fixed interest rates. A personal loan can suffice if you want to make a significant purchase or pay the debt.
There are many types of personal loans, and many financial companies provide them. Loan offers may come with special terms and conditions depending on the lender, and companies may differ in credit requirements. This guide provides relevant information for obtaining a personal loan.
Online Lenders Of Personal Loans: Best Offers
Loan lenders include credit unions, traditional banks, and online lending platforms. Each offers different packages, terms, and conditions. Nowadays, online lending platforms have become famous for their ease and convenience.
However, a significant challenge is choosing suitable online lenders to obtain a personal loan. Considering how many online lenders are there, it would take a lot of work to look through them in search of the right one. As a result, we've picked and discussed the best personal loan lenders, so you can choose one that suits you.
Upstart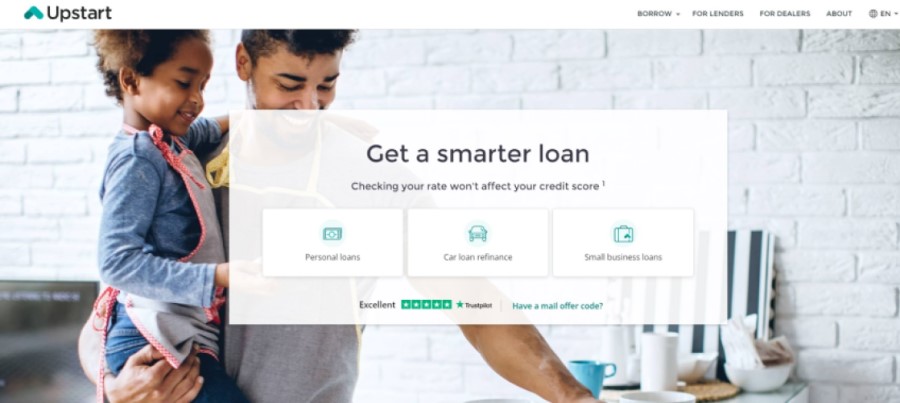 Upstart is a lending platform that connects borrowers with multiple lenders from banks and credit unions. This AI-based lender offers fast funding and caters to individuals with unfavorable credit terms. Upstart is a good choice for you if your credit history is short.
Highlights
This lending platform offers loans ranging from $1000 to $5000.
The average APR of 26.57%.
Loan terms are usually between 3 to 5 years.
Origination fees between 0-10%.
Disbursement time is one day.
Upstart stands out for its AI-powered platform, low credit score criteria, and loan amounts. However, the APRs and origination fees are hefty, and their loan offers may be too pricey for some individuals.
Upgrade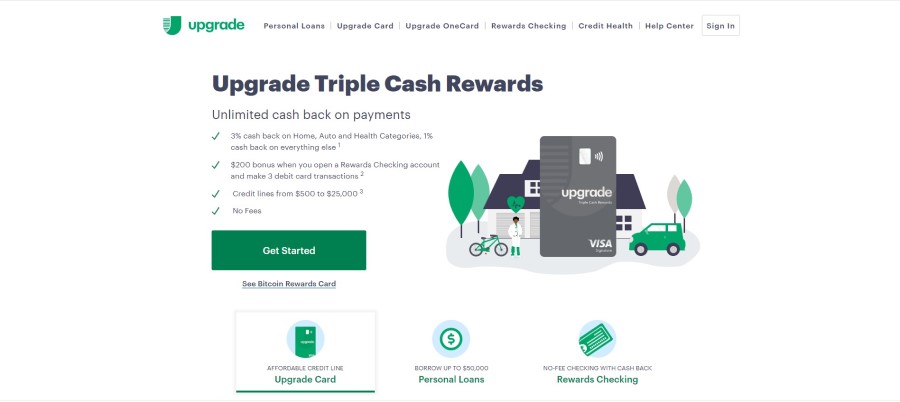 Upgrade is a fintech company that helps people get unsecured and secured. They work with people whose credit score is at least 560 and give loans to good and bad credit borrowers. Upgrade provides a wide range of loan amounts and repayment terms.
Highlights
This lending company offers loans ranging from $1000 to $50,000.
The average APR is between 7.96% and 35.97%.
Loan terms are between 24-84 months.
The origination fee ranges between 1.85%–8.99%.
Disbursement of funds is almost instant.
Upgrade offers personal loans with credit ratings as low as 560. This distinguishes it from competitors with higher credit scores. However, despite liberal credit score requirements, Upgrade's APRs and origination fees are greater than some competitors.
LendingClub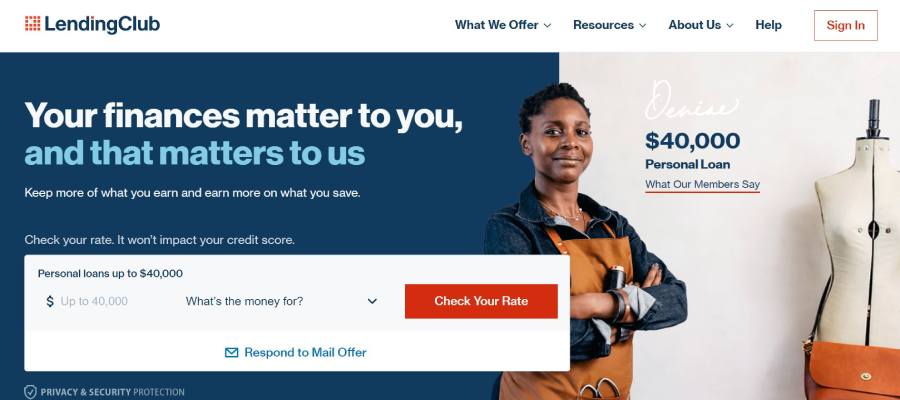 LendingClub is an online platform that connects individual lenders directly with prospective borrowers. The internet banking service provides unsecured loans in addition to traditional banking services and other financial offerings.
Personal loans from LendingClub are an excellent option for people with good or fair credit who need money for significant expenditures or debt consolidation.
Highlights
This peer-to-peer lending company offers loans ranging from $1000 to $40,000.
The average APR is between 8.30% to 36.00%.
Loan terms are between 36-60 months, and the company also supports co-borrowing.
LendingClub requires borrowers to have a credit score of 670 at least.
LendingClub is a good alternative for many small personal loans. However, the origination fees range from 3% to 6%, which is considerably high. Disbursing funds may take a few days.
LightStream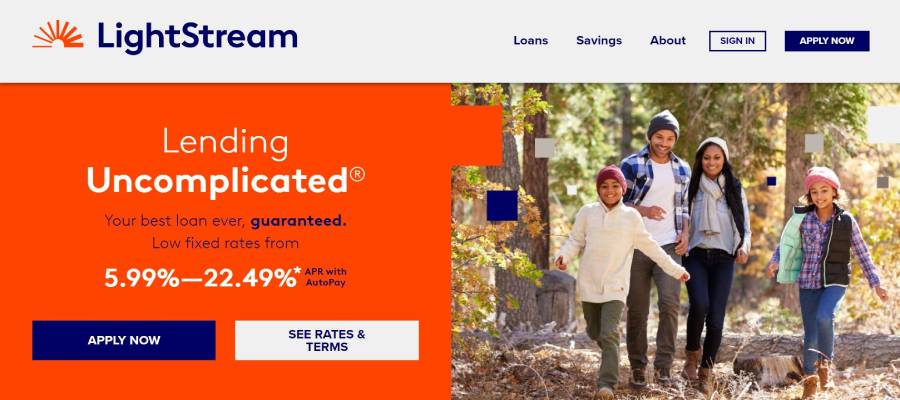 LightStream is a fintech company that gives low-interest personal loans with no origination fees to people with good credit. The company can help you get a loan for things like fixing your car, remodeling your kitchen, or paying off your debts. People like LightStream because it is easy to apply, get money quickly, and has lower interest rates.
Highlights
LightStream offers loans ranging from $5000 to $100,000.
The average APR is between 6.99% to 22.49%.
Loan terms are between 2 to 12 years.
No origination fee is attached.
The recommended minimum credit score is 660.
Disbursement of funds is usually on the same day.
In addition to lower interest rates and no fees, LightStream also offers large loan amounts and longer repayment times. However, they don't provide loan prequalifications, and their customer support options need improvements.
SoFi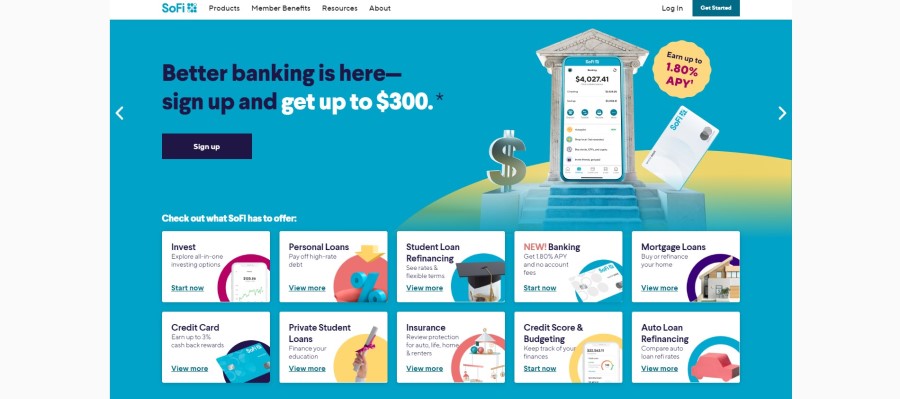 SoFi is a financial company that started as a company that refinanced personal and student loans. Along with loans and refinancing, the group also helps people with their investments and provides other financial services. It has become trendy because of its low prices, flexibility, career planning, and financial planning services.
Highlights
The company offers loans ranging from $5000 to $100,000.
The average APR is between 7.99% to 23.43%.
Loan terms are between 2 to 10 years.
No origination fee is attached.
The recommended minimum credit score is 680 or higher.
SoFi's main advantages include its extensive lending options, professional financial planners, cash management features, and opportunities for self-directed investing.
However, there is no charge for the management of your investments. Socially responsible investing and individualized portfolio construction are both unavailable.
PenFed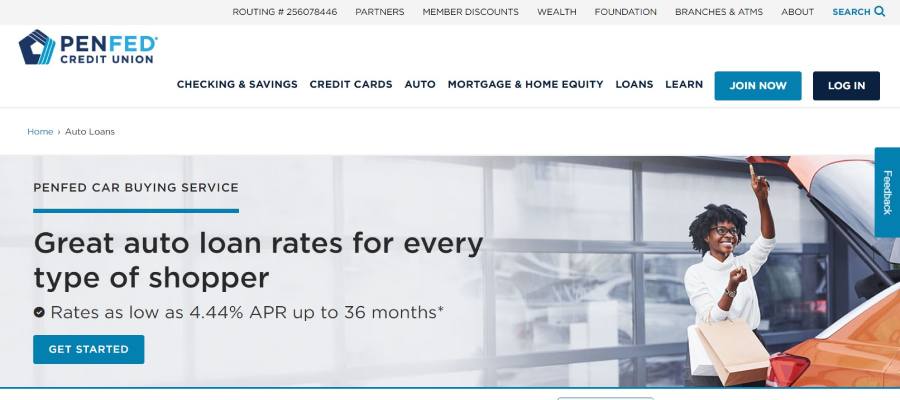 The Pentagon Federal Credit Union, or PenFed, is one of the most significant federal credit unions. It was started in 1935 as a credit union for military and government workers and their families. With a personal loan from PenFed, you can pay off high-interest debt, make a big purchase, or cover unexpected costs without paying an origination fee.
Highlights
PenFed offers loans ranging from $600 to $50,000.
The average APR is between 7.74% to 17.99%.
Loan terms are between 12 to 120 months.
No minimum credit score to access funds.
Disbursement of funds takes about two days.
The benefits of Penfed are low minimum credit scores, low minimum APRs, and no origination fees. However, they only give out loans up to $50,000. They also require membership before lending money and charge late fees if payments are made late.
Discover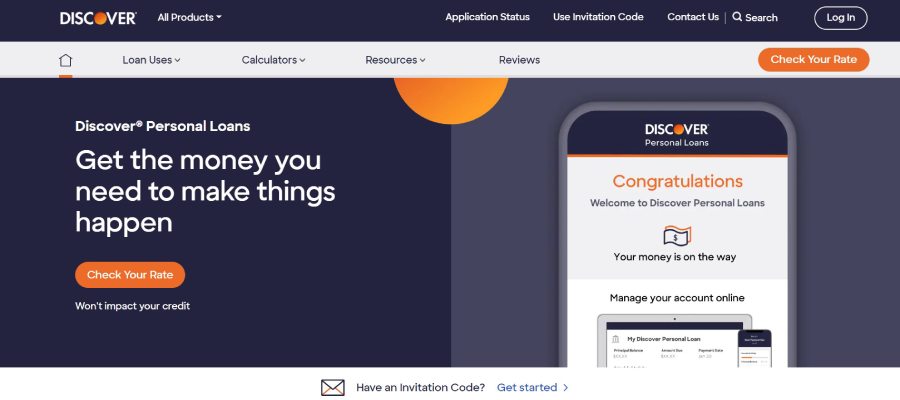 Discover gives unsecured personal loans to people with excellent or strong credit that they can use for almost anything. The company can provide you with money quickly, and there are no fees to set up the loan. But if you need to borrow more than $35,000, you should look elsewhere for a lender.
Highlights
Discover has loan offers ranging from $2500 to $35,000.
The average APR is between 6.99% to 24.99%.
Loan repayment terms are between 3 to 7 years,
No origination fee is attached.
It usually takes one business day to receive funds after request.
Discover stands out because it charges no origination fees, pays debtors directly, and offers competitive rates. However, the maximum loan amount is $30,000, and there are no low-interest options.
Step-By-Step Guide on How to Get a Personal Loan
Processing a personal loan from an online company is far easier than with traditional banks and credit unions. It requires fewer documents and processes, making it more convenient for the borrower. There are also multiple alternatives to choose from when shopping for loans online.
Although taking out a personal loan is simple, many individuals may need help. Therefore, you must know what is required and what to look out for before shopping for your loan. This guide section provides the information necessary to process your first personal loan request.
Decide On The Loan Amount
When shopping for personal loans, you must determine how much money you need to borrow. Knowing how much loan you want is essential for choosing the right lender and loan offer. The purpose for taking the loan should help you figure this out; however, you may want to consider some personal factors before deciding.
Knowing how much money you need and how much you can afford to pay back. You can also figure out the APR by comparing the amount you want to borrow with the different loan terms. This is an intelligent way to find a solution that saves money.
You also want to consider the interest rates attached to the loan offer. The interest rate multiplied by the amount borrowed gives the cost of borrowing money. Even a half-percent change in the interest rate can significantly affect the total amount you pay for a loan.
Calculate Your Income
Before taking a personal loan, you should consider your income to ensure you can repay it. When deciding if you are a reasonable risk, lenders will look at your current debts and how you plan to repay the new loan. Lenders typically ask people who want to borrow money to show proof of steady work and income as part of the application process.
To calculate your income, you must first determine your annual earnings by multiplying your gross monthly income by 12. Next, you want to subtract your existing debt, taxes, and living expenditures from your average yearly income. Furthermore, determine if what's left can pay for the total package of your loan.
You can also calculate your income using a personal loan calculator. Lenders' criteria for a minimum annual income vary widely, with some having none. Once you have your data, you will be able to determine whether or not you meet the lender's criteria.
Check Your Credit Score
Your credit report gives a thorough overview of your credit history. It details your past and presents credit accounts and personal information. In addition, it tracks how often you or a lender requested your credit report and how usually your debts were transferred to a collection agency.
One of the easiest ways to obtain your credit score is through your local bank. You can get free credit reports from Equifax, Experian, and TransUnion, the three major credit reporting agencies. Most of the time, you have to pay to get your credit score.
Another way to get your credit score is through credit karma; a free credit and financial management platform. Credit Karma will give you a free credit report and credit score in exchange for information about your spending habit.
Lenders consider an applicant's credit score when choosing whether to provide a loan. It is their way of verifying if you are creditworthy. Depending on the loaning company, you may be asked to provide a credit report from any of the three major credit report agencies.
You may improve your credit position when shopping for personal loans with precise information about your credit and how lenders and creditors utilize it. A credit score can range from 300 to 800, depending on payment history, debt, and credit history.
Choose Your Type of Personal Loans
It is essential to familiarize yourself with the different types of unsecured personal loans if you must choose the best one for you. Here are some of the many loan options you can find:
Debt consolidation loans
A debt consolidation loan is an unsecured personal loan used to pay off more than one debt. This method can cut down on interest, speed up the process of paying off debt, and makes debt easier to handle. However, missed payments for outstanding debts could worsen the situation, and this method doesn't solve the real problems with debt.
Credit card refinancing loans
Credit card refinancing is a debt consolidation loan that enables you to pay off several credit card balances with a single, manageable installment. It could have lower interest rates that don't alter the duration of the loan. However, some of these loans may come with extra fees.
Home improvement loans
Home improvement loans are personal loans you can use for your housing renovation. You can make fixed monthly payments without collateral, unlike home equity loans or home equity lines. In contrast, you'd have to make a single lump sum payment, which could mean paying higher interest rates.
Medical loans
Medical loans are personal loans that cover medical emergency expenses. You get lower costs, better rates, fast loan approval decisions, and fixed monthly payments making budgeting easier. However, you pay interest on medical costs and may only qualify if your credit is good.
Payday loans
Payday loans are short-term unsecured loans that are based on the borrower's income to justify the high interest rates charged by the lender. The loan's principle is usually deducted from your next paycheck. Online payday loans are a form of instant credit that comes with extremely high interest rates.
Choose The Best Lender
You must consider what each lender offers to find the best personal loan lender, their interest rates, fees, and repayment schedules. To make a good decision, you want to look for the best customer experience.
Personal loan rates can vary greatly from one lender to the next, so it pays to look around to find the best one for your finances. By considering your financial capabilities, you can determine how much you can afford to pay in interest. Therefore, you want to compare personal loan rates, so you want to find a good fit.
You also want a lender with reasonable loan terms so you can plan your finances properly. Usually, paying your debt on time means less interest but more monthly payments. On the contrary, longer loan terms can lower your monthly payment, but you'll pay more interest over time.
Apply For the Loan
If you have chosen an online lender, you can start the personal loan applications process using your mobile phone or laptop. First, lenders typically would require you to provide your name, contact information and address, employment and income information, and the purpose for the loan. Next, you'd have to specify how much money you want, then get to read the lender's terms and conditions.
Once you send in your application, your lender might ask you for more documents. In most cases, you would need to upload or fax a copy of your most recent pay stubs, proof of residence, or a copy of your driver's license.
After receiving loan approval from the lender, you must complete the loan documentation and accept the terms. Upon doing so, you will usually receive the loan funds in your savings account or any other account of your choice. It usually takes one or two business days for a company to disburse funds.
What Documents Do I Need to Apply For a Personal Loan?
When applying for a personal loan, you'd be required to fill out some documents and present some to verify your registered information. Some of these documents include loan application, proof of identity, employer and Income verification, and proof of address.
The document for loan applications is given to you by your lender to provide basic information like your name, age, address, and occupation. You'd also be required to provide a document that proves your identity to verify your nationality and age. This could be an voter registration card, passport, birth certificate, or driver's license.
Since there is no collateral to unsecured loans, you must prove you can pay back the loan with a stable income. Therefore, your lender may require you to provide a document that verifies your employment and income, such as a property tax receipt, task returns or bank statement. You would also need to provide a copy of a utility bill or mortgage statement that proves your address.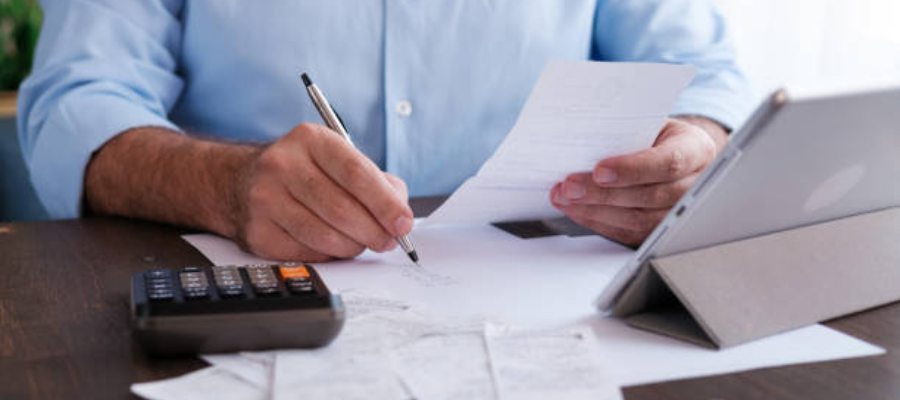 Where Can I Find a Personal Loan?
There are several places to get your loans from. How much do you need, how long, and what features do you want to determine where to get a personal loan? The most common sources for personal loans are banks or credit unions, peer-to-peer lending sites, online loan providers, and private loans from the investor.
For many borrowers, the first place they look for a personal loan is at their local bank or credit union. Banks' loan qualification rules are typically more stringent than other lending institutions. However, you'll meet with a loan officer who can customize your experience and help you through the application process.
Peer-to-peer lending platforms are fintech businesses that connect borrowers with various loan offers from several lenders. The interest rates offered by P2P lenders are often lower than those provided by banks; however, this is only the case if the borrower has excellent credit.
How to Get a Personal Loan With Bad Credit?
You can still get approved for a personal loan even if your credit could be better. Personal loans are available even to those with less-than-perfect credit; however, the decision to grant or deny one ultimately rests with the lender. Online loan companies such as Upstart and Upgrade make it simple to apply for a loan, even if you have adverse credit.
On the other hand, if you're dead set on receiving the most fantastic deals, improving your credit score is a requirement. You should examine your credit report and credit score thoroughly before applying for a personal loan so that you may address any issues that affect your application's approval. Another thing to watch out for is taking out any loans you can't quickly repay.
If your credit score and history need to be higher to get you approved for a loan, a co-signer can help. However, before proceeding, you should verify with the lender if co-signers are allowed. Lastly, if your credit score is low, but you still need a loan, look for a lender who does not check your credit.