Borrowing money in 2023 is getting harder due to the harsh economic situation in the world, inflation, and constant lay-offs. Lenders get pickier and don't let anyone get personal loans with ease. If you need to get some money and cover a purchase, but your income or credit score isn't enough, you may struggle a lot.
However, the good news is that there's an option. The best joint personal loans will be a great solution. What are the best joint personal loans? It's a type of credit where more than one borrower is involved. With two people having excellent credit scores and sufficient income, it's way easier to get qualified and apply for a loan.
Our article gathers all the necessary information about this type of loan. You will find top lenders on the market and answer your most requested questions here. Let's get into it and see the benefits of the joint personal loan.
Joint Personal Loans: Best Offers 2023
If you're not very familiar with this type of personal loans, you may need some extra help. How to choose the best lender and where to look for the companies? You should worry less because we've already done this task for you. The following paragraphs will uncover the ins and outs of different personal loans, so you can choose the one with the best loan offer.
LendingClub — Best For Joint Loan Options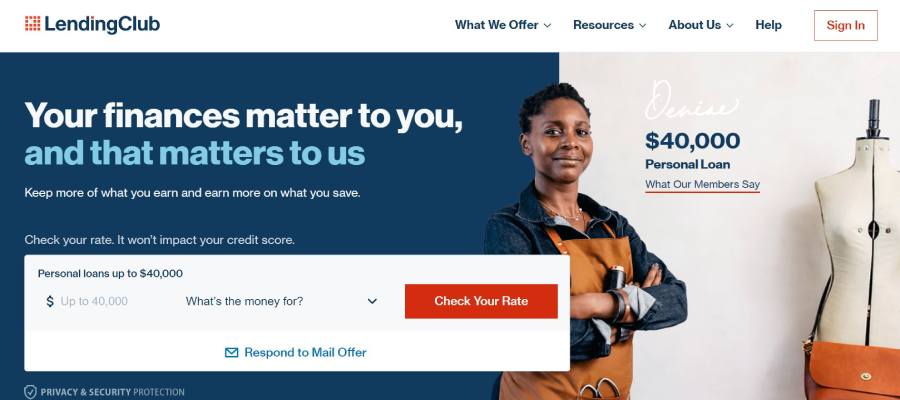 LendingClub is on top of the list of personal loans for a couple of reasons. First off, it's a perfect fit for those looking for debt consolidation loans. Second, you can consolidate debt, have a good or even poor credit score, and still be eligible for the joint personal loan. What are the loan details?
8.30% – 36.00% APR
$1,000 to $40,000 loan amount
repayment conditions are 3 or 5 years
minimum 600 credit score
Being a perfect choice for joint personal loan options, LendingClub also ensures monthly payments to debt consolidation loans. You can pre-qualify with soft credit scores and even change the payment date. However, there are some fees, such as an origination fee, included for the borrowers.
Why should you choose it? Even though it has an origination and late fee included in the personal loans payment, it's still a nice bargain with a bad credit score requirement, nice repayment terms, and a high loan amount.
SoFi — Best For No-Fees Policy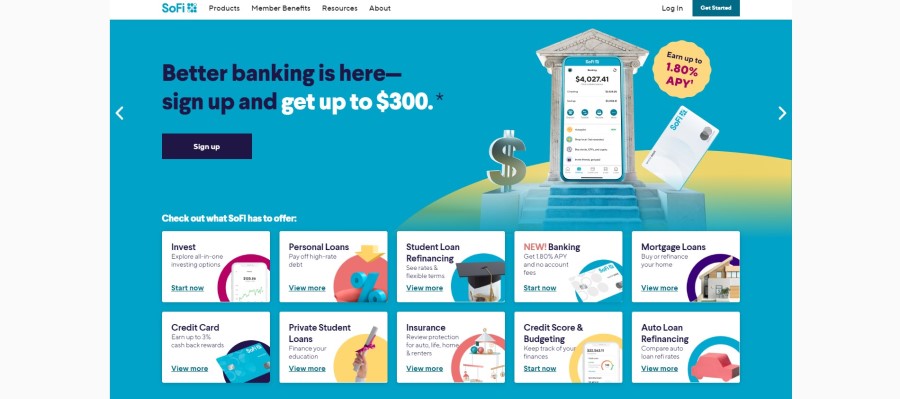 Now, let's move to another lender known for its great payment fee policy that perfectly fits joint personal loan borrowers. Want to learn more about the lender? Let's get into it and check the technical details.
7.99% – 23.43% APR
$5,000 to $100,000 loan amount
repayment terms are 2 to 7 years
no minimum credit score needed
With a joint personal loan option, SoFi can become your favorite choice. What other perks does it have? You won't be bothered with the fees, can get a discount for autopay, benefit from a more competitive interest rate, and use a handy mobile app to manage the loan early.
Why use it? You won't be able to change the personal loans payment date, but it's not a big deal taking into account a really good APR, high maximum loan amount, and no minimum credit score requirement.
LightStream — Best For Long Repayment Terms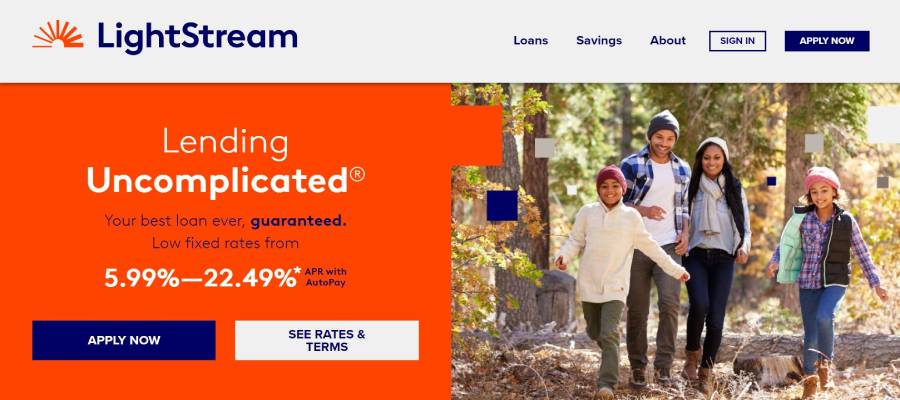 You can easily achieve personal loan with LightStream, where almost no minimum credit score is needed. If you have fair credit, you can still try and apply for the loan terms. This loan proceeds with the following details included:
6.99% – 23.99% APR
$5,000 to $100,000 loan amount
repayment terms are 2 or 7 years and up to 12 years on home improvements
minimum 660 credit score
LightStream stands out among other personal loan providers with its loan terms. With a co borrower, this joint loan will bring you no fees and the ability to split your loan payments into pieces for years.
Why should you choose this personal loan instead of other joint personal loans? Unfortunately, even with a co borrower, you can't pre-qualify on the website. But this joint personal loan with a co borrower has extremely long repayment terms.
Upgrade — Best For Multiple Rate Discounts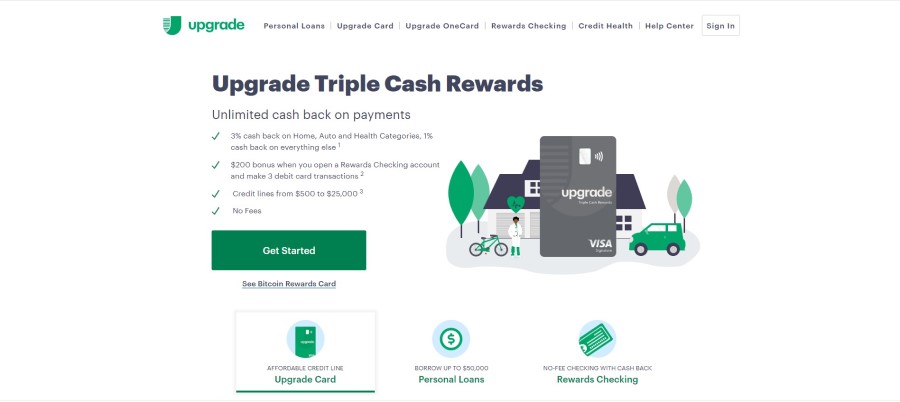 Upgrade offers a handy mobile app to manage your joint personal loan and keep track of the processes using your phone only. Furthermore, it's known for its multiple discounts on interest rates. What else can you get from the lender?
8.49% – 35.97% APR
$1,000 to $50,000 loan amounts
repayment terms are 2 to 7 years
minimum 560 credit score
Upgrading can be very convenient for debt consolidation loans. Borrowers can also benefit from useful repayment conditions, especially for home improvements. And there are, for sure discounts for interest rates, a competitive interest rate, and a joint personal loan option.
Why should you try Upgrade? You can achieve personal loans faster. Even with an origination fee, the lender offers way more benefits than it has drawbacks, so you should give it a try and check in more detail.
Wells Fargo — Best For Credit Soft Check Option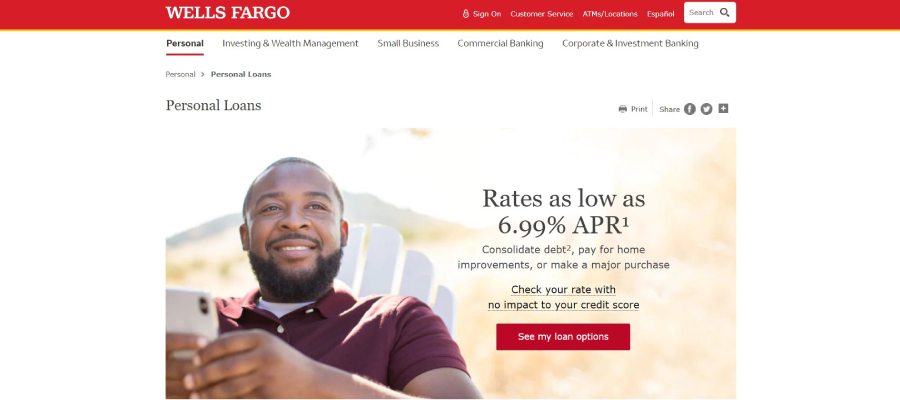 You no longer need to suffer from hard credit checks. We all know how frustrating it is to lose those precious numbers in your credit score due to the hard check. But these days are gone with the Wells Fargo lending company. What are some other perks the service can offer?
6.99% – 20.99% APR
$3,000 to $100,000 loan amounts
repayment terms are 1 to 7 years
a minimum credit score isn't disclosed
You don't have to directly pay an origination fee or use a hard check as a pre-qualification step. Furthermore, you can play with the repayment conditions and choose what credit scores make the most sense for you.
Why Wells Fargo? It has a rather low APR, a $100,000 maximum loan amounts, and a low minimum amount.
Compare Lenders of Joint Personal Loans
| | | | | | |
| --- | --- | --- | --- | --- | --- |
| | LendingClub | SoFi | LightStream | Upgrade | Wells Fargo |
| APR | 8.30% – 36.00% | 7.99% – 23.43% | 6.99% – 23.99% | 8.49% – 35.97% | 6.99% – 20.99% |
| Minimum Loan Amounts | $1,000 | $5,000 | $5,000 | $1,000 | $3,000 |
| Maximum Loan Amounts | $40,000 | $100,000 | $100,000 | $50,000 | $100,000 |
| Repayment Terms | 3 or 5 years | 2 to 7 years | 2 to 12 years | 2 to 7 years | 1 to 7 years |
| Minimum Credit Score | 600 | not needed | 660 | 560 | not disclosed |
Useful Tips on How to Get the Best Joint Personal Loan
It's easy to get the best joint personal loans, isn't it? Well, a primary applicant would argue with the statement. In reality, it's rather a complicated process unless you follow credit usage tips for borrowers. How to make the application process for personal loans flawless and less cumbersome? There's something you should learn.
Applying for a joint personal loan takes some time, but, what's more, it takes massive preparation. You have to choose the personal loan providers, compare the offers on the market, check minimum credit score requirements and see if you meet them, get pre-qualified, and finally send the application.
As you can see, it's a lot of work for applicants credit scores. But if we take the steps one by one and break them into smaller pieces, we can process the information easily, take down the necessary specifics and succeed. Let's start and see what's waiting for you.
Find Good Lenders
Your first and foremost step is to find a lender. Is it that difficult to find a suitable lender to ask for money? Well, the reality on the market is that borrowers fight for a good lender to benefit from a good interest rate, fewer fees, and a bigger repayment period. Why is it so important to find a good lender? The answer is obvious.
Taking the wrong step can lead to money loss, a bad credit score decrease, and other unfavorable complications. Nobody wants to get trapped in a bad joint personal loan experience. For this reason, searching for approachable options on the market can be a great tactic for beginners.
How to find other lenders you can work with? There are many aspects to consider. If you mind the location, start checking your local loan providers. But if the brick-and-mortar building isn't a priority for you, online lenders will also work. Look through briefly their offer and come to the next point.
Compare Terms of The Loans
The next step is to take a precise look at each lender and compare the offer. What are the most critical details to pay attention to? There are a couple of elements that build up a good and successful personal loan application. The following list covers the most critical things to look at.
Check the reviews. It may not be your first thought, but it's necessary to do it at the very beginning of your search. See what other existing customers say about the lender to help create a first impression.
Go deep into details and look for late payment fees. What types of charges does the lender ask for? In many cases, it can be critical and decision-making.
Don't forget to check the minimum credit score needed for the joint loan. If you don't own at least a minimum bar for the lender, there's no point trying.
You should beware of every detail the lender has to offer or charge. The comparison stage is one of the most important parts, so take your time and try to be attentive to the smallest details to hit the best option.
Choose The Best Lender For You
Now it's high time to take all the ins and outs from the lenders and create a comparison table to choose the one. For many people, it's hard to see the benefits straight from a quick look. So, if you want to make major expenses or ask for a huge amount of money, it's better to take time, check your credit history and choose the lender for your loan purpose.
In the previous piece, we briefly overview what aspects to check before choosing a lender. Let's remind them once again. Make sure you learn about the origination fee, prepayment penalty issues, minimum credit score requirement, maximum and minimum loan amounts, repayment conditions, and other additional conditions necessary for you.
Making a choice can come with doubts and take a lot of time. In this case, you can get another advice and go to the reviews. A fresh look from the clients' side can give you a fooler picture of the lender. When you choose the joint personal company, let's move on.
Check Requirements
You've diligently checked the offer, but it's not enough to apply for the loan agreement. Now you should see the minimum credit score requirement, how much credit card debt you may have, what the origination fee is, and many more requirements. It may sound like a lot at the beginning, but it's worth your attention.
It's obvious you have to check the minimum credit score requirement. If you don't need the necessary credit score, you need to take time and work on it to change.
See what the APR, origination fee, debt to income ratio, or prepayment penalty fees are required. Sometimes it can hugely affect your decision and turn you in a different direction unless you agree with the lender on these aspects.
The age, minimum sufficient income, job, credit card debt, and some other personal details can be an obstacle to a joint personal loan unless you meet them.
If you're happy with what the lender provides, you should also fit the minimum credit score requirement the company asks for. Otherwise, it won't be a match, and you'll be forced to deal with it somehow. So, make sure you can be a suitable candidate for the chosen lender.
Get Pre-Qualified
The procedure of getting pre-qualified is a more or less common task regarding a joint loan. There are cases when lenders don't necessarily check your credit histories. For example, it often happens to some short-term payday joint loan cases with a high interest rate. However, with joint loans, it's often the case to have your bank account checked.
There are two types of credit checks in general. These are soft and hard credit history procedures. How does a soft check joint loan affect your fair credit score? It does a lot, whilst the format can considerably lower your credit score.
Unfortunately, sometimes the hard check is obligatory, and you simply need to go with it. But if you're lucky enough, you may find a company to agree to the soft check.
Apply For The Loan
Now, we reach the last point, the personal loan application process. Since the joint personal loan includes at least 2 people applying, the final step can take more time. Here you can add a co applicant to help you with the repayment and then share the property or final purchase, for example. What does the process look like? The major part is sending your personal data.
The lender can gather different types of information to fill in. It can be your address, personal contact details of a co borrower, income reports, and a different type of credit report to prove you are eligible for the loan costs.
The papers usually include the Social Security number and an ID of any kind. Keep in mind that if your joint personal loan is secured, you'll also need to provide the necessary information about the vehicle, property, or any other item you put as collateral.
Once the information is filled in, you can send the application or bring it to the physical branch if you don't use a loan online. The loan approval time depends on the company and the type of loan funds mostly. When no credit history issues are detected, credit approval can take less than a week. However, it can take longer if there are any questions to discuss. In this case, it's better to contact the lender to clarify the status.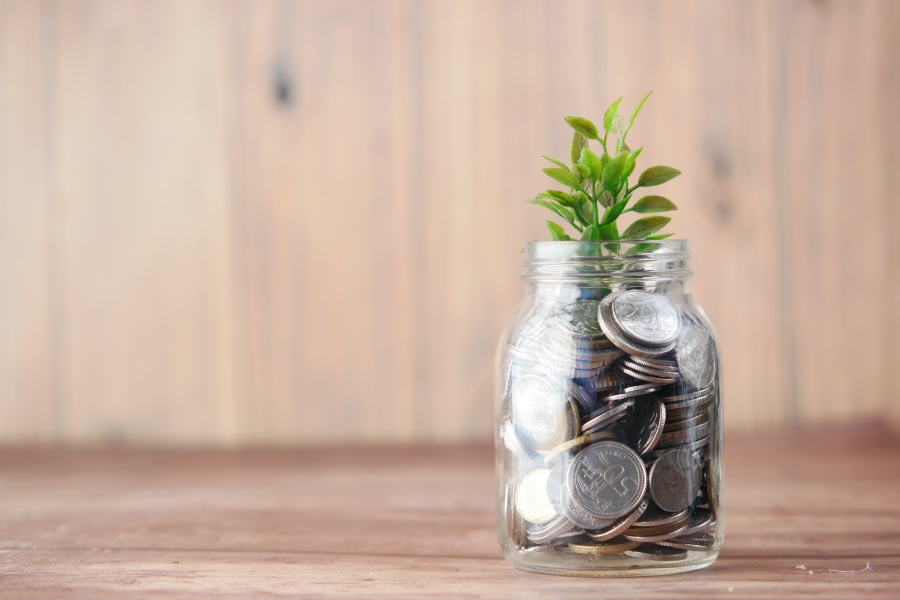 Is A Joint Personal Loan Right For Me?
Why do people choose to use a joint personal loan? There are 2 main reasons why a primary borrower decides to find a friend, family member, or colleague to help with the loan cost. What are these reasons?
If you don't have an excellent credit score big enough to get qualified, a joint applicant is a nice choice. It's also applicable when a co applicant's credit score doesn't reach the needed bar, so another person with a higher credit score can help.
The second main reason is the interest rates. With co borrowers, you can ask for a lower interest rate, as well as apply for loan funding.
With a co-borrower, you have more chances to get a better offer and repay in better conditions. So, if you have a friend or partner to help you with the case, you should go for it and try it.
Joint Loan vs. Individual Loan
What's a joint personal loan? It can be any type of joint personal loan where you take another person, a co borrower, to be your partner and equally responsible for the joint personal loan.
What are the perks of going this way and requesting a joint personal loan with a co borrower? You will increase your chance of qualifying. If your co borrowers have an excellent credit score or higher income, it's possible to find a better option.
What's wrong with joint personal loans? The first issue is the co-dependence on another person. You never know if your partner will fail on the next payment. Here comes another flaw. If a joint applicant misses the monthly payments, it can hit your credit score and vice versa. So, make sure to beware of these pitfalls before signing the paper.
What's an individual loan? It's in contrast to what we've just described. With the best personal loans, you are solely, not equally responsible for the repayment and application. The good side is your ownership.
For example, you don't need to depend on someone else with auto loans. However, the list of lenders and joint personal loan options can be limited unless you have an immaculate credit score and high income.