Personal loans are typically unsecured, so lenders look at your credit history before giving you money. If your credit could be better, consider looking into a secured loan, which protects the lender by requiring collateral. Any loan you get will be based on the collateral value of something you own, such as a car or savings. However, you can't use the same collateral for multiple lenders.
Low interest rates and long-term repayments are just two of the many advantages of a secured loan. You can access these loans from banks, online lending firms, and credit unions.
Although it has benefits, it is vital to understand the possible risks of taking out this type of loan.
Best secured personal loans
Personal loans are typically unsecured, so lenders look at your credit history before giving you money. As a result, a poor credit score easily disqualifies you in such situations. With secured personal loans, this is much different, and your bad credit score plays almost no role in your application.
You can get a secured loan if you don't meet the requirements for an unsecured loan or if you can't get the rate you want. The best secured personal loan lenders offer low rates and make quick lending decisions.
You can compare loan offers from many lenders to obtain the best-secured personal loans. This can be a very daunting task, especially if the loan purpose is urgent. If you want secured personal loans, we've compiled a list of our top choices to help you find the right one.
Upgrade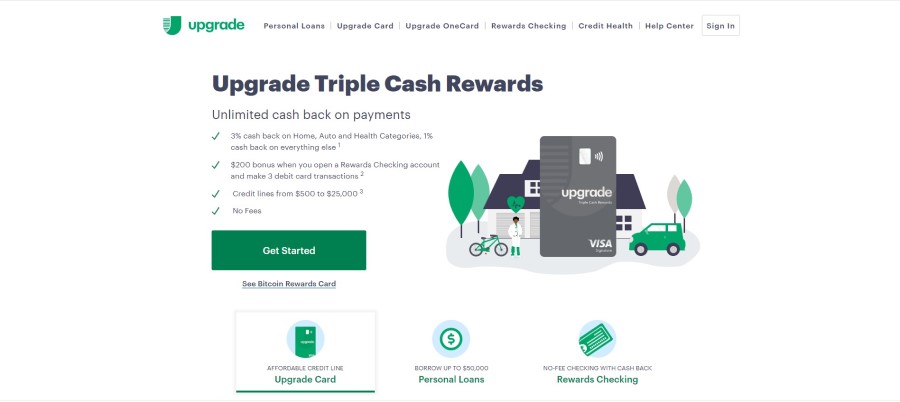 Upgrade is a fintech company that offers personal loans with and without collateral. The average APR is between 7.96% and 35.97%, and you can borrow up to $50,000 over up to 84 months. Upgrade will only lend money to people with a credit score of at least 560.
| | |
| --- | --- |
| Pros | Cons |
| Upgrade has a lower minimum credit score requirement than other sites. | You have to pay a loan origination fee |
| They pay their creditors directly | Late payment may attract more fees |
To get a loan, you'll need to provide information about yourself, like your name, address, and Social Security number. You might also need proof of your identity and income, like a copy of your driver's license or recent pay stubs. Upgrade is worth considering if you want a personal loan.
Upstart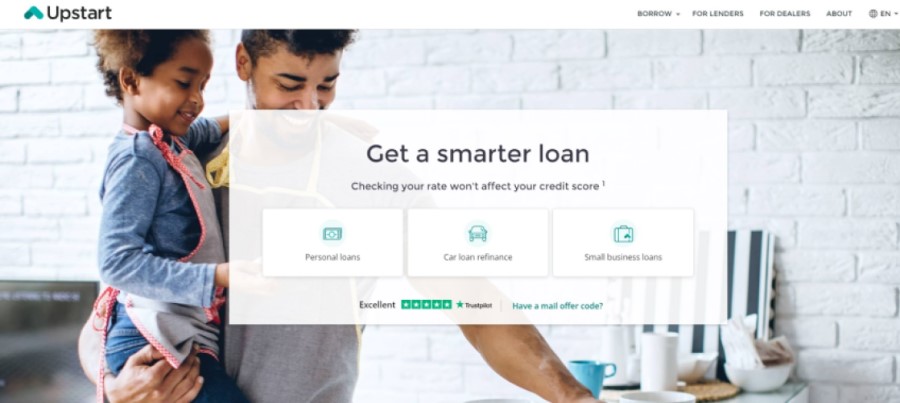 Upstart is an AI-powered lending platform that aims to expand consumer access to affordable finance. There is no minimum credit score requirement to apply, and the site offers loan sums of up to $50,000 with interest rates between 5.42 and 35.99%.
| | |
| --- | --- |
| Pros | Cons |
| They lend to borrowers with limited credit history | Origination fees are possible |
| Fast funds disbursement | There is no loan management app |
| You can move your payment date | Relatively high APR |
| Offer pre-approved with a mild credit check | Not available in all states |
To apply for a loan with Upstart, you must be a US citizen of at least 18 years. You'd be required to upload documents that verify your name, age, and date of birth. Additionally, Upstart expects you to be working full-time or to begin doing so within the next six months.
When looking to finance a sizable purchase, Upstart is a good option.
Oportun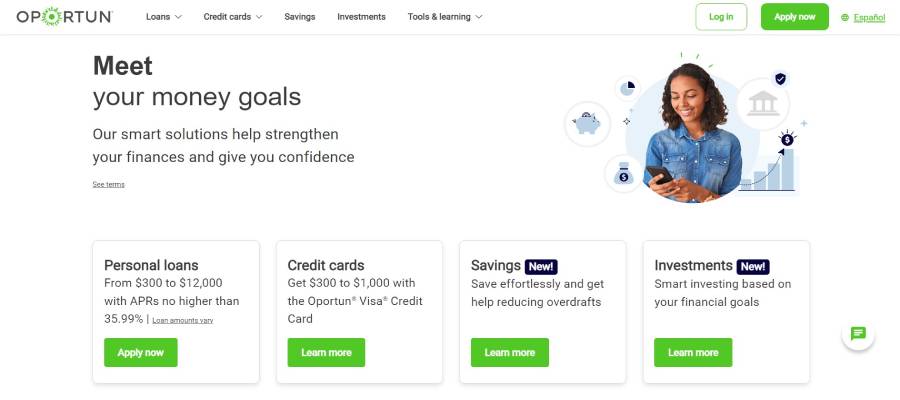 Oportun is a lender that gives installment loans to people with low or moderate incomes and little or no credit history. The company offers APRs between 20.05 and 35.99% and loans of up to $12,000. Oportun does not have a minimum credit score requirement to render loans to borrowers.
| | |
| --- | --- |
| Pros | Cons |
| Oportun allows soft credit pre-qualification | Their rates and origination fees are hefty |
| Co-signing and secured loan options are available | This online lender does not have a mobile app that allows you to manage your loans |
| The company accepts credit newcomers | You also don't have the option to change your payment date |
| Offers as low as $300 loans | |
You'll need to submit documents that verify your name, age, and other variables to obtain a loan from this lender. You'd also need to have at least $500 in monthly income. Oportun loans may work for bad credit borrowers who need a small loan for an emergency or income gap.
Personal Loans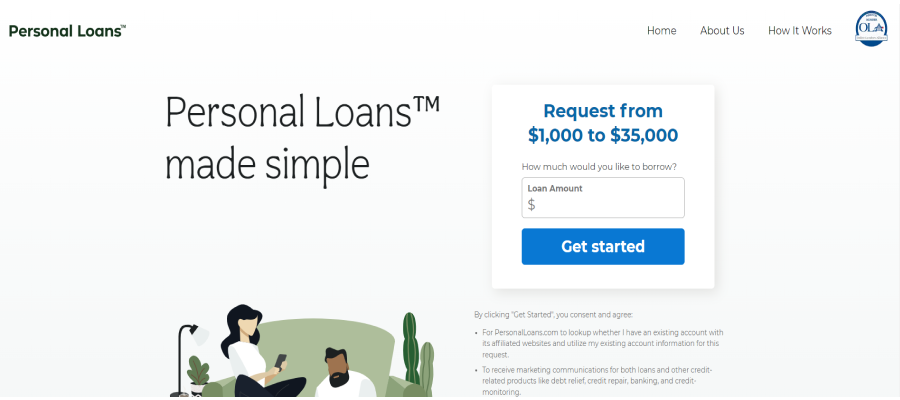 PersonalLoans is an online marketplace connecting borrowers needing personal loans with reputable lenders. This lender offers loans up to $35,000 with an APR ranging from 5.99% to 35.99%. No minimum credit approval score is required to secure a loan with PersonalLloans.
| | |
| --- | --- |
| Pros | Cons |
| No minimum credit score requirement | Offers very small loans |
| Fast loan decision | Asks for a lot of personal information |
| Flexible loans | |
The only way to get a loan from PersonalLoans.com is to fill out a form online. PersonalLoans.com requires your name, contact information, address, monthly income, and other personal facts. After you sign up, the site will send you loan offers until you find the best one that meets your needs.
PersonalLoans.com is ideal for borrowers looking for short-term loans.
Wells Fargo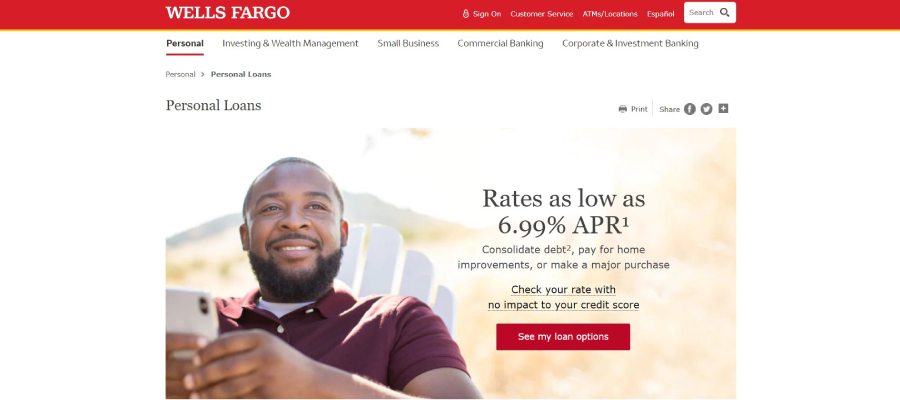 Wells Fargo has good personal loan rates, especially for repeat customers who qualify for a discount. This lender offers loans up to a lump sum of $100,000 with an APR between 6.99% and 23.24% and a minimum credit score requirement of 690.
| | |
| --- | --- |
| Pros | Cons |
| Wells Fargo does not charge any fees to start a loan | You don't have the option of a co-signer or a joint loan |
| You can also pre-qualify with a soft credit check | There is also no direct payment to creditors |
| You can choose from a lot of different repayment terms | |
You'd have to become a customer to acquire a loan from Wells Fargo. The flexible loan sizes and payback schedules offered by Wells Fargo personal loans make them ideal for use in home renovation.
What Secured Loans Are
Secured loans are loans backed by tangible assets like real estate or motor vehicles or fungible assets like cash. Borrowers with good credit histories can secure business loans from credit unions, banks, and online lenders.
One can get a secured personal or company loan, and both may require collateral, but the latter may also require a personal guarantee. The lender can only take the collateral if the borrower doesn't repay the loan.
Secured loans are simpler to get than unsecured ones since the lender has security if the borrower defaults on paying the loan balance. This loan type usually comes with lower interest rates than unsecured loans. However, a secured loan's interest rate, loan origination fee, and other terms vary greatly from one lender to the next.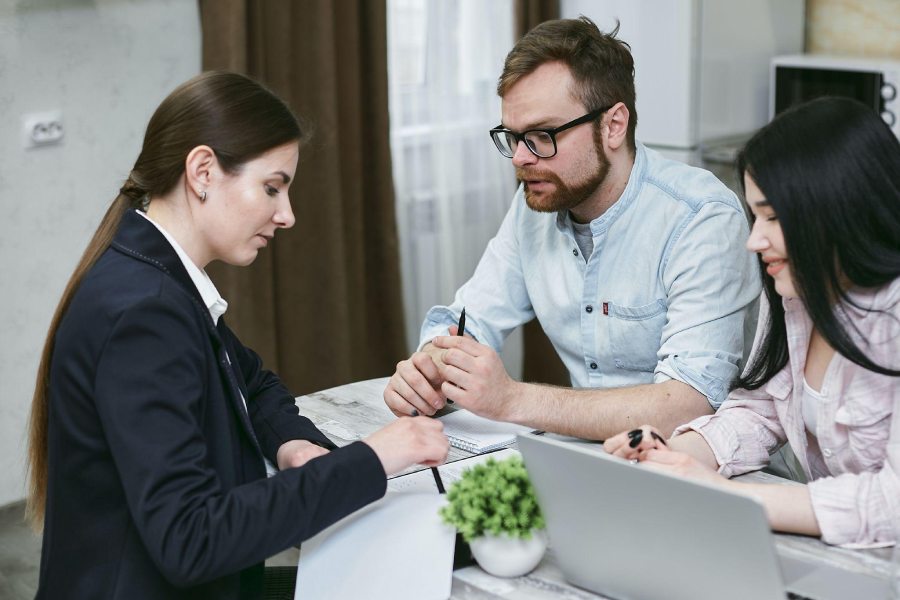 How Secured Loans Work
Secured loans are forms of debt backed by something of value as collateral. The lender will then put a lien on that asset until the loan is paid back in full. If you don't pay back the loan, the lender can take the security and sell it to compensate for the loss.
In some cases, a secured loan is one in which the asset you intend to buy also serves as collateral. Home mortgages, for instance, are backed by the house's value. The lender may begin a foreclosure action in the case of mortgage loans, and money from the auction would pay off the delinquent mortgage.
What Are the Types of Secured Loans?
Banks and other lenders have many types of secured loans available on the market. Most secured loans have a clause that allows the lender to take back the loan, which should help the borrower but instead helps the bank.
Lenders want to know if they can use the money owed against you. In the worst case, once they put a lien on your collateral, they will take it. This doesn't guarantee that the loan will be paid back, but it gives lenders more protection and gives borrowers more motivation.
The types of secured personal loans are categorized based on their purpose. We'll talk about the most important and often-used ones below.
Mortgage
Mortgages are loans secured to buy or take care of residential or commercial property. The borrower and the lender agree on a payment schedule that includes the principal and the interest. The property is used as collateral to ensure the loan will be paid back.
This type of loan is appropriate if you can afford to pay for the property in the long run but not immediately. With a mortgage, you can buy a home with as little as a 20% down payment and finance the remaining 80% with the loan. If the debt isn't paid, the property's value is used to pay off the debt.
Home Equity Line of Credit
A home equity line of credit (HELOC) lets you borrow money as needed and pay it back at an adjustable interest rate. HELOC is similar to a credit card; you can borrow from it and pay all or part of it back monthly. With a HELOC, you borrow against your home's equity by subtracting the loan value from what you still owe on your primary mortgage.
HELOCs are best for people who need money for ongoing home repair projects or want more time to pay off their debts. This loan can cover big expenses and help consolidate debts with higher interest rates, like credit cards. With a HELOC, you can borrow money using your home as security and get lower interest rates.
Business Loan
A business loan is obtained for business owners to finance their enterprises. The value of your business as security determines how much money you can borrow. A business loan can cover expenses for business expansions, unexpected costs, and general business operations.
You can consider a business loan for a new business with no trading history or annual accounts. It's easier to acquire since there's no need for a good credit history. A business loan is also a good way for new businesses to build credit for the future.
Business loans have lower interest rates, and repayment terms are typically longer. They are customizable loans with high disbursal loan amounts. You can conveniently get a business loan online.
Auto Loan
An auto loan is money borrowed from a lender to buy a vehicle. You'll have to pay back the loan in fixed installments over time and pay interest on the money you borrow. Lenders make money from the interest incurred on the purchase.
With this type of loan, the new vehicle serves as collateral. To accomplish this, the lender will retain the title to the vehicle as collateral for the loan. You only become the vehicle's full owner once you've completed payments.
Auto loans will help you buy cars for which you might not have been able to pay the full price upfront. It's a great way for working-class individuals to get new cars when they are released.
Land Loan
Land loans, also known as lot loans, can be utilized to buy a plot of land for personal or commercial use. With secured land loans, the land equity usually serves as collateral. The lender provides the funds to secure the land, and you pay the initial cost plus interest during the subsequent years.
A land loan may be the best way to buy land before you start building if conditions or planning will likely cause construction delays This loan allows you to buy ready-to-build on lands in some zip codes where buying a new home may be very expensive.
Furthermore, small businesses that work with land can use land loans to help them out. There is usually no external collateral required to acquire land loans.
When to Consider Secured Loan
A secured loan could be a good choice if you need to borrow a lot of money to pay for big expenses. When a certain piece of collateral is given to the lender, it is easy to borrow a lot of money. Lenders often give better interest rates if you put something up as security for the loan.
Consider looking into this option if you need help getting an unsecured loan because of your credit score. They might be the best option if you can make payments on time. Remember that your lender has the right to take your property if you don't pay your bills.
Steps To Apply For a Secured Loan
After deciding the type of secured loan you want and the lender to use, the next thing to do is apply for a loan. However, there are some factors you must consider to help you make the right decision on your loan choice. While the application process may vary from lender to lender, there are some common steps you must take beforehand to secure the best offer.
Therefore, you must be familiar with these steps and ensure you have the necessary knowledge and requirements before applying. In this section, you will find out what to look for when applying for a loan and the steps to follow.
Check Your Credit
The easiest way to check your credit score would be from your bank. However, you can use any of the three major credit report agencies: Equifax, Experian, and TransUnion. Credit bureaus like credit karma can also provide you with credit score information.
Although a secure loan requires you to provide collateral, lenders also need your credit score to make lending decisions. Your credit score is excellent if it is 720 or higher. Many lenders would consider a score between 719 and 690 as good credit. Furthermore, 689 to 630 is a fair credit score, but anything lower is considered less than stellar credit.
If you need a better credit score, you can work to improve it. The best way to boost your credit score is by paying your debts.
Decide on How Much to Borrow
The loan amount you'd need would depend on the purpose of the loan. If you take a mortgage loan, you'd typically need more money than an auto loan.
You also want to consider your financial capability to pay it back. Remember that you risk losing the property if you fail to repay your loan.
Another factor to consider when determining how much to borrow is the true cost of borrowing. Identify how the loan terms and interest rate the lender offers affect the loan amount in the long run. Be sure to read the terms and conditions of your lender to be aware of additional costs, such as penalties for missed payments.
Compare Loans
Personal loan offers to vary from one lender to the next; that's why you must compare lenders and loans to find your best fit. When comparing loan offers, you want to consider the APR associated with the offer. This refers to the annual cost you pay, including interest rates and additional fees.
Repayment terms are also crucial to determining whether or not to accept a loan offer. Like most other variables, loan terms vary and can affect the loan amount you have to pay. A longer loan repayment period can lower your monthly payment but increase the total loan amount you pay.
Furthermore, how much you can borrow depends on your lender. The better your credit score and financial capabilities, the higher your chances of securing huge loans are.
Lastly, consider how quickly you'll receive your funds. Disbursement time varies among lenders, but it's usually between 1 to 5 business days on average.
Choose The Best Lender
There are many lenders offering secured personal loans. When looking for the best loan lender, it's important to compare the services provided by various institutions. You want to consider factors like the terms of their offers, interest rates, fees, and payment schedules.
You should seek the greatest possible customer service regarding personal loans. One of the best ways to learn about the lender's services is by checking their public reviews. Choosing a lender that provides offers that meets your needs according to your financial strength is crucial.
Apply And Get Approved
Once you've chosen your preferred lender, you can proceed with the loan application process. You must visit the financial institution branch if you've chosen a bank or credit union. On the other hand, online lenders would require you to visit your lender's website or open their app.
Although the process may slightly differ from one lender to another, a typical process is highlighted below:
On your loan application form, you'll need to list your entire legal name, permanent address, gross annual income, employer, and reason for the loan.
Next, you'll specify how much you want to borrow.
Read and accept the lending company's terms and conditions and loan agreements to proceed.
Your lender may ask for more information, like a copy of your most recent pay stub, proof of residency, or driver's license.
Submit your application for review.
The lender grant you loan approval once you meet all their criteria. Most companies disburse secured loan payments within one or two business days. You can receive the money in your savings accounts or other accounts.
Where to Get Secured Loans
As highlighted earlier, there are several places where you can acquire secured personal loans. The most common sources include banks, online lenders, and credit unions. Where you decide to obtain your loan depends on various factors.
Factors to consider for choosing where t get secured loans to include the type, amount, and length of the loan. You also want to look for the best secured personal loan deals by comparing interest rates, required collateral, and payback terms. Other factors like flexibility, customer support, and convenience can also influence your choice of lender.
This section highlights the above sources where you can get secured personal loans.
Banks
Major banks offer mortgages, car loans, home equity loans, secured credit cards, and lines of credit (HELOCs). Existing customers may be able to get special deals from their banks, like lower interest rates or no origination fees. Many large banks no longer offer personal loans secured with collateral.
Many people who want a personal loan start their search at their local bank. Compared to other types of lenders, banks are usually more strict about who can get a loan. If you qualify, you will work with a loan officer from the application until a cash deposit is made into your account.
With banks, you can open an interest-bearing account such as a money market account that allows you The bank might be the best place to go if you're looking for great service.
Credit Unions
Some credit unions offer share secured loans or savings secured loans. With this type of loan, you can get a loan against your savings account, shares, or certificates of deposit with the security of a traditional bank. These companies have more reasonable interest rates on mortgages, personal loans, credit cards, and auto secured loans than banks.
Credit unions like the tech federal credit union are typically common for people looking for huge loan amounts. Usually, you must join a credit union before you can apply for these loans, which could be an extra step and can be an obstacle in some circumstances.
Membership at some credit unions are strict; others let you become a member based on your location or if you make a small gift.
Online Lenders
If you need help getting a loan from a bank or credit union, you might have luck with online lenders. You can easily search for online lenders, compare rates, apply for a loan, and get the money all online. Also, most lenders online will even let you see if you qualify for a loan before they check your credit.
Most secured debts, such as auto loans, secured personal loans, mortgages, and secured credit cards, can be applied for online. Most online lenders that offer secured loans require a vehicle as collateral. Some lenders will allow you to apply for this loan immediately, while others will only do so once you've tried an unsecured loan.
Pros and Cons of Secured Loans
There are several good reasons to opt for a personal loan, but there are also cons to be aware of. We've listed some of the most notable advantages and disadvantages to bear in mind:
Pros
Any lawful use of it is permitted: You can use a secured loan however you'd like, as long as it's legal. Consolidating debt and making home upgrades are frequent applications.
Possible access to lower interest rates: Because your house is used as collateral for the loan, secured loans often have lower interest rates. This might make borrowing money less expensive.
Repayments may be spread out over a longer period of time: Since you have more time to pay them back, your monthly payments may become more manageable. Additionally, if you consolidate your debt, you will have just one monthly payment to make.
Cons
A payment defaulter could suffer property repossession: If you don't make timely payments, your home may be in danger of being repossessed. It's very important to ensure you can meet the monthly payments for the loan term. When calculating what you can afford, keep in mind potential emergencies.