Best Emergency Loans for Bad Credit of 2022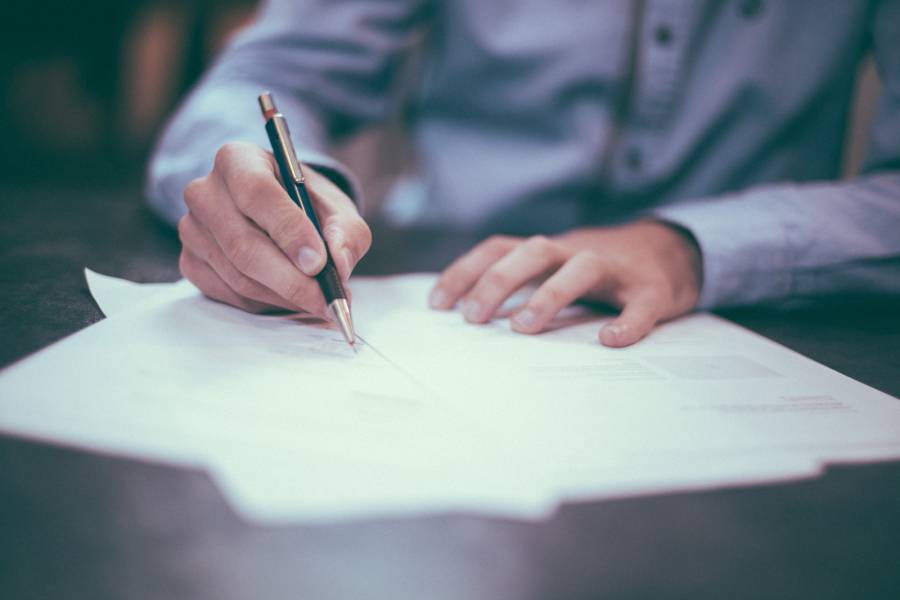 The fast-paced world we live in always brings unexpected situations. The ones that certainly affect everyone are unforeseen expenses that we cannot afford. Sometimes you have to repair something around the house, fix your car, or even be able to afford to pay the bills.
Once you do not know what to do with your finances, make sure to check out some of the best emergency loans. Multiple lenders are willing to work with you even if you have bad credit. The great thing about such loans is that they can be extended in a very short period of time!
Need Money Fast?
Emergency Loans for Bad Credit
Emergency loans are a perfect solution for all those who are struggling to fund an emergency and similar costs. They can truly come in handy for bad credit borrowers who need an immediate solution. These are generally short-term loans that are paid out within a couple of days from your application.
When applying for loans in general, most lenders want you to have excellent credit and a steady income. However, if you are not in such a position, you still have options. Stressing about money is never a good way to go.
Look into online lenders that are willing to provide you with the opportunity to get access to quick cash. Make sure you can prove your ability to repay the loan and provide whatever information is needed with your application. Here are some of the emergency loan lenders you might want to look into:
Oportun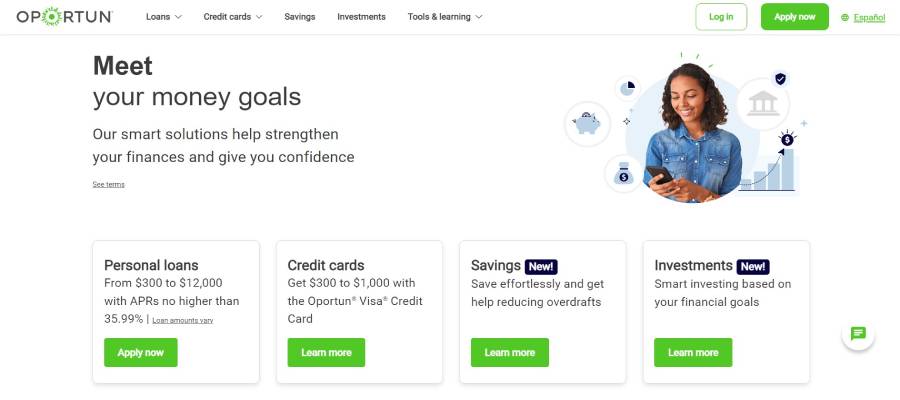 Oportun is an online banking service working under a California Financing Law license. They provide their customers with different financing services, such as credit cards, loans, investments, and savings. The bank has been in business since 2006, with over 5 million loans distributed.
They take pride in low APR and fixing your credit history! Depending on the type of loan you take and the circumstances, your APR can be anywhere from 6 to 36%. Even with bad credit scores, customers can get an unsecured emergency loan in no time.
Oportun does not require you to have a credit score, and they do not charge an origination fee. Their main requirement is your ability to repay the loan in a determined time frame. Their personal loan amounts can vary from $300 to $12,000. One of the drawbacks is that you will have to gather up to 5 personal references to get approved.
Universal Credit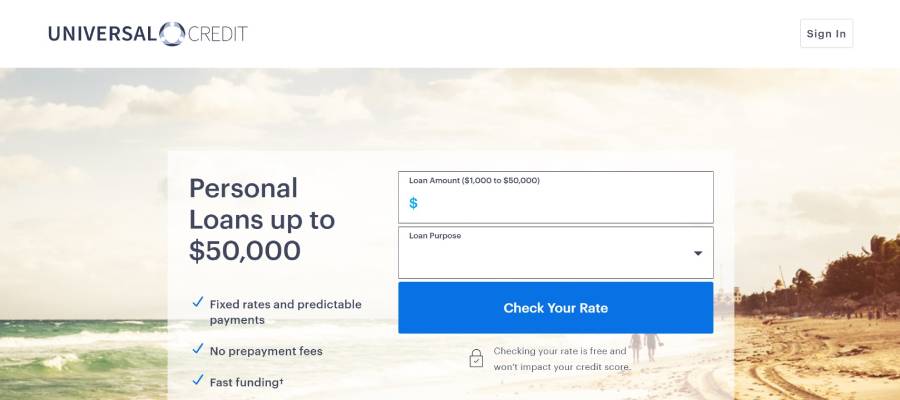 Universal Credit is another online lending company whose main goal is to help you out in times of need. If you have emergency expenses, they are there to cover you. The company has been around since 2017 with excellent reviews and ratings.
They can provide you with the best urgent loans with a low borrowing minimum. The rates for personal loans can vary from 11.69% to 35.93%, depending on the terms of your loan. They require you to have a minimum annual income, and they are not concerned with your bad credit.
The minimum unsecured personal loan you can get is $1,000, and the maximum can be up to $5,000. Your minimum credit score needs to be at least 560 to get approved. One of their biggest perks is that you can receive funds within one day from the day of your approval. However, they do have higher APR on particular loans than other lending services.
LendingPoint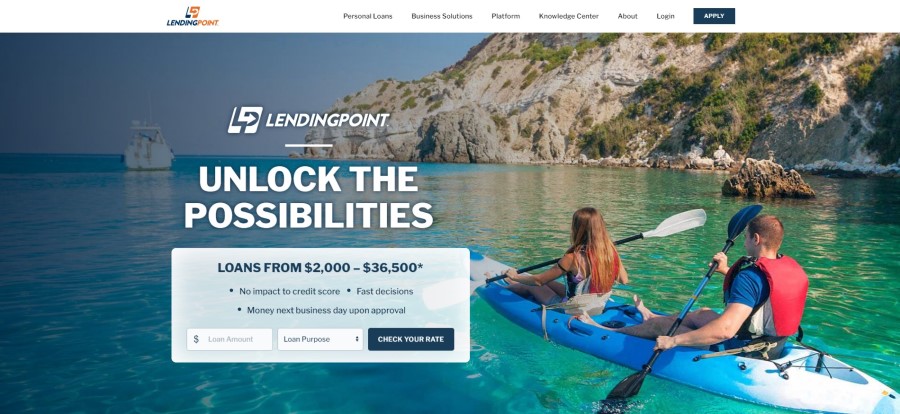 LendingPoint is a platform founded in 2014 with their focus on providing funds to their customers in the most convenient ways. They have an excellent online financing system and a well-developed mobile application for their existing users. This company decided to find a way to provide solutions and emergency loans for bad credit borrowers too.
Their APR can range from 7.99% to 35.99%, based on the type of your loan, the term, and the amount. The minimum loan amount is $2,000, and the maximum is up to $36,500. The minimum credit score they require is 580.
Some of their main requirements are that you have to be 18+, a US citizen, and have an annual income of $35,000 to get emergency loans. One of their huge advantages is quick funding and no origination fee, but you might get a high APR when you first start your loan. They are one of the best online lenders for borrowers with bad credit.
U.S. Bank Personal Loan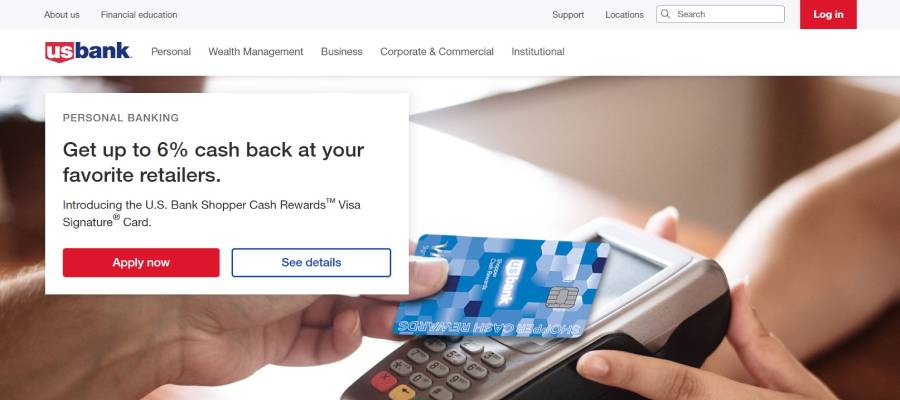 The U.S. Bank has been around since 1863, developing their business and expanding services over the years. They became one of the leading personal loan lenders on the market due to their excellent results. You can easily get an urgent loan with a credit score of just 660!
They offer emergency loans with an APR as low as 8.24%, depending on the terms. Their customers can borrow anywhere from $1,000 to $50,000. However, if you are not a customer, you can take a loan of up to $25,000.
Even though the application process is fairly simple and conducted online, some of the requirements are that you have to be 18 years old, you must provide your SSN, and you need to have a personal checking account. One of the drawbacks of U.S. Bank is that they have more loan offers for their existing customers. Their main advantage is that there are no hidden costs or an origination fee!
SeedFi Borrow & Grow Personal Loan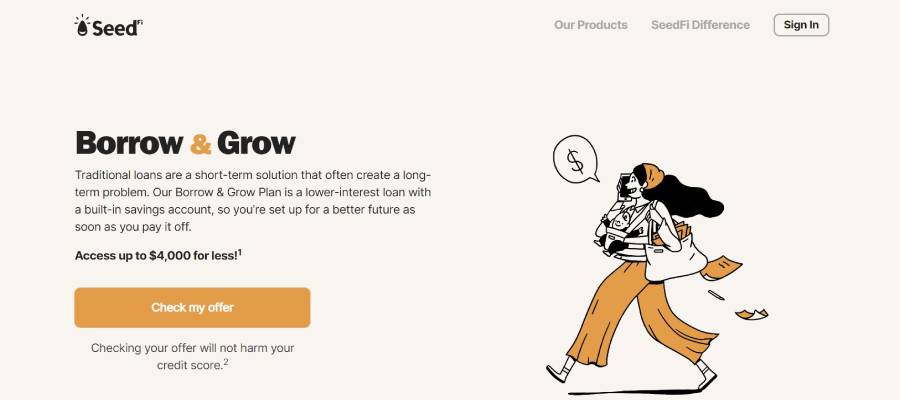 SeedFi is an online lending company founded in 2019 that focuses on helping customers build their credit scores. Their Borrow & Grow plan gives you the opportunity to get a low-interest loan with a built-in savings account. The company does not only want to provide customers with emergency loan funds but also to take care of your credit.
With this plan, you can take up to $5,000 and get an APR from 12.96% to 29.99%, depending on your repayment amount. The term will match your paycheck schedule, and you can pay from $50 to $185 twice per month. The minimum credit score they require is 520.
A great advantage of SeedFi is that you can have an annual income as low as $10,000 and still get approved! A little setback is that you need to have a Savings account with them, but once you have that set up, you are good to go. They give the best emergency loans to those who need quick access to funds!
Best Egg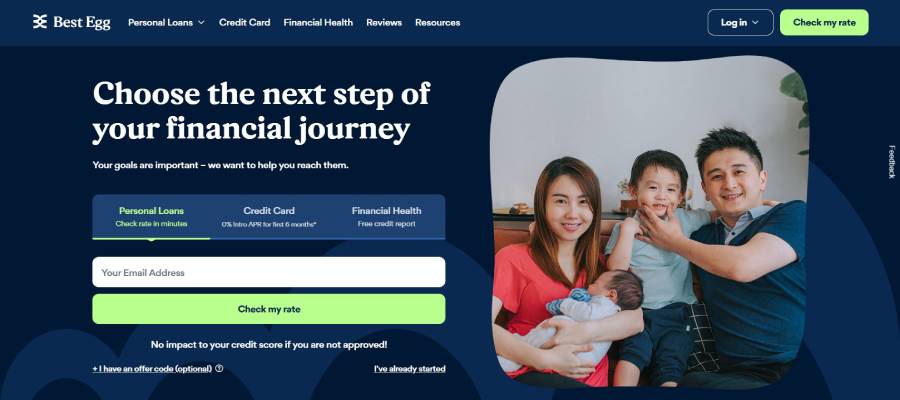 Best Egg is one of the online lenders ideal for borrowers with bad credit. They have been on the market since 2014, and they already have over 600,000 satisfied customers. Getting personal loans with them is hassle-free and convenient.
The APR on personal loans is generally fixed and starts at 5.99%. Loan amounts vary from $2,000–$50,000, and repayment terms can be 3 to 5 years. To get approved for a loan with them, your credit score needs to be somewhere from 550 to 600.
The requirements for a loan application are the following:
You have to be at least 18 or older

U.S. Citizen

Ability to repay the loan

At least three years of credit score history
Some of their pros are quick access to emergency cash, competitive rates, and no impact on your credit score. However, they do not offer flexible loan terms, and they have other fees added to your loan amount. They are best for those who need to cover an emergency expense quickly without an origination fee!
LightStream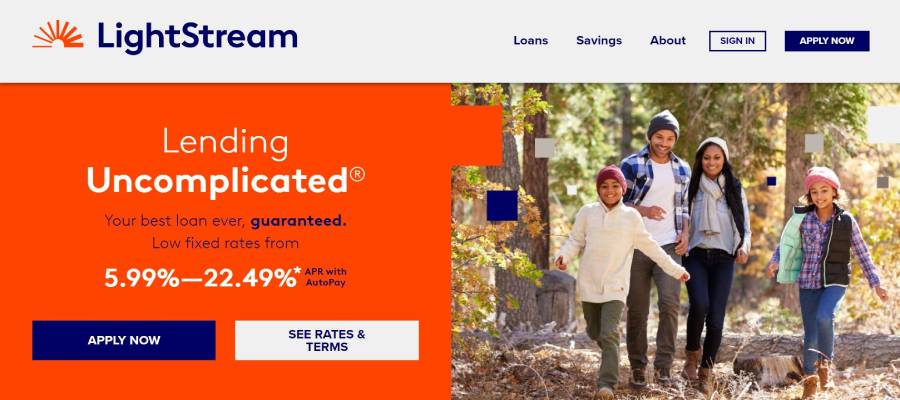 LightStream is a financing company that offers online funding for various purposes. They are a subdivision of Truist Financial, founded in 1872. If you are looking to borrow money with bad credit, they are just the right choice.
Their loan amounts are anywhere from $5,000 to $100,000, which are paid out within one day of your approval! The estimated APR varies from 4.99 to 19.99%, with loan terms from 24 to 144 months. Your minimum credit score needs to be at least 660 to get approved.
You are required to have a solid credit score if you are expecting lower rates. Another requirement is a stable annual income. They are best for those looking for quick cash in a short time frame. Here are some of their pros and cons:
Pros: 
No hidden charges

Longer terms if needed

High loan amounts
Cons: 
You cannot pre-qualify online

Less flexibility on loan terms
What an Emergency Loan Is
Unexpected expenses are a huge inconvenience to all those living on a set monthly income. Sometimes, it is difficult to have savings after paying the bills and buying basic life necessities. If you do not have an emergency fund, you might have to look into ways to borrow money for your expenses.
This is when an emergency loan comes in handy. Emergency loans are a funding option to get access to some money in a short time period. A lot of online lending companies offer them to those with bad credit history as well!
How do emergency loans work?
Once you get an emergency loan, you will have a set APR and a monthly payment period. That means you will have to pay back a certain monthly amount within a determined loan term. Each lender will have particular requirements that you need to follow to apply.
Types of Emergency Loans for Bad Credit
Once you realize you need to get an emergency loan, you should compare lenders and look for the best choice for you. Picking the best emergency loan can be quite stressful, but if you do proper research, you should have no problems. If you are concerned with poor credit scores, you should know that some lenders are willing to let that slide!
Online lending companies are becoming a lot more flexible and determined to provide borrowing options for everyone. You can get secured and unsecured loans; however, bear in mind that secured loans require collateral. Find some of the best emergency loan options below.
Personal Loans
Personal loans are one of the most common borrowing options due to their high flexibility. When you take out a personal loan, you will have a set monthly payment period and the amount of your monthly installment to pay back. Loan amounts are determined on an individual basis, as well as the APR.
There are two types of personal loans: secured and unsecured. Secured loans require you to put up collateral, such as your house, whereas unsecured do not. This is an excellent option for an emergency loan with bad credit.
Such loans generally do not affect your credit score negatively. The entire process usually takes up to 10 business days. It takes 1 to 3 days for personal loan approval and 1 to 7 days for the payout.
Payday Loans
Payday loans are another great emergency loan option. These are short-term loans, which means that they have to be paid back within a short period of time. Their principal is one part of your paycheck 
Payday loans are considered a cash advance until you receive your salary. They are entirely based on your income. As these loans are urgent and have short repayment terms, the interest tends to be higher.
The length of your term depends on the lending company. The great thing about them is that you can be eligible even without excellent credit scores.
You can receive such loans directly to your bank account with no impact on your current score. Getting approved is not too complicated or time-consuming. Payday loans are usually paid out within 24-48 hours from the time of your approval.
Car Title Loans
Title loans are very specific and can bring along high-interest rates. To get approved for such a loan, you have to put up your car as collateral. It is a type of secured loan with a short repayment term. There are generally monthly payments included.
In order to apply, you will have to provide the online lender with proof of ownership, driving license and show your car. Collateral does not always sound appealing. However, title loans are great for everyone, as they are also considered bad credit loans.
You will be using your vehicle as a guarantee that you will repay the loan. In that case, most borrowers will not even consider your credit. If you do not pay them back, they can simply take your car.
The application process takes up to an hour. The approval is fairly quick, and you can have money in your bank account within 24 hours. They are called emergency loans for a reason.
Pawn Loans
With over 10,000 pawnshops in the United States, pawn loans are incredibly easy to get. This type of loan always requires collateral. That can be your TV, your car, some jewelry, or an instrument.
Pawn shop loans, unfortunately, have very high-interest rates. The lender will determine the resale value of your item and give you a loan based on that amount. This is generally 25% to 60% of that value.
Although not an ideal option for everyone, pawn shop loans are an excellent way to access emergency funds with a bad credit score. As long as there is collateral, pawnshops will not worry too much. On average, 85% of the borrowers retrieve the items they put up.
Once you take a pawn shop loan, you will receive the money that same day. As soon as you give them your possession, pawnshop owners will reciprocate. It is a quick and easy process.
No-Credit-Check Installment Loans
Another emergency loan option is a no-credit-check installment loan. As the name suggests, with these loans, the lender will not be checking your credit history. However, these bad credit loans do have very high interest rates.
Many tend to avoid such loans because they can be a bad option long-term. You might be wondering, does this emergency loan impact your credit score? There is a high possibility that it does. However, they are a good option for those with poor credit history.
The lender will not look into your past loans, but you will pay back a lot more than you borrowed. Make sure to weigh the pros and cons to decide if you really need a no-credit-check installment loan.
You will generally receive these loans within 24 hours. With some lenders, it may take up to a few days. Either way, the process is very quick and hassle-free.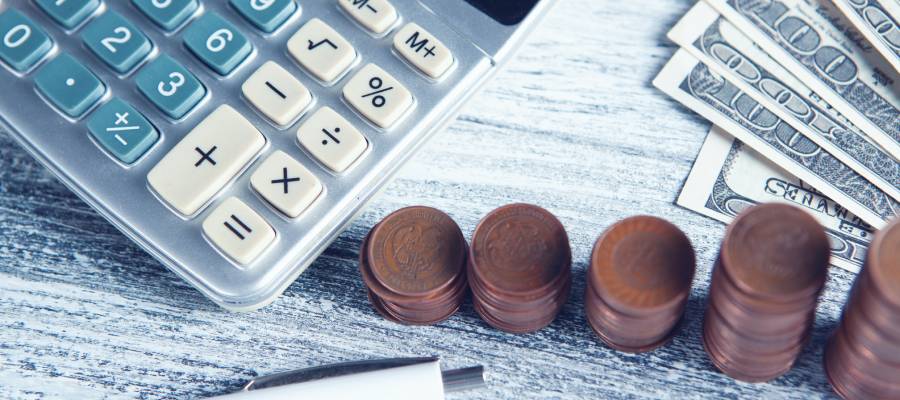 Where Can You Get an Emergency Loan If You Have Bad Credit?
Luckily, emergency loans are not that difficult to get. Multiple lenders are trying to be as open as possible. They are willing to adjust their rules, so everyone has access to quick cash.
Bad credit is no longer a determining factor in your application. If you are having a tough time financially, explore your options and get a loan. Here are some of the possibilities:
A lot of lenders conduct most of their business online. You can complete the entire application process over your computer. Since they do not have as many costs as offline lenders, they can provide lower interest rates and more options for borrowers with poor credit.
This is a type of non-profit organization led by its members. Credit unions have the same options as regular banks but at low-interest rates. All members have access to the same services.
To take a loan with a credit union, you have to be a member for at least one month. If you are looking for emergency loan alternatives and are a union member, you are in luck! However, it is not the best option for non-members.
How to Apply for an Emergency Loan if You Have Bad Credit
Once you have decided to take out an emergency loan, you need to look into different lenders. Before opting for one, check their requirements and the application process. Here is a general guide on how to apply if you do not have a good credit score:
Gather your information
Before applying for personal loans, make sure to get all your information in one folder. This includes your social security number (SSN), your name, address, date of birth, and so on. Make sure to get proof of income, as this is something all lenders will want to see. 
Submit a preliminary application
If your lender of choice uses a soft credit check, a preliminary application will not affect your credit score. This way, you can check if you qualify before you actually apply. You will also find out the rates and terms. 
Proceed with your full application
After you have made your decision, submit the application to the best lender for you. Provide additional documentation if required and wait for their decision. If you get approved, make sure to check the terms again before you accept the offer.
Can an Emergency Loan Affect My Credit Score? 
Even though some lenders do not check your credit history to approve the loan, this might still have an impact on your score. This can either be a positive or a negative experience. That depends on the way you treat your emergency loan.
For example, if you make your monthly payments on time, your credit will not be damaged. In fact, if you are responsible enough, you can even build your score. It is a great opportunity for people with poor credit to finally fix it.
However, if you are late on payments, it can cause significant damage to your score. A lot of lenders will report this to the credit bureaus. Even hard inquiries from your lender can bring damage.
Conclusion
To summarize, when an emergency expense kicks in, we have to figure out a way to cover it. Medical bills and home repairs cannot wait for the next paycheck. That is why emergency loans are a savior.
You can get access to quick cash online with multiple companies. Some of those are Oportun, Universal Credit, and LendingPoint. Compare rates, loan terms, the origination fee, and the minimum credit score that each company has to offer, and submit your application!
FAQs
What's the easiest loan to get with bad credit?
There are quite a few loan options for poor credit. The easiest loans to get would be: payday, pawn shop loans, and car title loans. This is due to short terms and collateral.
Should I take an emergency loan?
Yes, if you are in need of some quick cash, take out an emergency loan. Unexpected expenses such as a medical emergency have to be covered, and this is a great solution. If you are responsible, you can repay it in no time!
How fast can I get an emergency loan?
An emergency loan is called that for a reason. You can get the loan money within 24 to 48 hours. This usually depends on the lending company.
How many emergency loans can I have at the same time?
Having more than one emergency loan at the same time is an option, but not an ideal one. The lender will check your debt-to-income ratio before approving. Whether you are eligible for more loans will depend on your ability to repay them.